Deer Season XP Copper Impact
Deer Season XP Copper Impact
$$
Bigger Tip. Bigger Impact.
Winchester's First Ammunition Ever Developed Specifically for Deer Hunting
Deer Season XP Copper Impact ammunition combines extensive experience into a product engineered specifically for deer hunters. The Extreme Point, copper-solid bullet features an oversized impact diameter. The larger impact diameter means more impact trauma, better energy transfer and larger wound cavities for faster knockdown. The solid-copper bullet design offers improved weight retention for deeper penetration and a red, reinforced polymer tip for product differentiation from standard Deer Season XP loads. Additional features of this bullet include a streamlined ballistic profile and boattail for flat trajectory, a hollow nose cavity for lethal, terminal performance and a solid-copper construction for maximum retained weight and energy transfer.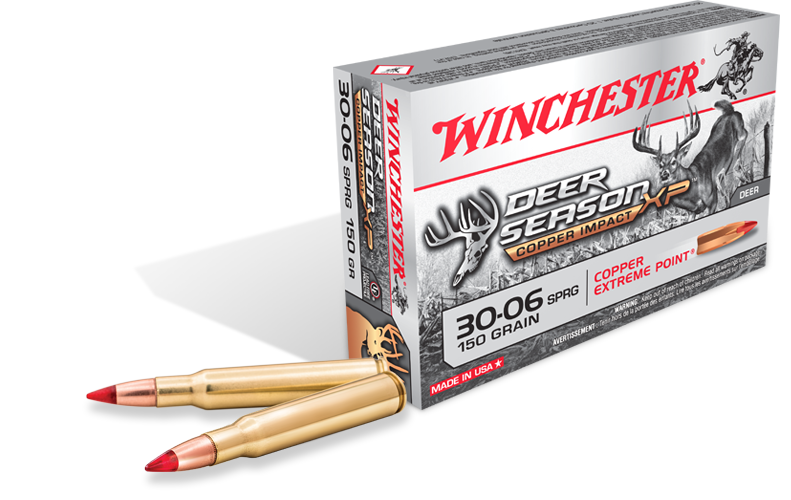 Large Diameter Polymer Tip
Accelerates bullet expansion for rapid trauma upon impact
Hollow Nose Cavity
Creates consistently lethal terminal performance on deer
Solid Copper Construction
Delivers supreme energy transfer and maximizes retained weight
Ballistic Profile and Boattail
Streamlined profile and boattail for flat trajectory
Ammunition
0 Items
Cartridge
Bullet
Weight
Bullet
Type
Muzzle
Velocity
Muzzle
Energy
Rounds
Per Box
Usage
Symbol
Brand