The Last Frontier – Alaska Adventure Part I
Anytime an upcoming trip involves the state of Alaska, I usually have a big smile on my face.  This spring was double the smiles as I was bringing my dad along for an incredible black bear hunt on Prince of Wales Island. 
As kids, my parents had taken my brother and me to Alaska and we had the opportunity to fish halibut, travel the state and see a wide variety of country. However, we weren't able to get any hunting in and I knew my dad would just love a backcountry trip like this.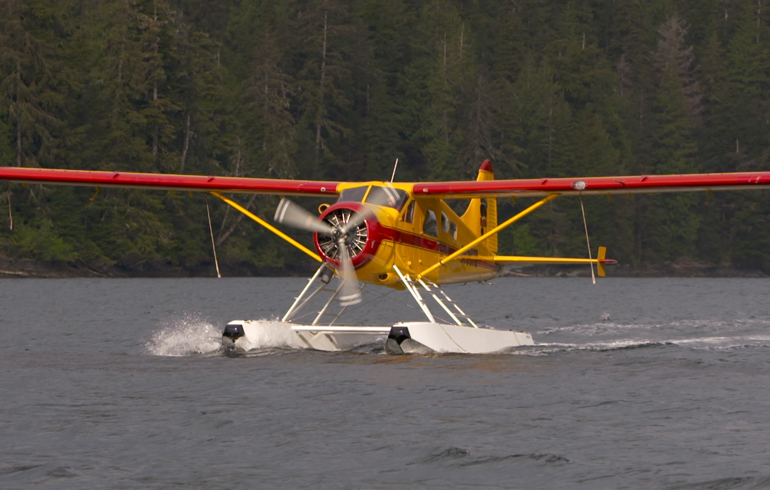 I typically do my hunts from a kayak and tent in Alaska, but for this adventure I wanted it to be a little more comfortable.  In the past I've run into some awful weather while hunting SE Alaska.  In fact, one year it rained every single day for a 14-day trip while I stayed in a tiny little tent.  This year, our trip was the complete opposite.  There wasn't a cloud in the sky, no bugs, and unbelievably perfect weather.  The highs were in the 70s and the lows in the 50s.  Nice and cool to sleep – a little hot during long stalks, but there wasn't a complaint in the world.  We had sunny skies, comfortable temps, good company, and the most unbelievable scenery you could ever imagine…plus not a single bug around yet!  Doesn't get much better than that!
In my opinion, an Alaskan adventure starts the second you arrive.  Everything's an adventure from the airport ferry ride to Ketchikan, to the floatplane or boat ride out to the island. There are amazing things one runs into along the way.  Sure the black bear hunting is absolutely incredible, but you see so much more than just that.  In the past I've called in numerous black bears, taken some absolutely giant boars, but on this trip I just wanted my dad to enjoy it, catch up on a little father daughter time and just kick back and have fun for a week.
Right before leaving from Minneapolis I decided to check on the weather and it looked like the mild temps were going to stick around, so I made a crazy decision to bring my little puppy Pork Chop along for the journey as well.  My biggest concern were the eagles possibly snagging her up or having her fall in the cold water.  So to ease my fear I got her a nice life jacket she was going to be staying in for the duration and vowed to keep her within close distance to avoid her becoming eagle bait.  Not only was this decision fun for me, but my dad absolutely loves her too and she really brought another level of fun to our backcountry adventure.
The black bear hunting is what we really came for, but the other things we ran into were just as incredible and unforgettable in my opinion.  First off, within the first 15-minutes of our hunt we had a humpback whale surfacing and blowing within 30-yards of our boat.  People from all over the world would go crazy to see something like that, and it was literally just part of the scenery on this adventure.  Next we saw a ton of seals, eagles and ran across millions of jellyfish.  Apparently the jellyfish had congregated in one area and the water was swarming with jellyfish.  Millions, in every direction, and as deep as you could see.  Everywhere we looked it was beautiful sights, breathtaking views, and we were having an absolute blast together.  Before we ever saw our first bear I knew this entire adventure was already a success.  It really makes you realize how the little things people often overlook can be memory makers in their own right.
Melissa Bachman
With a degree in broadcast journalism, Melissa set sights on a career in the outdoors. Traveling over 300 days a year to shoot for Winchester Deadly Passion, Bachman considers this her "dream job." With a love for children, industry trade shows and the great outdoors, she films around the world for her adrenaline-pumped series.