Pistol Range Time That Won't Break the Bank – Winchester's USA Forged
I always stress the importance of putting in a significant amount of time at the rifle range, especially in the off-season to ensure I'm ready for the upcoming fall. 
It's all about practice, knowing one's gun, and coming up with the best ammo combination to ensure confidence when that big buck steps out. For me, repetition is key so when the moment of truth happens, I simply go into autopilot and everything becomes second nature.That's perfect for hunting, but another time a hunter-shooter wants the repetition to kick in would be in the case when a handgun is needed for personal protection.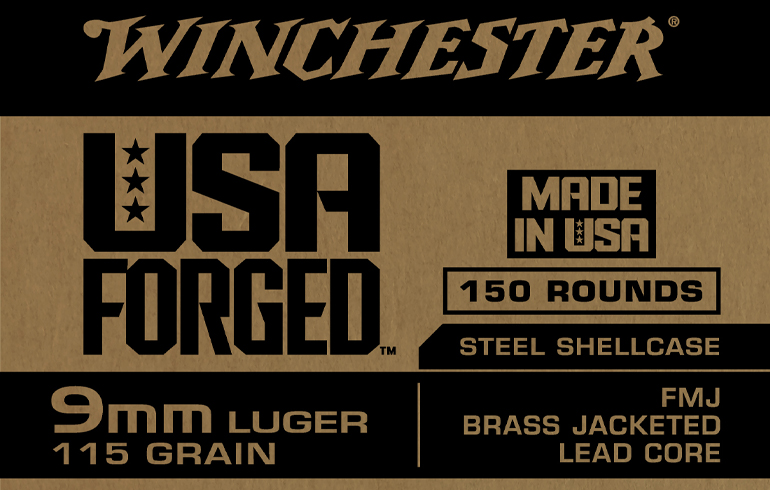 This requires intense time at the range, but that can get costly.  Luckily Winchester has come out with pistol ammunition to solve that at a very affordably price – USA Forged.
USA Forged is a 9mm 115-grain brass jacket FMJ that utilizes a new steel shell case that's built right here in the United States by Winchester.  By utilizing a steel shellcase, Winchester is able to pass down the savings to shooters allowing people to buy more ammunition and get more time in at the range.
They've also used a brass jacketed FMJ, which is not plated.  Plated bullets aren't safe in all firearms, but when you're using a thick jacket on the bullet you can use it in a variety of pistols including suppressed firearms and its safe on all ranges.  Once you're done shooting its also a snap to pick them up with a strong metal magnet which makes things easy as well.
Speaking of easy cleaning, Winchester used a surface treatment that has been optimized for high-volume range sessions.  This, along with the clean-burning powder and non-corrosive boxed primer, is extremely important when you're putting in range time. So basically you're getting the same bullet, primers and powder used in all other Winchester products but now they've been paired with steel cases so you get all the performance without breaking the bank.  Best of both worlds!
Overall we all know the importance of shooting and spending time at the range, but it's nice when companies go out of there way to give use affordable options so we can get more familiar with our firearms and be ready should the situation ever arise.  Practice makes perfect, so take a little time out of your busy schedule this summer and hit the range with the new Winchester USA Forged.
Winchester Ammunition
A world leader in delivering innovative products, Winchester is The American Legend, a brand built on integrity, hard work, and a deep focus on its loyal customers.