Long Range Shooting – Part I
My friend Rachelle Hedrick invited me recently to attend a long range shooting course that was hosted at her family-owned resort in West Virginia - Smoke Hole Outfitters.
She described the details of the course to me and how it helped drastically improve her ability to fire long range shots accurately and elevate her overall shooting confidence. As she filled me in on the course, my first thought was how unconfident I would be to put an animal down at anything over 150 yards, let alone 600-800 yards!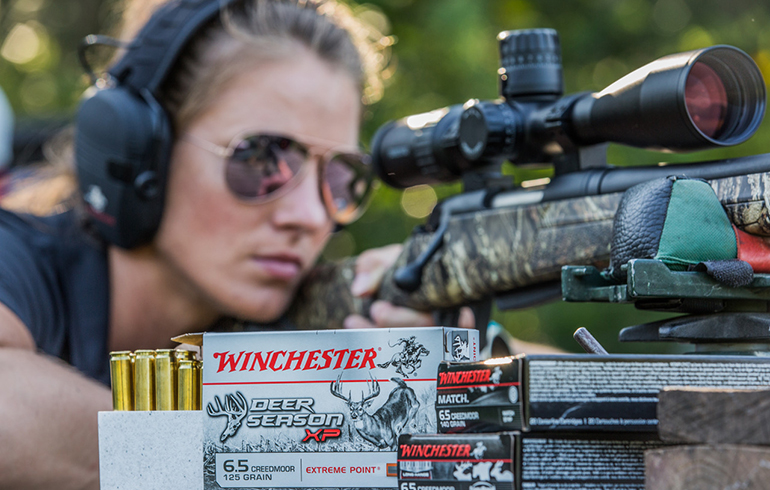 Many areas of our farm land where I live are comprised of agricultural fields and open meadows spanning several hundred yards. The opportunity to increase my shot range would be a huge advantage. So without hesitation, I gladly took her up on the offer!
I arrived a few days early to get settled in and meet up with Rachelle. I was blown away by the accommodations as well as the beauty of West Virginia. Being in this type of environment had me all revved up and ready to get started!  Day one started off with an introduction by our instructors: Phil and Jeremy Conklin of Best of the West as well as some classroom work. We went over a range of topics that covered shooting fundamentals, wind compensation, ballistics, and long range terminology (which is like learning a foreign language if you are a novice like me!). Afterwards, it was time to head out to the range for hands-on application of all we had covered.
The targets were set up at various yardages so the first thing we did was practice ranging each of them. Typically, as a rule of thumb, I will range a target three times to make sure I have an accurate reading. However, in long range shooting, it is extremely important to range the target multiple times because the laser may be hitting an object or area other than the target.
Next up we practiced holding steady and dry firing at targets. I often dry fire my pistol for practice, but have never thought to practice with a rifle in the same manner. So, another new concept for me. This practice is a great way to improve muscle memory and to prevent flinching…this is very common for those who don't shoot often or are new to shooting. It is extremely important to ensure that no ammunition is present and that the rifle is unloaded before any dry firing is practiced.
After that exercise it was time to put everything to the test and move to live ammunition. The closest target was set at 300 yards. It was easily the farthest distance I have ever shot up to that point. I steadied myself on the bench, focused and slowly pulled the trigger to take my first ever shot at 300 yards.  I knew instantly that I hit the target as the sweet sound of the clinging steal rung out in the distance! I immediately racked another round and fired again, hitting the target and bullseye. I was ecstatic and eager to move to the next target placed at 550 yards. I cannot speak highly enough of the great coaching and assistance we had. With their help, I was able to successfully hit the each target at the varying distances including nailing the bullseye at 1,000 yards! We were told that hitting the orange at 1,000 yards is equivalent to hitting a dime at 100 yards. This really puts into perspective just how accurate one needs to be to be in order to do that successfully – over and over!
The following day consisted of more range time. It was evident that everyone's confidence had improved. We were all quite familiar with the content our instructors taught us and everyone was easily putting rounds into targets at 1,000 yards. I can't emphasize enough how beneficial this course was for me. My shooting confidence has skyrocketed and I am eager to continue to practice my newly acquired skill and increase my distance to 1,600 yards in the future.
The way I see it is – we hunter/shooters can never know enough. When presented with the opportunity to learn from some of the best in the field, it is important to take advantage of it as often as possible. Try to apply that same mentality to all aspects of hunting and the outdoors even if it means stepping outside of one's comfort zone to do so.
Nikki Boxler
Nikki Boxler grew up on a large dairy farm in Western New York and continues to reside there today. This setting has shaped her love of the outdoors and is how she developed a passion which drives her to spend as much time hunting and fishing as possible. For her, hunting is not about the kill, it is about the experience, the memories, the moments and having fun. Her most memorable adventures take place not only in the woods but also around the grill. Nikki thoroughly enjoys her role as co-host of Winchester Life.