Shotgun Shooting Tips From a Pro - Dania Vizzi
Team Winchester member, Dania Vizzi has come a long way in a short time. Only in her mid-20s, the Floridian has been claiming junior, national, and world championships.
Shooting literally hundreds of days a year, and going through tens of thousands of Winchester AA cartridges in a season, Vizzi has committed not just to memory, but to instinct, the small, vital techniques that add up to better, and sometimes to your best, clays shooting.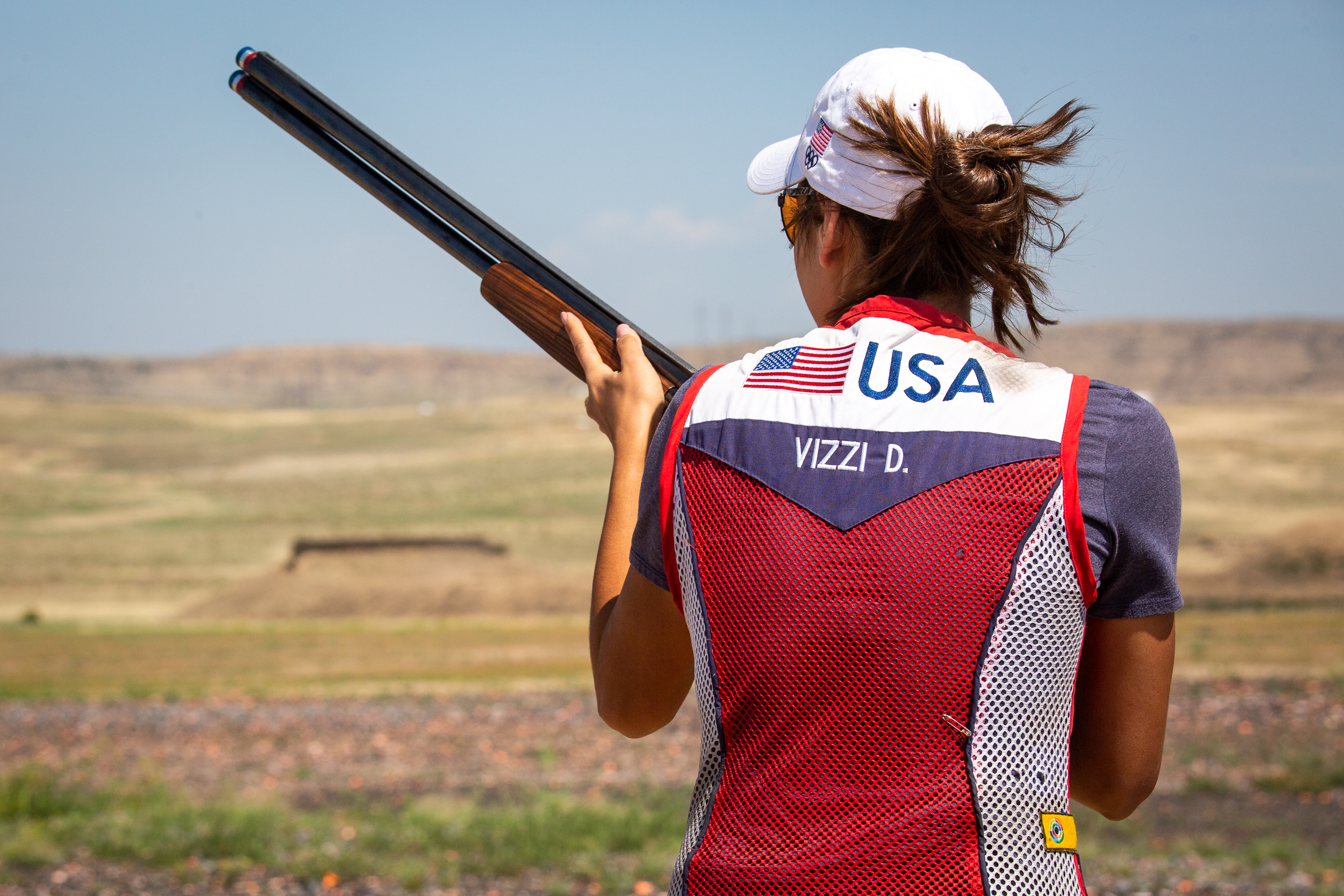 Not the first thing that you might consider, but nonetheless perhaps the most fundamental pointer Vizzi can offer is about state of mind. Starting out, most of us didn't worry whether we were doing it perfectly. As we progress in the sport, though, we can develop tendencies to wonder why we didn't connect, or how and why we have to break the next bird, or paying too much attention to how the people we are shooting with are doing.
"All these thoughts," Vizzi says, "can be overwhelming and cause us to overthink and miss targets."
When Vizzi is stressing out during a round, she performs an exercise to draw her back to within herself and to the present.
"I will close my eyes," she says, "and feel each finger on my gun one by one until my mind is brought back to the task at hand instead of worrying about outlying conditions I can't control." Zen and the art of clays shooting.
It's never too early to find a qualified shooting instructor. Beginners can be avalanched by well-meaning, but often contradictory amateur "expert" advice. Better to find an instructor who actually knows how to teach. Be careful, though, that an instructor doesn't try to mold you into his own preconceived style, whether it suits you or not.
"Everyone is different," Vizzi tells us. "A competent instructor should teach you to be confident with your own style and never change your uniqueness."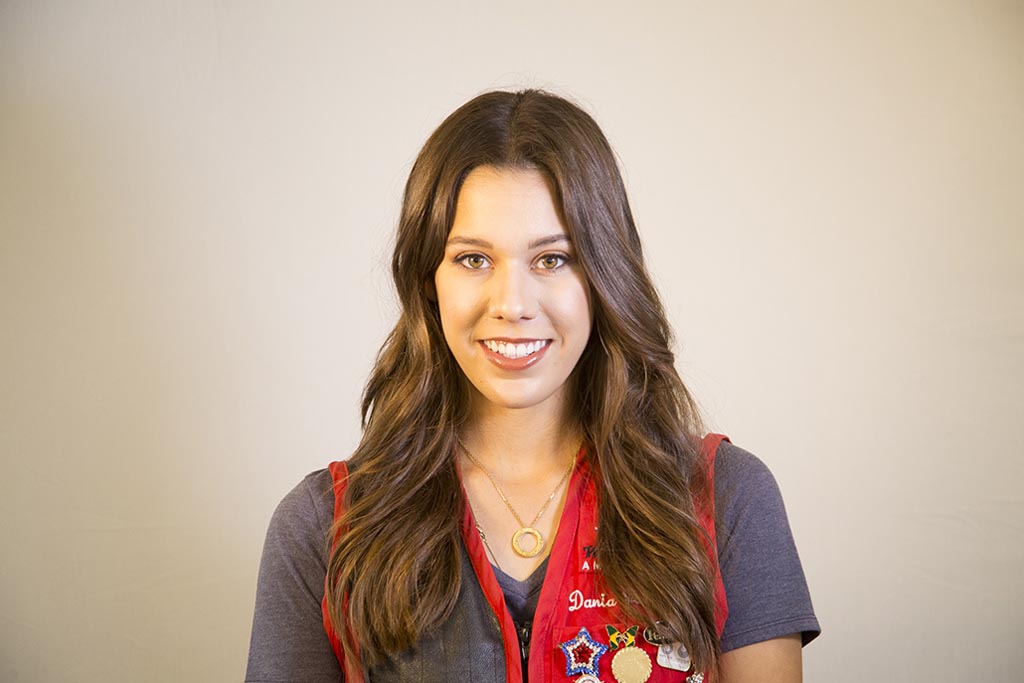 Something that may not get close attention, but which may critically impact shooting, can be as simple as the shooting vest. Competitors in International Shooting Sport Federation clays events must have on their vests a yellow marker tape that indicates where the stock has to be above the shooter's hip before the bird appears from the trap. Only then may the shooter mount the gun to her shoulder. Rules for recreational shooters aren't that rigid, but they still want to hold their shotguns consistently in the same lowered position before shooting. Knowing the gun's properly positioned every time gives the shooter a moment to relax and breathe before calling for a target.
Another consideration regarding the vest is ensuring it remains smooth in front so there isn't a fold or wrinkle to snag the butt as the gun is mounted. Vizzi will carry about 35 shells in her vest pockets for the average 25-bird round, 20 on the right–she's a righty–and 15 on the left. The weight on the right keeps the fabric smooth for gun mounting.
As the round progresses, says Vizzi, "I like to transfer shells from my left pocket to my right to keep it from wrinkling throughout my round."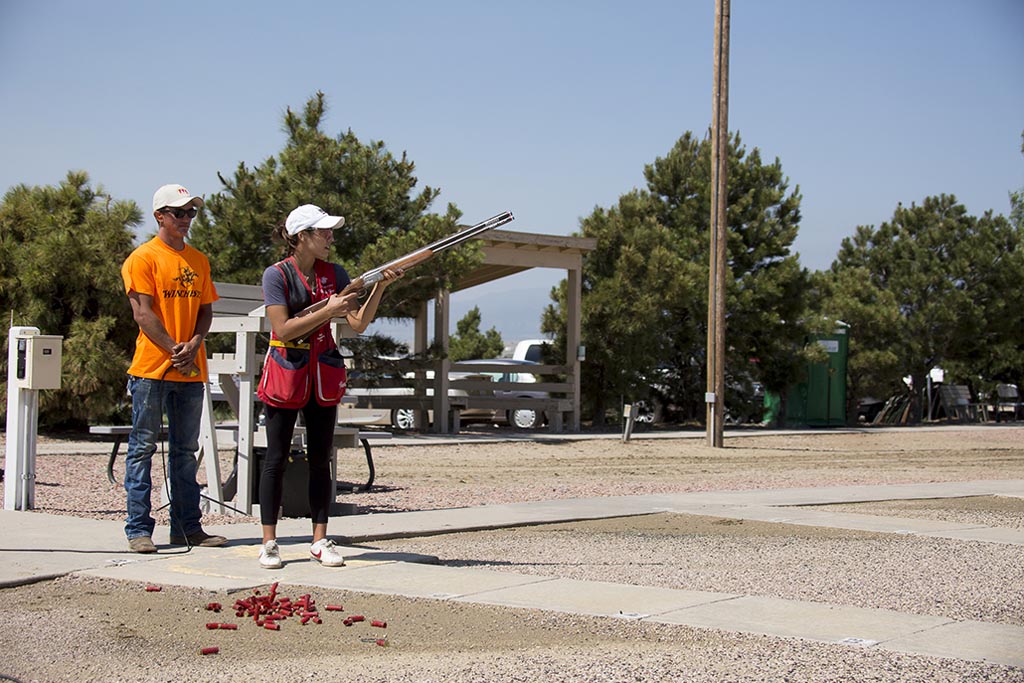 A final tip from Vizzi is about hold point. You want to locate where in space you should hold your muzzle so you are neither chasing a target nor having to swing back because you are too far ahead when it appears. Finding the right place for the speed of the target, how fast your eyes recognize it, and your reaction time, for each station is about trial and error. So yes, its means practicing more. But first, use these tips and practice better.
A world leader in delivering innovative products, Winchester is The American Legend, a brand built on integrity, hard work, and a deep focus on its loyal customers. Learn more about the history of Winchester by visiting Winchester.com or connect with us on Facebook at Facebook.com/WinchesterOfficial.
Winchester Ammunition
A world leader in delivering innovative products, Winchester is The American Legend, a brand built on integrity, hard work, and a deep focus on its loyal customers.