Deer Season XP
Bigger Tip. Bigger Impact.
Winchester's First Ammunition Ever Developed Specifically for Deer Hunting
Deer Season XP ammunition combines extensive experience into a product engineered specifically for deer hunters. The Extreme Point bullet features an oversized impact diameter. The larger impact diameter means more impact trauma, better energy transfer and larger wound cavities for faster knockdown. Features of this bullet include a tapered jacket for lethal penetration, a streamlined ballistic profile for flat trajectory, energy retention and accuracy, as well as the large diameter polymer tip for rapid trauma.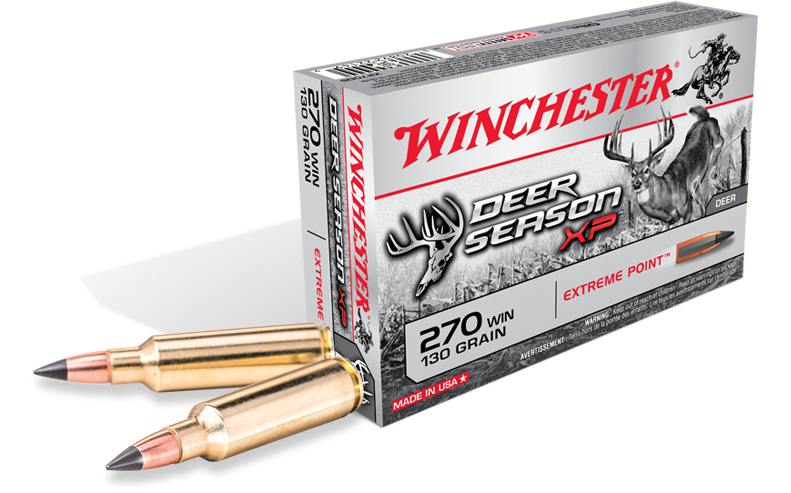 Large Diameter Polymer Tip
Accelerates expansion resulting in rapid impact trauma
Ballistic Profile
Streamlined profile for flat trajectory and energy retention
Tapered Jacket
Engineered for lethal penetration on deer
Alloyed Lead Core
Optimized for maximum energy transfer and impact power
Ammunition
0 Items
Cartridge
Bullet
Weight
Bullet
Type
Rounds
Per Box
Symbol
Ballistic
Coeff
Muzzle
Velocity
Muzzle
Energy
Usage
Important Product Warning and Recall Notice
Winchester is recalling three (3) lots of 38 Special 130 Grain Full Metal Jacket centerfire ammunition.
Learn More About the USA38SPVP Recall
0
Compare Products
Products Compared
Overview
Cartridge
Bullet
Weight
Bullet
Type
Rounds
Per Box
Symbol
Brand
Ballistic Coeff
Usage
Velocity
Energy
Trajectory Short Range
Trajectory Long Range