Xtended Range Bismuth
Xtended Range Bismuth
$$$$
Delivering Tight, Devastating Patterns
Precision Cast Bismuth Shot Combined with Shot-Lok Technology for Optimum on Target Performance
Xtended Range Bismuth pairs Shot-Lok Technology with bismuth shot, resulting in optimum performance for turkey, waterfowl and upland hunting in areas that require lead-free shot. With density great than steel, bismuth shot offers improved penetration that nears that of standard lead loads. Shot-Lok Technology is used to protect the bismuth shot from fracturing, which improves pattern density and increases downrange energy, when compared to standard lead loads. Xtended Range Bismuth puts twice the number of pellets in a 20-inch circle at 60 yards.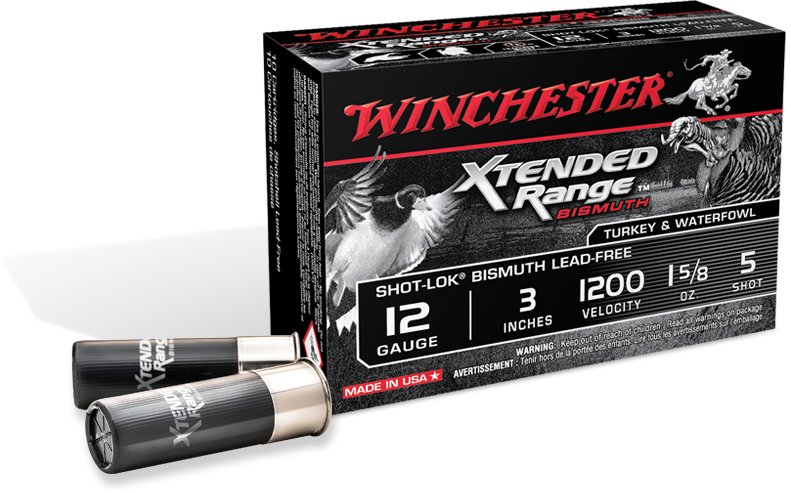 Patented Shot-Lok Protects Shot During In-Bore Acceleration
Shot launches from barrel near perfectly round for extremely tight long-range patterns
Bismuth shot acceptable for use where lead free shot is required
Devastating terminal on-target performance
Twice the number of pellets on target at 60 yards compared to standard lead loads
Ammunition
0 Items
Cartridge
Bullet
Weight
Bullet
Type
Rounds
Per Box
Symbol
Ballistic
Coeff
Muzzle
Velocity
Muzzle
Energy
Usage
Important Product Warning and Recall Notice
Winchester is recalling three (3) lots of 38 Special 130 Grain Full Metal Jacket centerfire ammunition.
Learn More About the USA38SPVP Recall
0
Compare Products
Products Compared
Overview
Cartridge
Bullet
Weight
Bullet
Type
Rounds
Per Box
Symbol
Brand
Ballistic Coeff
Usage
Velocity
Energy
Trajectory Short Range
Trajectory Long Range