Winchester Expands USA Ready Ammunition Offerings
EAST ALTON, IL (January 18, 2022) – Popular new calibers and bullet weights have been added to the USA Ready™ line of select grade ammunition products including 10mm, 6.5 Creedmoor and 6.5 PRC.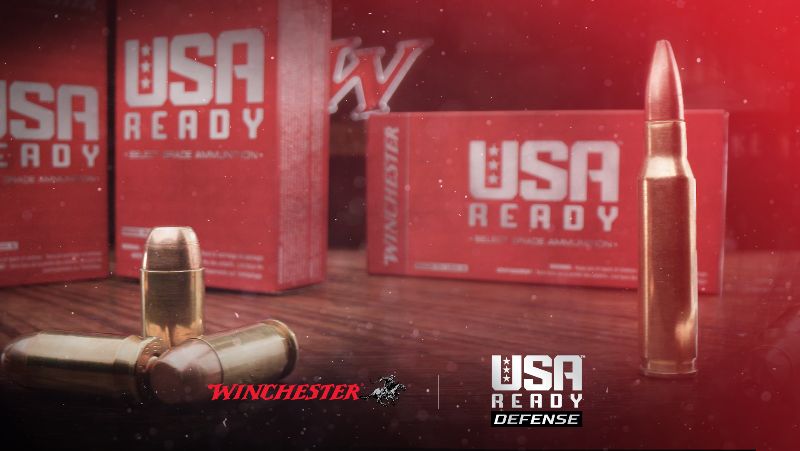 The increasingly popular 10mm is now offered in both USA Ready full metal jacket (FMJ) for training and competition as well as in the USA Ready Defense™ line for personal defense. The Winchester USA Ready line has grown with the addition of a 140-grain open-tip bullet loaded in 6.5 Creedmoor and 6.5 PRC for ultimate accuracy and reliability in long-range target shooting.

Winchester USA Ready products provide a new option for competitors and target shooters who are looking for premium performance and components for their ammunition. Flat nose or open-tip bullets are used for optimum accuracy, and Match Grade primers provide improved consistency.

Winchester USA Ready Defense ensures that you will be ready when you need it most. This new defensive offering in 10mm utilizes premium components and Match Grade primers alongside an innovative Hex-Vent™ hollow point bullet. The Hex-Vent is a revolutionary rigid insert that shields the hollow point from obstruction while channeling material flow for positive bullet expansion.

In addition, Winchester also includes a unique lot code on each package that customers use online to look up the factory testing results for their specific lot of ammunition. The online resource (Winchester.com/USAReadyInfo) will include velocity, accuracy and pressure data from each manufactured lot. USA Ready is the next step up when it comes to performance-built ammunition.

New for 2022 USA Ready Offerings:


Target and Competition
---
About Winchester Ammunition
Winchester is the largest small caliber ammunition enterprise in the world and the leader in delivering innovative ammunition products to hunters, sport shooters, law enforcement, and the U.S. Warfighter. The 157-year-old Winchester brand is built on integrity, hard work, and a deep focus on its loyal customers. Learn more about Winchester by visiting Winchester.com or connecting with us on Facebook at Facebook.com/WinchesterOfficial.
Winchester: Committed to Safe, Legal and Responsible Firearm Use
As a global leader in the shooting sports and hunting industry, and a brand of 157 years, Winchester is committed to safe, legal and responsible firearm use. Winchester works with key groups like the National Shooting Sports Foundation on a variety of topics important to our industry, including training and education, and on specific programs such as Gun Owners Care and Project ChildSafe. Winchester will continue to support programs, organizations and individuals who promote hunting and shooting sports activities in a positive and responsible environment. Any use of firearms by youth participants should be done under the direct supervision of a parent, guardian or other responsible adult.
Gun Owners Care®
You care about safety. You care about preventing unauthorized access to firearms. You care about bettering your community, helping those in need, and conserving wildlife and wild places for generations to come. It's time for gun owners to tell their stories and show how they're making a difference. NSSF®, the trade association for the firearms industry, has established the Gun Owners Care® campaign to unite gun owners and the firearms industry in this common cause. Visit gunownerscare.org for more information.
---
Winchester Media Resources
For content and assets including image, video and document files for Winchester Ammunition products, please visit Winchester.MediaAssets.com.
For more information, contact media@winchester.com.