John Olin Inducted into Arkansas Waterfowler Hall of Fame
EAST ALTON, IL (May 23, 2022) — John Olin was recognized for his incredible lifetime of accomplishments through his recent induction into the Arkansas Waterfowler Hall of Fame.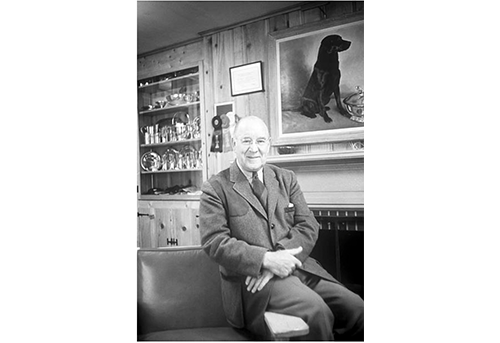 In a ceremony on Thursday, May 19, in Little Rock, Arkansas, members of Winchester accepted this posthumous award on his behalf.

John Merrill Olin (born 1892) was an engineer and successful industrialist throughout the early and mid-1900s who held more than 20 patents and built an ammunition and manufacturing empire including Winchester-Western Ammunition, Olin Brass, Olin Corporation, and much more. Olin personally improved many early ammunition manufacturing processes and developed progressive burning powders and harder shot for increased velocity, pattern density, and improved lethality on game animals, dramatically outperforming available ammunition at the time.

"We are very honored to accept this award that recognizes John Olin for his forward-thinking and significant contributions to the hunting and shooting sports industry," said Matt Campbell, vice president of sales and marketing for Winchester Ammunition. "John Olin created a culture of innovation that still lives today through the Winchester brand."
---
About Winchester Ammunition
Winchester is the largest small caliber ammunition enterprise in the world and the leader in delivering innovative ammunition products to hunters, sport shooters, law enforcement, and the U.S. Warfighter. The 156-year-old Winchester brand is built on integrity, hard work, and a deep focus on its loyal customers. Learn more about Winchester by visiting Winchester.com or connecting with us on Facebook at Facebook.com/WinchesterOfficial.
Gun Owners Care®
You care about safety. You care about preventing unauthorized access to firearms. You care about bettering your community, helping those in need, and conserving wildlife and wild places for generations to come. It's time for gun owners to tell their stories and show how they're making a difference. NSSF®, the trade association for the firearms industry, has established the Gun OwnersCare® campaign to unite gun owners and the firearms industry in this common cause. Visit gunownerscare.org for more information.
---
Winchester Media Resources
For content and assets including image, video and document files for Winchester Ammunition products, please visit Winchester.MediaAssets.com.
For more information, contact media@winchester.com.