Para Trap Shooter Sophia Bultema Joins Team Winchester
EAST ALTON, IL (June 29, 2022) — Winchester announces the signing of ISSF para trap shooter Sophia Bultema.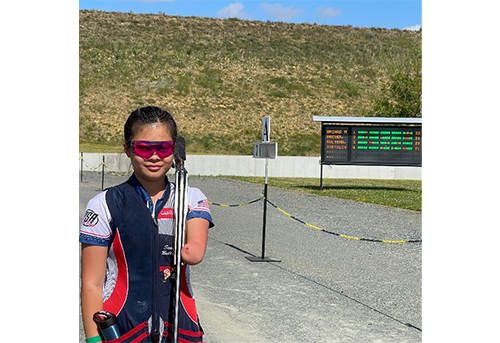 The 18-year-old sport shooter hails from Colorado Springs, Colorado, and will be shooting the world-famous AA target loads at the upcoming National Championships at Hillsdale College in Hillsdale, Michigan. She will also represent the U.S. and Team Winchester at the World Championships in Al Ain, United Arab Emirates.

Sophia recently competed at the World Cup France, where she set the junior world record in qualification and the final, becoming the first woman in para trap history to make a World Cup final.

"Sophia has an inspirational story of overcoming adversity while maintaining an excellent outlook and striving to do her very best," said Matt Campbell, Vice President of Sales and Marketing for Winchester Ammunition. "She is an exceptional sport shooter and we're extremely proud to have her as a member of Team Winchester and ambassador of the shooting sports."

After living the first six years in an orphanage in China because of her limb difference, Sophia was adopted by her parents and brought home to Colorado Springs. Sophia has grown up in a shooting sports family, receiving a toy shotgun during her first Christmas in the states.

Sophia began competing with her high school team through the Scholastic Clay Target Program (SCTP) because shooting was a sport where people can still compete with their peers despite physical impairments. Soon after starting with the high school team, Sophia was introduced to para trap, where she has earned the right to represent the United States in this emerging sport that is on track to be added to the Paralympic Games.
---
About Para Trap
Open to athletes who have a physical impairment, the discipline of para trap shooting is based on the Olympic trap discipline, differing in only some equipment and qualification requirements. Athletes use a shotgun to hit "clays," which are propelled into the air from machines on the ground and strive to make as many "hits" (when a clay is broken) as possible. During the competition, athletes shoot from five central positions on the range and shoot at a total of 125 clays in the qualification round.
About Winchester Ammunition
Winchester is the largest small caliber ammunition enterprise in the world and the leader in delivering innovative ammunition products to hunters, sport shooters, law enforcement, and the U.S. Warfighter. The 157-year-old Winchester brand is built on integrity, hard work, and a deep focus on its loyal customers. Learn more about Winchester by visiting Winchester.com or connecting with us on Facebook at Facebook.com/WinchesterOfficial.
Winchester: Committed to Safe, Legal and Responsible Firearm Use
As a global leader in the shooting sports and hunting industry, and a brand of 157 years, Winchester is committed to safe, legal and responsible firearm use. Winchester works with key groups like the National Shooting Sports Foundation on a variety of topics important to our industry, including training and education, and on specific programs such as Gun Owners Care and Project ChildSafe. Winchester will continue to support programs, organizations and individuals who promote hunting and shooting sports activities in a positive and responsible environment. Any use of firearms by youth participants should be done under the direct supervision of a parent, guardian or other responsible adult.
Gun Owners Care®
You care about safety. You care about preventing unauthorized access to firearms. You care about bettering your community, helping those in need, and conserving wildlife and wild places for generations to come. It's time for gun owners to tell their stories and show how they're making a difference. NSSF®, the trade association for the firearms industry, has established the Gun Owners Care® campaign to unite gun owners and the firearms industry in this common cause. Visit gunownerscare.org for more information.
---
Winchester Media Resources
For content and assets including image, video and document files for Winchester Ammunition products, please visit Winchester.MediaAssets.com.
For more information, contact media@winchester.com.