Winchester Receives 2021 Ammo of the Year Award from Guns and Ammo
EAST ALTON, IL (October 28, 2021)
—Guns & Ammo announced Winchester as the winner of its highly coveted 2021 Ammo of the Year Award for its innovative new cartridge, 6.8 Western.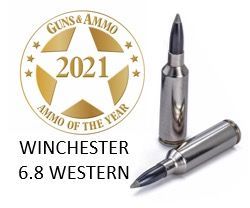 Each year the editors, contributors and staff at Guns & Ammo (G&A) evaluate all the new ammunition products that have been brought to market.

"Our goal with each new product introduction is to find a meaningful improvement or new innovation that better equips the Winchester consumer," said Matt Campbell, vice president of marketing and sales."A lot of hard work and innovative thinking contributed to the 6.8 Western cartridge and we're extremely grateful that the experts at Guns & Ammo recognized our brand as a leader in cartridge development."

With long-range shooting and hunting interest growing rapidly, engineers at Winchester and Browning were both seeking a solution that could offer magnum performance with a modern high BC projectile, yet chamber in a short action rifle; offering lighter guns and shorter bolt-throw.The 6.8 Western was designed from the ground up to be the ultimate long-range cartridge that is capable in any big-game hunting scenario and a great fit for those who enjoy long-range target shooting.


HEAVIER BULLET WEIGHTS
than 6.5 Creedmoor, 6.5 PRC & 270 WSM
MORE ENERGY
than 6.5 Creedmoor, 6.5 PRC & 7mm Rem Mag
LESS RECOIL
than 300 WSM, 300 Win Mag & 300 PRC
LONG, HEAVY BULLETS
ideal for Big Game Hunting & Long-Range Precision Shooting
SHORT ACTION
for fast cycling, high accuracy & reduced rifle weight



---
About Winchester Ammunition
Winchester is the largest small caliber ammunition enterprise in the world and the leader in delivering innovative ammunition products to hunters, sport shooters, law enforcement, and the U.S. Warfighter. The 157-year-old Winchester brand is built on integrity, hard work, and a deep focus on its loyal customers. Learn more about Winchester by visiting Winchester.com or connecting with us on Facebook at Facebook.com/WinchesterOfficial.
Winchester: Committed to Safe, Legal and Responsible Firearm Use
As a global leader in the shooting sports and hunting industry, and a brand of 157 years, Winchester is committed to safe, legal and responsible firearm use. Winchester works with key groups like the National Shooting Sports Foundation on a variety of topics important to our industry, including training and education, and on specific programs such as Gun Owners Care and Project ChildSafe. Winchester will continue to support programs, organizations and individuals who promote hunting and shooting sports activities in a positive and responsible environment. Any use of firearms by youth participants should be done under the direct supervision of a parent, guardian or other responsible adult.
Gun Owners Care®
You care about safety. You care about preventing unauthorized access to firearms. You care about bettering your community, helping those in need, and conserving wildlife and wild places for generations to come. It's time for gun owners to tell their stories and show how they're making a difference. NSSF®, the trade association for the firearms industry, has established the Gun Owners Care® campaign to unite gun owners and the firearms industry in this common cause. Visit gunownerscare.org for more information.
---
Winchester Media Resources
For content and assets including image, video and document files for Winchester Ammunition products, please visit Winchester.MediaAssets.com.
For more information, contact media@winchester.com.