Winchester At The World English Sporting Clays Championship
East Alton, IL (May 2, 2022) — The 2022 National Sporting Clays Association (NSCA) Championship Tour, Powered by Winchester, held its second event last week: the prestigious World English Sporting Clays Championship.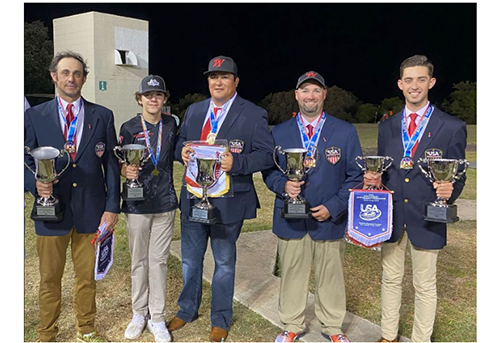 This international event alternates between the U.S. and England each year and attracts the very best sporting clays shooters from around the world with more than 1,000 competitors attending this year.

Team Winchester members performed exceedingly well and were prevalent on the podium throughout the events. Special congratulations are in order to Eric Harvey, who was a bronze medalist of the event and FITASC event champion. Meanwhile, Connor Daniel was the world champion in the Sub-Junior concurrent.
Eric Harvey:World English Third Place, FITASC Champion
Connor Daniel:World English and Pre-Lim Sub-Junior Champion
Anthony Matarese:Lone Star Cup Champio
Kayla Wilgus:Sub-Junior Five-Stand Runner-Up
Joe Fanizzi:Junior Champion Five-Stand, FITASC Runner-Up, World English Third Place
Desirae Edmunds:Ladies FITASC, Super Sporting and Five-Stand Runner-Up
Zach Kienbaum:FITASC Third Place
Ladies Cup Regional Winners
Champion - Karen Shedd
Runner-Up - Madison Sharpe
Third Place - Desirae Edmunds
The next stop for the 2022 Championship Tour, Powered by Winchester, will be the U.S. Open in South Carolina on May 16-22, 2022. For live updates from the range, follow Winchester on Instagram and Facebook.
---
About the NSCA Championship Tour
The NSCA Championship Tour, Powered by Winchester, represents the very best there is in sporting clays with the world's top sport shooters gathering at the finest gun clubs to compete for top honors.

Learn more and find an event near you by visiting www.nssa-nsca.org.
About the Winchester Ladies Cup
The Winchester Ladies Cup is an exciting competition that will span all seven of the NSCA Championship Tour regional events with added prize money going to the top three all-around ladies at each event and culminating in a national champion receiving the Winchester Ladies Cup trophy at the end of the season.
About Winchester Ammunition
Winchester is the largest small caliber ammunition enterprise in the world and the leader in delivering innovative ammunition products to hunters, sport shooters, law enforcement, and the U.S. Warfighter. The 157-year-old Winchester brand is built on integrity, hard work, and a deep focus on its loyal customers. Learn more about Winchester by visiting Winchester.com or connecting with us on Facebook at Facebook.com/WinchesterOfficial.
Winchester: Committed to Safe, Legal and Responsible Firearm Use
As a global leader in the shooting sports and hunting industry, and a brand of 157 years, Winchester is committed to safe, legal and responsible firearm use. Winchester works with key groups like the National Shooting Sports Foundation on a variety of topics important to our industry, including training and education, and on specific programs such as Gun Owners Care and Project ChildSafe. Winchester will continue to support programs, organizations and individuals who promote hunting and shooting sports activities in a positive and responsible environment. Any use of firearms by youth participants should be done under the direct supervision of a parent, guardian or other responsible adult.
Gun Owners Care®
You care about safety. You care about preventing unauthorized access to firearms. You care about bettering your community, helping those in need, and conserving wildlife and wild places for generations to come. It's time for gun owners to tell their stories and show how they're making a difference. NSSF®, the trade association for the firearms industry, has established the Gun Owners Care® campaign to unite gun owners and the firearms industry in this common cause. Visit gunownerscare.org for more information.
---
Winchester Media Resources
For content and assets including image, video and document files for Winchester Ammunition products, please visit Winchester.MediaAssets.com.
For more information, contact media@winchester.com.