Joe Fanizzi Of Team Winchester Wins NSCA South Central Regional
EAST ALTON, IL (June 27, 2022) — Event number four of the NSCA Championship Tour, Powered by Winchester, is complete, and Team Winchester shooter Joseph Fanizzi achieved high honors as the event champion.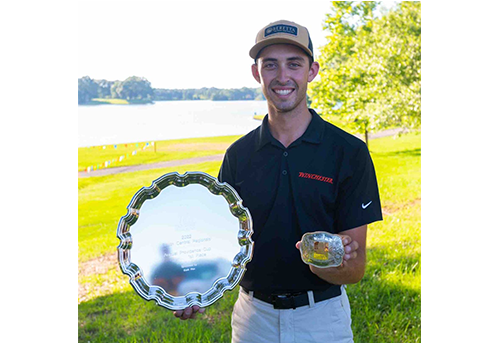 The South Central Regional was hosted by Providence Hill Farm Sporting Club in Jackson, Mississippi, with over 550 shooters participating.

Fanizzi, the 2021 NSCA National champion, entered day two of the Winchester main event two targets behind several competitors and knew that he would likely have to shoot a perfect score on the Mustang course in order to be in the running for high overall. When the scores were tabulated, Fanizzi and fellow competitor David Radulovich were tied with a total of 196 targets each. A shoot-off ensued, and Fanizzi added a Regional Championship trophy to his already impressive list of achievements for the year.

Teammate and mentor Zachary Kienbaum also had a stellar performance, winning high overall in the FITASC event and narrowly missing the podium in the main event, 5-stand and super sport events.

The Winchester Ladies Cup continues its run as well, with a highly competitive class of female shooters. Results from the South Central event included:

Winchester Ladies Cup Regional Winners
Champion: Karen Shedd
Runner-up: Haylyn Hanks
Third place: Shelby Moon

The next stop for the 2022 NSCA Championship Tour, Powered by Winchester, will be the North Central Regional in Hainesville, Illinois, July 27-31, 2022. For live updates from the range, follow Winchester on Instagram and Facebook.
---
About Winchester Ammunition
Winchester is the largest small caliber ammunition enterprise in the world and the leader in delivering innovative ammunition products to hunters, sport shooters, law enforcement, and the U.S. Warfighter. The 157-year-old Winchester brand is built on integrity, hard work, and a deep focus on its loyal customers. Learn more about Winchester by visiting Winchester.com or connecting with us on Facebook at Facebook.com/WinchesterOfficial.
Winchester: Committed to Safe, Legal and Responsible Firearm Use
As a global leader in the shooting sports and hunting industry, and a brand of 157 years, Winchester is committed to safe, legal and responsible firearm use. Winchester works with key groups like the National Shooting Sports Foundation on a variety of topics important to our industry, including training and education, and on specific programs such as Gun Owners Care and Project ChildSafe. Winchester will continue to support programs, organizations and individuals who promote hunting and shooting sports activities in a positive and responsible environment. Any use of firearms by youth participants should be done under the direct supervision of a parent, guardian or other responsible adult.
Gun Owners Care®
You care about safety. You care about preventing unauthorized access to firearms. You care about bettering your community, helping those in need, and conserving wildlife and wild places for generations to come. It's time for gun owners to tell their stories and show how they're making a difference. NSSF®, the trade association for the firearms industry, has established the Gun Owners Care® campaign to unite gun owners and the firearms industry in this common cause. Visit gunownerscare.org for more information.
---
Winchester Media Resources
For content and assets including image, video and document files for Winchester Ammunition products, please visit Winchester.MediaAssets.com.
For more information, contact media@winchester.com.