NILO Celebrates 70 Years Of Hunting Shooting Sports And Conservation Education Excellence
EAST ALTON, IL (June 27, 2022) — In 1952, the late John Olin, then-president of Olin Industries, Winchester's parent company, had a vision of linking hunting, shooting, champion gun dogs and conservation and began transforming 650 acres of barren pasture in Brighton, Illinois, near the Mississippi River into an ideal habitat of fields, timber and water. This year, the NILO he made turns the landmark age of 70, watch the NILO short film.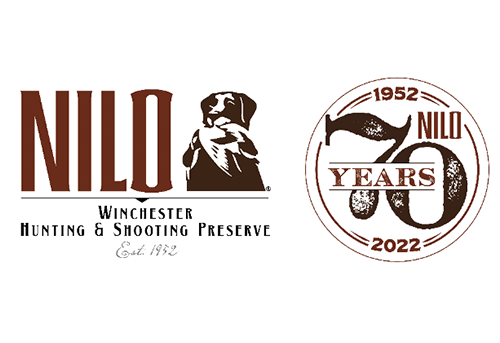 From the beginning, NILO (Olin spelled backward) has had a strong connection to Winchester. It has been the testing grounds for legendary Winchester ammunition products including AA® shotshells, and a prime destination to learn about the rich Winchester history. As one of the nation's most renowned hunting and shooting preserves, NILO has played host to celebrities in sports and entertainment, famous outdoor writers, as well as political dignitaries and corporate leaders. Even more important, NILO continues to be a prime destination for the general hunting and shooting public.

October to March, hunters, with veteran guides and NILO's famed Labrador retrievers, experience some of the finest pheasant and thrilling chukar hunting. Throughout the year, there are opportunities to shoot trap and skeet, sporting clays, 5-stand, and crazy quail on its pristine grounds. Additionally, special events — such as the NILO Open and the Kids & Clays Shoot — are regularly held. NILO also accommodates groups or individuals for shooting instruction from certified instructors.

The welcome sign is out at historic NILO, and the NILO team will arrange your memorable day or two at the farm, where you'll find the traditions of hunting, conservation and the shooting sports alive and well that have always been the pride of Winchester.

Come experience NILO! Book a hunt, schedule a time to shoot, visit the famous NILO kennels and home of legendary Labrador King Buck, enjoy some the finest hospitality and fine cooking, and be outdoors with family and friends. It's all here at NILO! To learn more about NILO, visit NILOFarms.com.
---
About NILO
NILO is open to the public year-round by reservation and on select shooting days for sporting clays, trap, skeet and 5-stand. Hunting season is October 1-March 31 for pheasant, chukar and flighted ducks. To learn more or to make a reservation, visit www.nilofarms.com.
About Winchester Ammunition
Winchester is the largest small caliber ammunition enterprise in the world and the leader in delivering innovative ammunition products to hunters, sport shooters, law enforcement, and the U.S. Warfighter. The 157-year-old Winchester brand is built on integrity, hard work, and a deep focus on its loyal customers. Learn more about Winchester by visiting Winchester.com or connecting with us on Facebook at Facebook.com/WinchesterOfficial.
Winchester: Committed to Safe, Legal and Responsible Firearm Use
As a global leader in the shooting sports and hunting industry, and a brand of 157 years, Winchester is committed to safe, legal and responsible firearm use. Winchester works with key groups like the National Shooting Sports Foundation on a variety of topics important to our industry, including training and education, and on specific programs such as Gun Owners Care and Project ChildSafe. Winchester will continue to support programs, organizations and individuals who promote hunting and shooting sports activities in a positive and responsible environment. Any use of firearms by youth participants should be done under the direct supervision of a parent, guardian or other responsible adult.
Gun Owners Care®
You care about safety. You care about preventing unauthorized access to firearms. You care about bettering your community, helping those in need, and conserving wildlife and wild places for generations to come. It's time for gun owners to tell their stories and show how they're making a difference. NSSF®, the trade association for the firearms industry, has established the Gun Owners Care® campaign to unite gun owners and the firearms industry in this common cause. Visit gunownerscare.org for more information.
---
Winchester Media Resources
For content and assets including image, video and document files for Winchester Ammunition products, please visit Winchester.MediaAssets.com.
For more information, contact media@winchester.com.