Team Winchester Headlines The NSCA National Championship Powered By Winchester
EAST ALTON, IL (November 10, 2022) — Last week, Team Winchester showcased why they are the most talented sporting clays competitors in the world.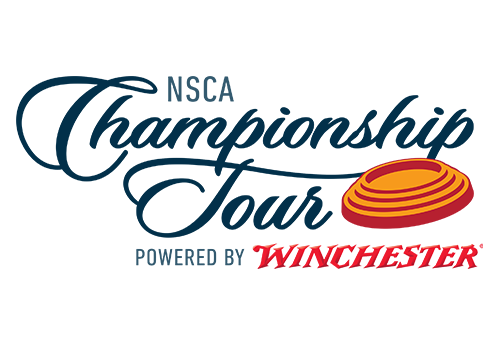 The Winchester all-stars shot for top honors at the National Sporting Clays Association (NSCA) National Championship, Powered by Winchester, grand finale event of the season held in San Antonio, Texas. The event spans nine days and includes more than 2,300 sport shooters.

"We congratulate our team members and all competitors on an excellent year competing in the NSCA Championship Tour, Powered by Winchester, and the Winchester Ladies Cup," said Brett Flaugher, president of Winchester Ammunition. It's exciting to see our team so well represented at each shoot and consistently atop the leaderboard."

It's safe to say Team Winchester member Zach Kienbaum had a memorable week with first being inducted into the NSCA Hall of Fame and then ultimately claiming rights as the 2022 NSCA National Champion. This was Kienbaum's third title — an honor that he also won in 2018 and 2019.

Other Team Winchester members had strong performances including NSCA Hall of Famer Anthony Matarese, winning third in the main event, and Desirae "Desi" Edmunds clinching runner-up in the main event Lady class. Joseph Fanizzi claimed 2022 Junior Champion, and Connor Daniel won his class at the National Championship as the top Sub-Junior in the main event. Theo Ribbs shot lights out throughout the event and was a top contender, and Kayla Wilgus locked up Sub-Junior Lady runner-up.

Congratulations to all Team Winchester members, including Eric Harvey, Mike Wilgus, Rollins Brown and Kemble du Pont Brown on an excellent event and terrific year. All Team Winchester members shoot Winchester AA shotshell ammunition — the choice of champions.

Team Winchester NSCA Championship Event Highlights
Zach Kienbaum: Main Event Champion, FITASC M3, 5-Stand M2, 20ga. Champion
Anthony Matarese: Main Event Third, FITASC M2, K-Kup Runner-Up
Joseph Fanizzi: Main Event Master Class First/Junior Champion, K-Kup M2/Junior Champion, 5-Stand Third
Theo Ribbs: Main Event Master Class Fifth, 5-Stand M1
Desi Edmunds: Main Event Lady Champion, K-Kup Lady Third, Winchester Ladies Cup Event Runner-Up
Connor Daniel: Main Event Sub-Junior Champion, 5-Stand Sub-Junior Third
Kayla Wilgus: Main Event Sub-Junior Lady Runner-Up
Winchester Ladies Cup
Year two of the Winchester Ladies Cup is also now complete with winners determined for both the San Antonio event level as well as the overall yearlong point race. The Winchester Ladies Cup is added money that has been committed by Winchester Ammunition to help lift the winners' earnings within the Lady class and encourage increased participation from a broader group of shooters. An additional $5,000 is split among the top three lady shooters with the highest cumulative scores at each of the eight NSCA Championship Tour events with $10,000 in added prize money awarded to the three lady shooters with the highest cumulative scores for the entire season. This season alone, there were 27 different Winchester Ladies Cup payouts for a total of $50,000.
2022 Winchester Ladies Cup (San Antonio Event) Winners
Champion: Karen Shedd ($2,500)
Runner-Up: Desirae Edmunds ($1,500)
Third: Haylyn Hanks ($1,000)
2022 Winchester Ladies Cup (Overall) Winners
Champion: Karen Shedd ($5,000)
Runner-Up: Madison Sharp ($3,000)
Third: Haylyn Hanks ($2,000)
---
About Winchester Ammunition
Winchester is the largest small caliber ammunition enterprise in the world and the leader in delivering innovative ammunition products to hunters, sport shooters, law enforcement, and the U.S. Warfighter. The 157-year-old Winchester brand is built on integrity, hard work, and a deep focus on its loyal customers. Learn more about Winchester by visiting Winchester.com or connecting with us on Facebook at Facebook.com/WinchesterOfficial.
Winchester: Committed to Safe, Legal and Responsible Firearm Use
As a global leader in the shooting sports and hunting industry, and a brand of 157 years, Winchester is committed to safe, legal and responsible firearm use. Winchester works with key groups like the National Shooting Sports Foundation on a variety of topics important to our industry, including training and education, and on specific programs such as Gun Owners Care and Project ChildSafe. Winchester will continue to support programs, organizations and individuals who promote hunting and shooting sports activities in a positive and responsible environment. Any use of firearms by youth participants should be done under the direct supervision of a parent, guardian or other responsible adult.
Gun Owners Care®
You care about safety. You care about preventing unauthorized access to firearms. You care about bettering your community, helping those in need, and conserving wildlife and wild places for generations to come. It's time for gun owners to tell their stories and show how they're making a difference. NSSF®, the trade association for the firearms industry, has established the Gun Owners Care® campaign to unite gun owners and the firearms industry in this common cause. Visit gunownerscare.org for more information.
---
Winchester Media Resources
For content and assets including image, video and document files for Winchester Ammunition products, please visit Winchester.MediaAssets.com.
For more information, contact media@winchester.com.