Sport Shows – An Event For The Entire Family!
For many of us this winter has been downright brutal. Cold, snowy conditions along with a severe lack of sunshine can make for a long drawn out winter.
Of course hunting opportunities have diminished but there are things you can still do to enjoy either by yourself or with your entire family. One thing I spend a lot of time doing during the January and February months is attending sport shows around the country. I've always been a people person and truly enjoy meeting everyone and coming to a new area.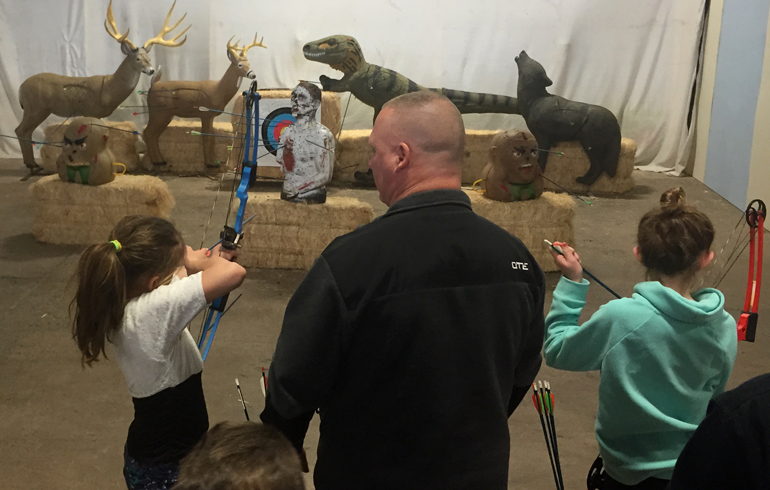 One of the first things I look for at shows is the number of fun things they have going on for kids. When I was younger I loved interaction, I didn't want to just look at things – I wanted to participate! The last show I attended in Philadelphia had the largest variety of activities I've seen in awhile. They were truly setup to give children an incredible experience and even did a free admission for kids with a paid adult on Sunday.
The Greater Philadelphia Outdoor Sport Show went over and above to include a variety of events for people of all ages. I think it's really important to have activities that kids deem as "fun" that also relate to the hunting, fishing, and outdoor industry. The earlier you can mix that fun feeling and excitement to hunting and the outdoors the better off you'll be and the easier time you'll have to get them to embrace the entire outdoor lifestyle. We all know that not every hunting or fishing adventure will end in success or be the time of your life, but going out of your way to ensure kids are excited and want to participate is extremely important.
At this last show they had everything from mechanical bull rides, to a trout pond, face painting, trampolines, paintball guns, archery lanes, falcons, sharks, and even a competition for the adults "bobbing for trout!" They also had a number of seminars on both hunting and fishing topics as well as outfitters and fishing guides to book a trip.
At the close of the show they said it had been the best show to date and I couldn't have been happier to hear that news. Shows are a great and fairly inexpensive way to get the family out for a day of fun indoors. I believe it opens a child's eyes to opportunities that are out there and also may peak their interest in an area you may not have been able to do on your own. Most states have a variety of different outdoor shows so take a minute to do a Google search and you may have a fun weekend in store for the entire family!
Melissa Bachman
With a degree in broadcast journalism, Melissa set sights on a career in the outdoors. Traveling over 300 days a year to shoot for Winchester Deadly Passion, Bachman considers this her "dream job." With a love for children, industry trade shows and the great outdoors, she films around the world for her adrenaline-pumped series.