5 Turkey Tips That'll Fill Your Tag
Sometimes it's the little things that make the difference between a successful hunt and going home empty-handed.
Try these often-overlooked tips the next time you need to turn the tables on an unsuspecting tom and become the turkey hunter many spring sportsmen only dream of becoming.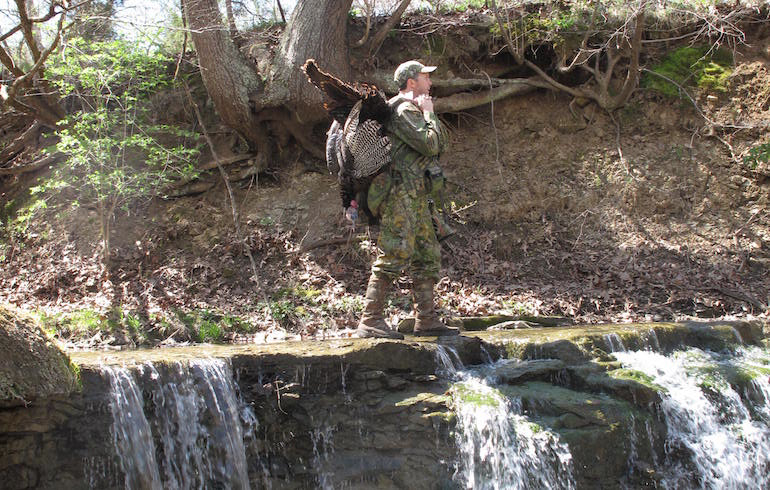 Make A Stand
Sitting isn't always your best position when turkey hunting. Many times a hunter will plop down near the closest tree only to realize he is in a depression or sitting behind too much brush. Maintain a superior field of view when low obstacles abound and stand next to a tree to see over a rise or low brush. Keep your gun at your shoulder, maintaining a steady aim and when the bird steps into view (provided he is in range) shoot.
The Scouting Advantage
Turkeys develop habits like people and often follow a similar pattern each day if left relatively undisturbed. Learning a gobbler's habits through observation and scouting—even during the season—can really pay off. Pay attention to where a gobbler goes when he flies down or where he likes to strut during the middle of the morning. If a gobbler typically goes east from a roost, set up to the east of its roost. If it heads toward a particular field, set up near that field and be waiting when he gets there. Even the best callers have trouble calling a bird to where he doesn't want to go. Put the odds in your favor and set up where a tom is already inclined to go.
Field Moves
If a particular tom has frustrated you by strutting each day in a field with rolling terrain, move on the bird when it steps into a dip or low spot. Stay low and move when he's out of sight. To steady your shot, carry shooting sticks or lay on your stomach. For a bird that shows up in the field every day, some hunters have even used layout blinds like those used for duck hunting. Set up in the dark and wait for the tom to show once he flies down in the morning.
Seconds Count
As a turkey approaches, they seldom come in directly in front of you where your shotgun is already aimed. Keep your cheek against the stock and reposition your gun only when the tom's head goes behind a tree. If the turkey steps clear and notices something has changed or perhaps caught the tail end of your movement, you'll know it when he suddenly stops, jerks his head up and stares right through your soul. You have two or three seconds tops to shoot before he putts loudly and flees. Squeeze the trigger gently and put him on the ground.
Stock Options
Keeping your cheek against the stock is a critical part of maintaining proper aim, but a common mistake many hunters unintentionally make as a bird approaches is to allow their head to almost float up off the stock as they become absorbed with watching the tom draw closer. Conversely, don't lock your head down so tight on the stock that you can only see straight in front of you. Keep your cheek to the stock but maintain good peripheral vision as turkeys will commonly slip in from the side or even circle around. Maintain strong situational awareness at all times, maintaining good shooting form and tracking the bird all the way in to the shot.
Winchester Ammunition
A world leader in delivering innovative products, Winchester is The American Legend, a brand built on integrity, hard work, and a deep focus on its loyal customers.