Hunt Till the End – Hunt Till the End!
Not only was this the biggest stag we had seen, but it dropped literally right in its tracks.
We were all so incredibly happy and the feeling of accomplishment was overwhelming. This had been an amazing journey and something I will never forget. Keep hunting hard up until the end – "It ain't over till it's over." Who was it that said that?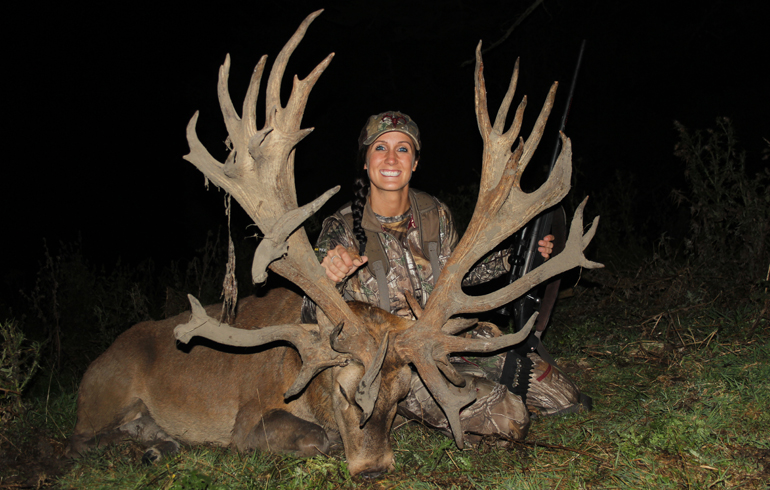 People are always talking about hunts going down to the wire. It's one thing when you're hunting whitetails in the Midwest, but an entirely different issue when you've traveled nearly 40-hours to get half-way around the world only to find yourself still hunting hard on the last evening of the last day. I'm the first to say it's not all about a kill, but I have to admit I was a little disappointed as we were hiking up the last huge hill, sweating and working hard, coming to the realization that my hunt was almost over. Only 5-minutes remained in the hunt, but then everything changed.
Rewind back 6-days when we first arrived headed New Zealand. The trip began leaving Minneapolis, then to LA, next to Sydney, Australia to catch a flight to Auckland, New Zealand. Our final destination was Taupo. Unfortunately, everyone in our group missed our Taupo connection and the airline was afraid we wouldn't get in even the next day. So it was time to improvise. We rented a car and set off that night driving over 4-hours on the wrong side of the road to get to camp. This may or may not have been the smartest decision, but we were all tired from traveling and ready to arrive to camp. Most of all, we really wanted to get out hunting and not lose any time.
Luckily we arrived safe, and everyone was happy to finally get some sleep after the long journey. The next morning we all shot our guns, did a little fishing in the stream near the lodge and prepared for our afternoon hunt.
The hunting on this trip was extremely different than I had encountered in times past. We were hunting the big timber and it was straight up and down. This made it extremely difficult and a huge challenge. The key each day was like hunting anywhere, get to the top and glass. Find the animals and make a stalk with the wind in your favor. Sometimes this was a lot easier said than done. We put in the miles, hiked straight up and down, ultimately putting in numerous stalks and getting close…but never getting it done.
We stayed persistent and had a great time along the way, but I knew that hard work usually pays off. The other people in the group from Field & Stream shops had taken some rams, a fallow deer each. However, stags were hard to come by. It wasn't that there weren't stags around, it was just trying to get within range. The good news about hunting so hard is you really appreciate the reward when it all comes together. There is no question about the amount of effort put in or how much you deserve to get an animal, but sometimes in hunting that doesn't count. As we rounded the last day of our hunt. A couple members of the group connected with stags. They just happened to be in the right place at the right time, and both made great shots.
With two stags down, I felt much better. That afternoon it was time to leave. We had the connecting flight from Taupo to Auckland, and then were scheduled to overnight in Auckland. Instead of taking this flight I decided to stay and hunt one last evening and make the long drive back in the rental once again. I wasn't sure if it would be worth it, but I had to try.
We hunted in the heat all afternoon, walked mile after mile…but nothing. I had thought about giving up, but decided to keep after it; even in the extreme heat. Finally, we spot a stag. He was walking near a big tree and we all dropped down. I was on my sticks literally within seconds. The cameraman was on him. I took dead aim and a deep breath, and slowly squeezed the trigger. Down he went – clean shot. It's truly amazing – even after a week of hunting with nothing to show for it…everything can change in seconds.
Melissa Bachman
With a degree in broadcast journalism, Melissa set sights on a career in the outdoors. Traveling over 300 days a year to shoot for Winchester Deadly Passion, Bachman considers this her "dream job." With a love for children, industry trade shows and the great outdoors, she films around the world for her adrenaline-pumped series.