A Turkey Hunt For The Memory Bank-Nebraska Style
Overall it was just an incredible hunt. We not only went home with some turkeys, but a handful of new friends…which, to me, is worth more than any turkey.
Every year thousands of turkey hunters, both sportsmen and women, join together to support the NWTF convention in Nashville, TN to learn, buy, and reminisce with old and new friends about their turkey hunting expeditions and experiences. There are always drawing, raffles, and contests going on, but this year I was lucky enough to be a part of the comings and goings.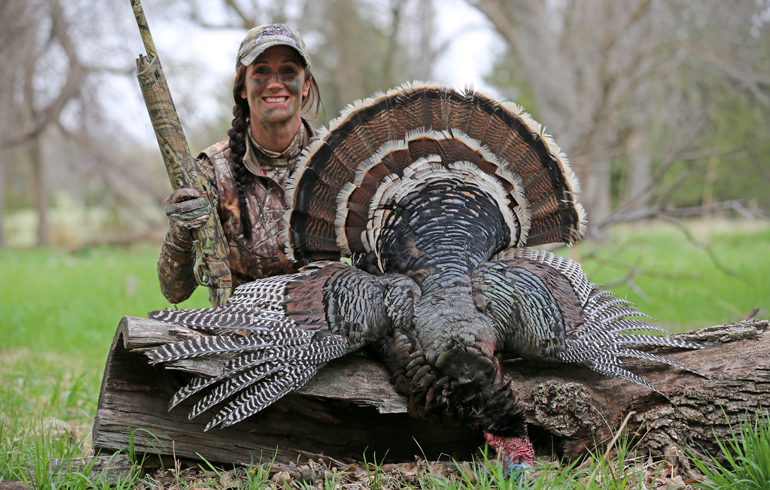 In fact, Winchester gave away 4 turkey hunts across the country targeting the various subspecies of wild turkey. Jereme Odum of Tennessee was drawn to hunt with me for his chance at a Merriam's turkey.
I already had a hunt setup with The Roost (http://1greathunt.com/) where Jim Kuhn was kind enough to donate a hunt for Jereme so he could join me and film an episode for Winchester Deadly Passion. The cool part about hunting this particular location in Nebraska is the fact that they have Merriam's, Rio Grande, and hybrids. Not too many places out there where you can find that type of combination!
Because most hunters "Click" well together, I wasn't too worried about who the winner would be. We quickly became great friends and had an absolute blast hunting together. We had quite a large group: myself, or cameraman, Jereme, Jim Kuhn and Jeremy Kuhn. We were fortunate to be into turkeys the entire time! The first day was filled with jakes. When I say filled with jakes, they were out of control. Everywhere we went all we seemed to bring in were jakes.
At the end of the first day we didn't have a turkey down, but we had such a wonderful time hunting together. It was truly a great group of people to be around. To me, hunting has become about the people I meet and hunt with. My fondest memories are with people, not necessarily what we were hunting or how successful the hunt was. In the evenings when the hunt was over we all sat around a fire outside, laughed and told stories. It's nice to be a part of a camp with such a great atmosphere. Jim Kuhn at The Roost runs a great operation and has excellent guides. I've been lucky enough to hunt with Jim's brother Scott Kuhn at Deer Meadows Outfitters for mule deer and had just as much fun so it was great to get to Nebraska in the spring as well.
On day 2 we got on several nice longbeards, but things were just not working in our favor. Finally, after hunting all day and skipping lunch, we made things happen. Jereme made an incredible shot with the Longbeard XR at nearly 50-yards and knocked a big tom right off his feet. We were all so happy! I was filming right over his shoulder and my cameraman got the shot in slow motion. Pretty exciting hunt, and super rewarding for us all.
The next day I was up, and we ended up finishing the day with 2 beautiful longbeards. We were once again in and around them all day, and for things just worked out right. Jakes finally stopped messing with our hunt and the toms were responding.
Melissa Bachman
With a degree in broadcast journalism, Melissa set sights on a career in the outdoors. Traveling over 300 days a year to shoot for Winchester Deadly Passion, Bachman considers this her "dream job." With a love for children, industry trade shows and the great outdoors, she films around the world for her adrenaline-pumped series.