Hoping For A Storm
Post-rut hunting can be very productive. Similar to the pre-rut, it comes down to predicting when the deer are going to move and being in your stand when they do.
Some might say I am crazy for wanting a winter storm. However, if a hunter wishes to get out and tough the weather immediately before and directly following a large winter storm, there's a good chance he will be gripping a big buck's antlers.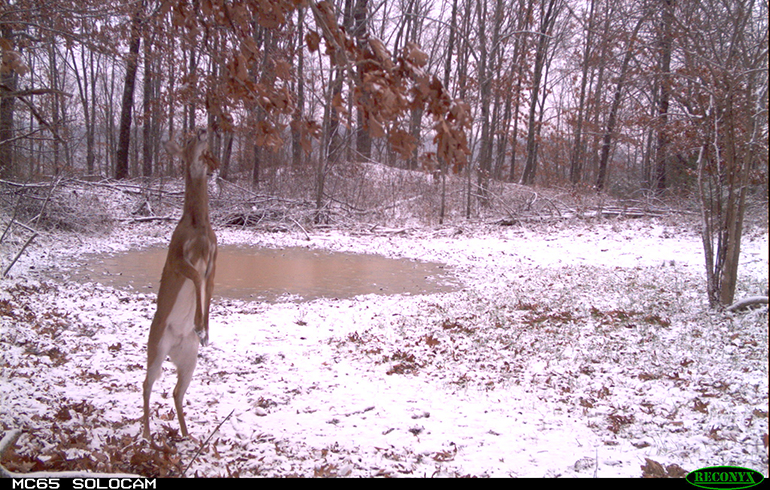 Deer frequently have increased daytime deer activity just before and after abnormal weather. Many times before a large winter front I have observed deer moving to food in an almost frantic fashion. As a hunter, I would hate to miss that! Once the storm hits I usually stay in the warmth of my house as the deer are likely doing the same – seeking cover. Keep a watchful eye on the weather and when the first calm hours after the storm are forecast be ready to head back to the woods and capitalize on bucks moving to food.
A winter storm can be a great tool to use for bagging your next hit-list buck. Remember to hunt on either end of the storm. That's what the GrowingDeer Team will be doing this winter. We are hoping for a repeat of a late season harvest, in 2013 we tagged a hit list buck called "Trashman."
Dr. Grant Woods
Raised in the Ozark Mountains of Missouri, Dr. Grant Woods has consulted on wildlife research and management from Canada to New Zealand. A hunter since childhood, he not only knows how to grow big deer, but how to effectively hunt them as well. His work serves to improve deer herd quality and educate hunters about advanced management techniques.