Tips For Late-Season Whitetail Success
By many standards, most whitetail hunting has come to an end by late December. However, there's plenty of states and opportunities that await for some incredible late season hunting if you still have it in you.
Over the years I've had a large percent of my success during late December and January on whitetails – especially big bucks. With that said, the techniques can be very different. I believe this is a time of year when hunting smarter, not harder can be a huge key.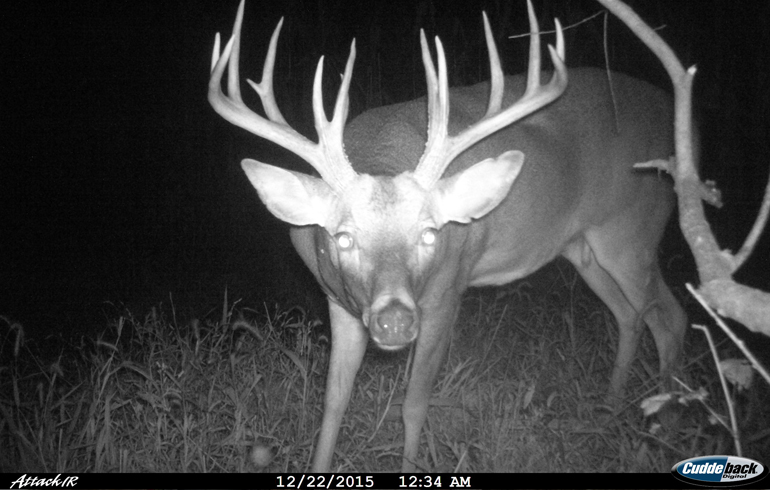 Stay Comfortable- Many late season hunts involve cold weather, so ensure you are dressed appropriately. If you're going to be sitting in a tree stand, don't forget things to keep you comfortable. Bring a seat cushion, not only will it keep you more comfortable it also helps you stay warm. I also always keep hand warmers in my bag, a neck gaiter, ThermaCare heat wraps for my neck and kidneys, and of course layer up. The more comfortable you can be on stand, the better your odds of success because you'll be sitting still and paying attention.
Hunt Afternoons- All day sits usually aren't as productive as the late season kicks in. I've found that it can be very difficult to hunt mornings without busting deer out. The ground is usually loud and frozen, the deer often times move for only a very short time, and I've come to the conclusion it is better to put your efforts into the afternoon hunts and make them count.   
Utilize Your Trail Cameras- I am a big fan of keeping my Cuddeback's out all season. However, they can be a huge help late season. Not only does it help you determine which bucks are still around, but I really like to use them to figure out exactly where deer are entering a field. I switch my cameras to time lapse mode where it continually takes pictures one after another during daylight hours. This way there is no need for a deer to actually walk in front of the camera to trigger it. You can set it up on a food plot and get a perfect scouting tool to see where the deer are entering a field, and what deer are coming out where.     
Hunt a Food Source- Though food sources are probably my favorite to hunt late season, this isn't always an option. If you're hunting an area without a food source, find out two things – where are the deer on your property eating, and where are they bedding. If they are leaving to eat, hunt those trails going back and forth to food. Many times it won't be that far away from the food as they seem to hang close to it late season.     
Hunt The Coldest Days Possible- Bucks are incredibly run down from the rut by the end of December and into January in most states, and they need to add weight back on before winter hits. When I'm picking a time to hunt, if at all possible, pick the coldest days. It's truly incredible to see how many deer pour out during the extreme cold weather. When the weather is right get on stand early and be ready for an eye full!
Melissa Bachman
With a degree in broadcast journalism, Melissa set sights on a career in the outdoors. Traveling over 300 days a year to shoot for Winchester Deadly Passion, Bachman considers this her "dream job." With a love for children, industry trade shows and the great outdoors, she films around the world for her adrenaline-pumped series.