Hot Fun in the Summertime – Honing Your Shooting Skills
The days are longer with hours of sunlight remaining after many of us have returned home from work and the weather is nicer with shorts and t-shirts the standard casual dress.
Let's face it, summer is a great time for enjoying a little shooting outdoors and it's particularly a fun time to sharpen your handgun skills. Winchester added several new products to its line of handgun ammunition offerings in 2016 that will help make those outdoor shooting sessions cleaner, easier and perhaps most importantly, more affordable.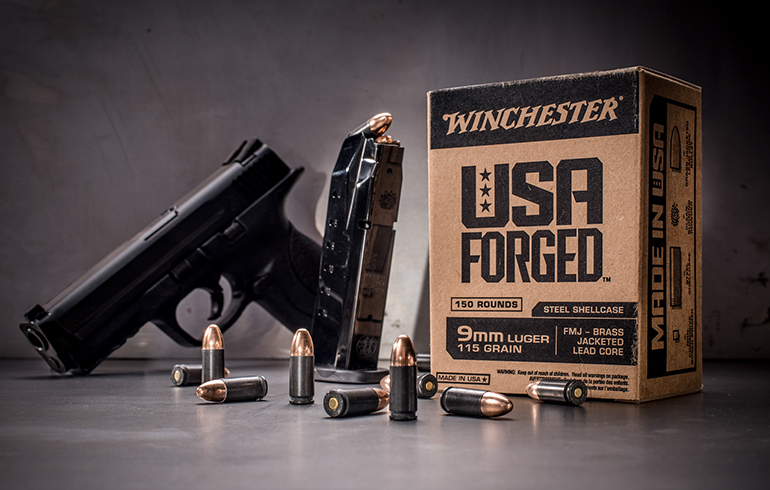 First, as mentioned on this blog earlier this year, Winchester introduced their USA Forged line of steel shellcase ammunition. It marked the first time a major U.S. ammunition manu­facturer introduced a steel shellcase pistol product made completely in the USA. The line's initial offering comes in the form of a 150-round box of 115-grain full metal jacket (FMJ) 9mm bullets that feature a high-quality brass bullet jack­et.
So why steel cases? Steel cases are less expensive to manufacture than standard brass casings, but unlike many foreign-made steel loads that are banned from ranges because they also include steel jacketed bullets, USA Forged features brass jacketed bullets—safe for any firearm or range. Because these cases cost less to make, they also cost less to buy, meaning those high-volume shooting sessions just got a little cheaper. From a practical standpoint, steel cases are also easier to clean up, particularly outside in grassy areas where you can't simply sweep the floor.
Using a strong magnet on a stick or rod, cases are easily picked up to clean the area and prepare for those shooters interested in reloading.
In addition to USA Forged, Winchester also added two new lead-free (both airborne and downrange) pistol target and training products to its Super Clean line. Both loads feature zinc-core, full metal jacket (ZFMJ) bullets with lead-free primers, which are ideal for indoor and outdoor ranges. These two new Super Clean loads—a 9mm Luger 90-grain ZFMJ load with a muzzle veloc­ity of 1,325 fps and a .40 S&W 120-grain ZFMJ that flies at 1,250 fps—are also offered at affordable price points, which is sure to help those shooters seeking to keep their days at the range—indoors or outdoors—in a budget that leaves something left for that other summer favorite—grilling out.
Winchester Ammunition
A world leader in delivering innovative products, Winchester is The American Legend, a brand built on integrity, hard work, and a deep focus on its loyal customers.