The Last Frontier – Alaska Adventure Part III
With my dad's black bear tag filled, I was up next and was super excited to have him by my side for the remainder of the hunt.  
For years I've been coming to Southeast Alaska to hunt black bear and the adventures have been unbelievable.  This was going to be the first time staying in a cabin. As luck would have it, we had absolutely perfect weather.  Bright sunny days, warm temps, no wind, and best of all…no bugs!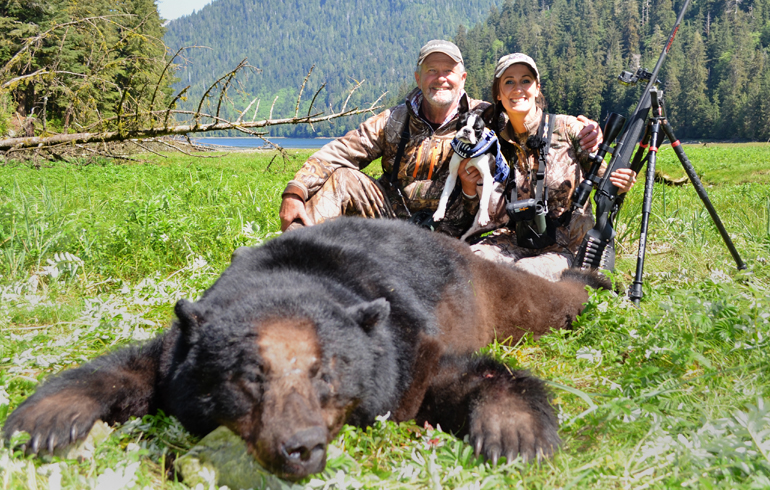 Not sure why every time I do a tent trip it needs to rain the entire trip, but I was just thankful for the beautiful weather and ready to have a nice relaxing time to catch up with my dad.
One of my favorite ways to hunt black bear is spot and stalk, but I usually like to take it a step further.  Ideally I like to spot a bear, then try predator calling them right into close shooting distance.  I've done it three times in the past, and I was hoping to do it once again this year.
After calling the Alaska Game & Fish to ensure it was legal, I decided to bring my electronic predator call up to use on the trip.  There are a few advantages to using an electronic call that I was hoping would help my chances of success. First, you can place the call away from where you're sitting in most situations.  This way when you do call a bear in, his attention will be on the call and you can pull him in broadside.  When you're calling on your own with a hand-call, the bears will come in straight on and rarely turn.  This means you'll usually be taking frontal shots, which have a smaller margin of error so I always try to bring the bear in super close. You also have the added bonus of an extended-range with the volume on an electronic call. This means an electronic call is  much louder than a mouth call, which can be helpful in certain situations.
I brought along my Convergent Hunting Solutions bullet call along where I can control everything right from my phone without the need for service.  All I had to do was pair the call with my phone via Bluetooth and we were all set.  Not only does Convergent Hunting Solutions have a wide variety of calls on their downloadable apps, but you can also play your own calls or use it for music around camp.  Think of it as an incredible speaker for your phone that can be used anywhere.  The way I decided to use it creatively was not only for a bear call, but years ago I called in a black bear using my dads old hand call that I unfortunately lost that day on the beach.  Before leaving I recorded the audio from the last time I used it to bring a bear in and saved it on my phone.  Now I was going to have the opportunity to use that call again even though it was gone and lost forever!
So with calls ready, we actually decided to set up on a specific grass flat where we had seen a big boar everyday, but were always just missing him.  The third day we decided to go in right away in the morning and planned to sit all day and wait this bear out with hopes of calling him out of the timber.  We had found an incredible vantage point in the timber the day before, so we knew exactly where we wanted to be to see and shoot the entire grass flat.  To our surprise, as we snuck in, the
big boar was already out.  We got everything setup including my call just in case.  As we were setting up the bear actually laid down facing away.  I had no shot, so I used the call with hopes that he would come barreling in close.  Unfortunately, this bear wasn't interested in a hot meal but it did get him to stand up presenting a much better shot.  I waited until he was broadside and squeezed the trigger.  My first shot dropped him, but I followed it up just to ensure the bear wouldn't be making it off the grass flat.  I was using my Winchester XPR in a .300 Win. Mag with 180-grain Ballistic Silvertip.
An absolute giant bear down, but in fact my biggest skull size to date. The best part of it all was having my dad right by my side.  I think his heart was pounding as much as mine, and we were both so happy to wrap up an incredible adventure with another huge boar down.  After all the years my parents spent taking me hunting, fishing and traveling it was such a great feeling to bring my dad along on this journey and experience this trip together.
Melissa Bachman
With a degree in broadcast journalism, Melissa set sights on a career in the outdoors. Traveling over 300 days a year to shoot for Winchester Deadly Passion, Bachman considers this her "dream job." With a love for children, industry trade shows and the great outdoors, she films around the world for her adrenaline-pumped series.