Champion Rhode Goes for Her 6th Olympic Medal
Kim Rhode had already secured her status as a competitive shooting legend before nabbing a spot in her sixth consecutive Olympic games at Rio later this summer.
She is one of only 51 athletes in history to win five or more Olympic medals and was the first U.S. Olympian to win medals at five consecutive Olympic Games when she won a gold medal in the 2012 games. She won her first gold in 1996, won a bronze in 2000, another gold in 2004 and a bronze in 2008. If she medals in Rio, she will be the only U.S. athlete to ever do so and the second athlete ever to win six consecutive medals.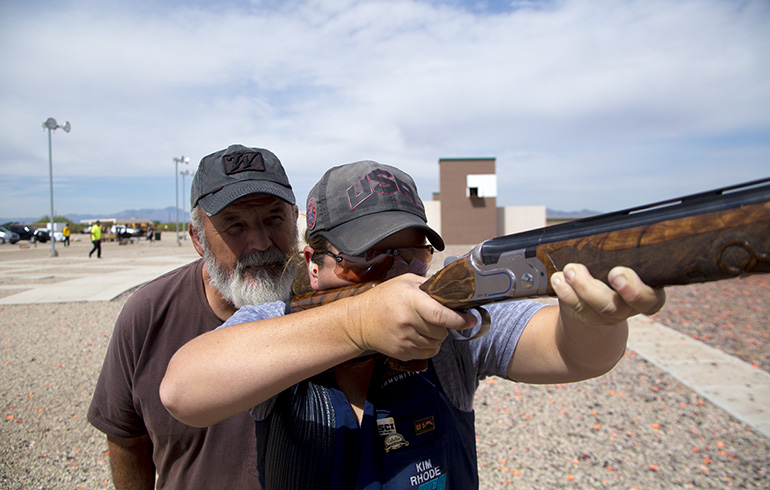 Only Italian luge legend Armin Zöggeler has won as many consecutive individual Olympic medals. Other notable facts about Rhode in Rio:
Just by competing in these Olympics makes Rhode only the second U.S. woman ever to compete in six Olympic games.
She is the first U.S. Olympian to qualify for Olympic competition on five different continents.
Six medals would tie Rhode for most Olympic medals in shooting and double the total of anyone else in the shotgun discipline.
If Rhode wins gold, it will make her the first shooter to win four Olympic gold medals and only the second female summer Olympic athlete to ever do so.
Who could have imagined she would become such a storied shooter when at 10 years old, she first began competing in American skeet. Just several years later, at the age of 13, she would go on to win her first world championship. She has since gone on to win 35 medals total in international competitions including 14 National Championship gold medals since making the national team in 1995 while still a teen.
Rhode, now a mother, has also enjoyed a long-time relationship with Winchester ammunition, the exclusive shotshell sponsor and supplier of the U.S. Shooting Team since 1999. In fact, in 2012, Rhode was featured on special boxes of Winchester AA shotgun shells.
Rhode now has 27 years of competitive shotgun shooting experience in skeet and double trap, and with her earning a spot on this year's Olympic shooting team during the U.S. Olympic team trials in Tillar, Arkansas, in such dominating fashion, she shows no signs of slowing down any time soon.
Winchester Ammunition
A world leader in delivering innovative products, Winchester is The American Legend, a brand built on integrity, hard work, and a deep focus on its loyal customers.