The Golden Hour
Leisure time has ended for Nikki Boxler, as she ventures outside of Quemado and into the sun soaked hills and valleys surrounding the small town. Her quest for a giant bull elk has brought her across the country, to an area where the herds are bountiful and the bugles are clear from miles away.
With resident elk expert and guide Ramone leading the way, Nikki quietly begins her trek through the rocky terrain at daybreak. The morning hike was encouraging as the team spots elk and other game far off in the meadows below. As elk do not typically graze in the open during hot daylight hours, Nikki and Ramone decide to break for lunch, nonetheless confident in there plan and tactics for the evening chase.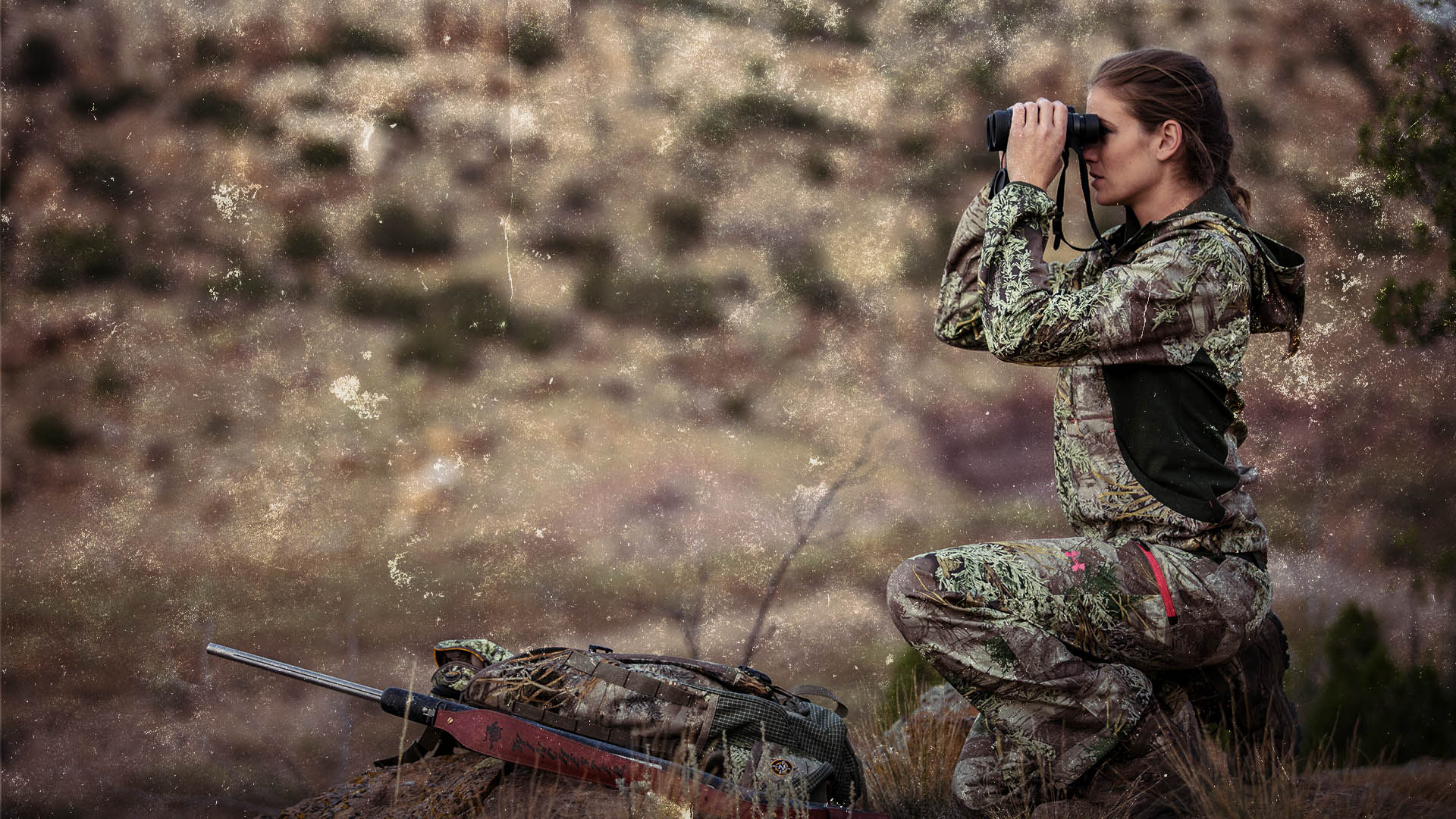 As they position themselves above the valley, Nikki spots a sure shooter, a giant Rocky Mountain bull. As the Golden Hour approaches, the clock is ticking and the pressure mounts. Getting the Winchester in range is the easy part, the challenge is remaining undetected and patiently waiting for the right moment to pull the trigger.
Host Q&A
Q: Tell us about your experience with the people of the town.
A: I have a soft spot in my heart for small towns that are filled with people who are overflowing with pride, work hard and thank God for everything they have and would give the shirt off their back to help others in need. In Quemado, these are exactly the types of people that we met and it makes me smile to know that there are places and people that still represent what America was built on.
Q: What made the store in town so special?
A: I loved visiting the town store because when I walked through the doors it was like taking a step back in time. It is a place that made me feel like home. I was greeted with a smile from a friendly face and the local town folks were all greeted by name. It took me back to a time when life was simpler, and you could truly focus on the things that matter most.
Q: Talk about your experience riding the horses and working with real cowboys.
A: Riding horses on the ranch in New Mexico was such an amazing experience for me. When I was young I would always watch the movie "The Man From Snowy River" and since then I always dreamed of riding horses over the plains and herding cattle on a real ranch. I was impressed with the horses, you could tell that ranching ran in their blood. You pointed them toward a cow and they knew exactly what had to be done. It was an experience that I will always remember and I'm so grateful that the cowboys trusted me enough to ride with them!
Q: Tell us about the open country of New Mexico and how it differs from your home ground.
A: New Mexico was a completely different experience for me compared to where I live in Western New York. New Mexico had a lot of wide open spaces and mountains. You could drive for hours through the dessert and not see a store. Looking around New Mexico you would think that it would be easy to find elk because there were not any thick hard woods, however, it proved to be difficult as there are bushes all over the mountains that the elk use as cover which makes them difficult to spot.
Q: Talk about your choice of firearm and ammunition, and why you chose it for this hunt.
A: For this hunt I chose to hunt with a Winchester .270 and used 150 grain Power Max Bonded ammunition. I decided to go with this combo because I shoot this gun often and am confident with this combination. A well placed shot is paramount when hunting large game.
Q: What does it mean to you to be a part of this series?
A: To me this series represents everything that I am, from the tradition and heritage, to the way we still live our lives. I am humbled to be a part of the team and excited to explore the amazing people and towns that stay true to their roots and to showcase what it is to truly be a proud American.
Q: Tell us what it means to be the only woman on this team and how you want to be perceived.
A: It's pretty funny when people ask me how I feel about being the only woman on the team because I rarely look around camp and think "I am the only woman". For me, I have been going against the grain and breaking the stereotype about how woman are perceived since I was born. Whether its farming, hunting, or working in the financial world I have been working in "male dominated" industries my entire life. I hope that I am perceived and accepted as a hardworking, family oriented person that brings joy to those around her and challenges people to be the best version of themselves.
Nikki Boxler
Nikki Boxler grew up on a large dairy farm in Western New York and continues to reside there today. This setting has shaped her love of the outdoors and is how she developed a passion which drives her to spend as much time hunting and fishing as possible. For her, hunting is not about the kill, it is about the experience, the memories, the moments and having fun. Her most memorable adventures take place not only in the woods but also around the grill. Nikki thoroughly enjoys her role as co-host of Winchester Life.