Final Winchester 150th Anniversary Bullet Board Available Now!
That once-in-a-lifetime opportunity is now … to bid on the last available Winchester 150th anniversary bullet board, and to some, the most coveted of the five that were made available in 2016.
The Winchester Model 1866 "Yellow Boy", made in 1871 and chambered for the original 44 Henry Rimfire cartridge, will go to the highest bidder, with the auction closing at 11pm central on December 24, 2016. Visit qtego.net/qlink/foldsofhonor for more information and to place your bid now!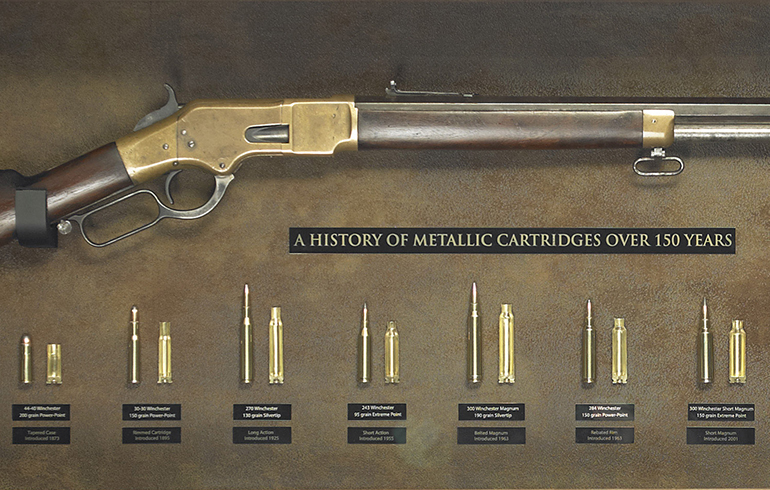 The proceeds from the sale of this historic piece of Winchester history will benefit Folds of Honor www.foldsofhonor.org in support of their mission to provide educational scholarships to the children and spouses of those fallen or disabled while serving our nation.
BID NOW … on the Final Winchester 150th Anniversary Commemorative Bullet Board
To date, four Winchester 150th Anniversary bullet boards have achieved more than $100,000 in 2016, with bids ranging from $6,500 to over $55,000. The Winchester Model 1866 bullet board, (1866, the year in which the Winchester brand was established) is the most valued of the five custom built boards in 2016, and was purposely made available as the final commemorative piece of art to round out the 150th anniversary celebration.
Known as "The American Legend," Winchester embodies the fighting spirit America was built upon. The same fighting spirit that can be found in every brave man and woman who suits up to defend our great nation. The same fighting spirit that can be found in the legacy of every service- member who has sacrificed protecting our freedoms. The same fighting spirit that drives Folds of Honor to honor the sacrifices of those service-members by educating their legacy. The same fighting spirit we believe lies in the heart of every proud American.
BID NOW … Be a part of history.
Winchester Ammunition
A world leader in delivering innovative products, Winchester is The American Legend, a brand built on integrity, hard work, and a deep focus on its loyal customers.