Venison Jerky Made on the Quick
I used to make jerky using a dehydrator, but I got a Traeger grill this past year and have used it to make various recipes including jerky. Needless to say, I will never make jerky any other way.
The Traeger Grill has a smoke setting so you can set it and forget it.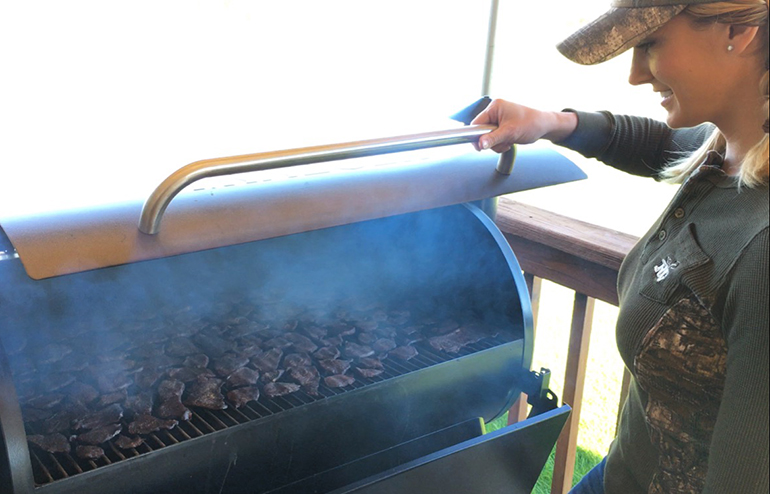 Here is what you will need:
Venison
1/2 cup soy sauce
1/2 cup cola, water, or beer (I used water)
2 tbs brown sugar
2 tsp garlic powder
1 tsp onion powder
Dash of Black Pepper
Step 1
Slice up the venison. I suggest using a meat slicer to ensure that your venison is uniform in thickness. This will help the meat cook evenly so you don't end up with pieces that are too dry or too moist. I always like to slice the meat while it is still a little frozen, this makes slicing quick and easy!
Step 2
Whisk all of the ingredients together, and pour into a zip lock bag with the sliced venison.
Step 3
Once you have the ingredients and the sliced venison in the bag, shake the bag and put it in the refrigerator to marinade overnight.
Step 4
Remove the venison from the marinade and dry the slices by placing them between paper towels. Then arrange in a single layer on the grill grate.
Step 5
Allow the venison to smoke for about 4-6 hours or until the jerky is dry but still chewy – length of time will depend on the thickness of your slices. Remove from the grill and enjoy! For longer storage place the jerky in a plastic bag and squeeze any air from the bag and refrigerate.
Side note: I used Big Game pellets when smoking the venison
Nikki Boxler
Nikki Boxler grew up on a large dairy farm in Western New York and continues to reside there today. This setting has shaped her love of the outdoors and is how she developed a passion which drives her to spend as much time hunting and fishing as possible. For her, hunting is not about the kill, it is about the experience, the memories, the moments and having fun. Her most memorable adventures take place not only in the woods but also around the grill. Nikki thoroughly enjoys her role as co-host of Winchester Life.