Sure Shot
The Keefer Brothers, Paul Sawyer, Nikki Boxler and Taylor Drury partake in a friendly competition to determine who has a sure shot. Locked and loaded with Winchester Long beard XR ammunition, the crew dials in on the Winchester Long Beard XR Pattern Board.
Spring unlocks a closed window that anxious outdoorsmen have waited all winter to unhinge: Open wild turkey season.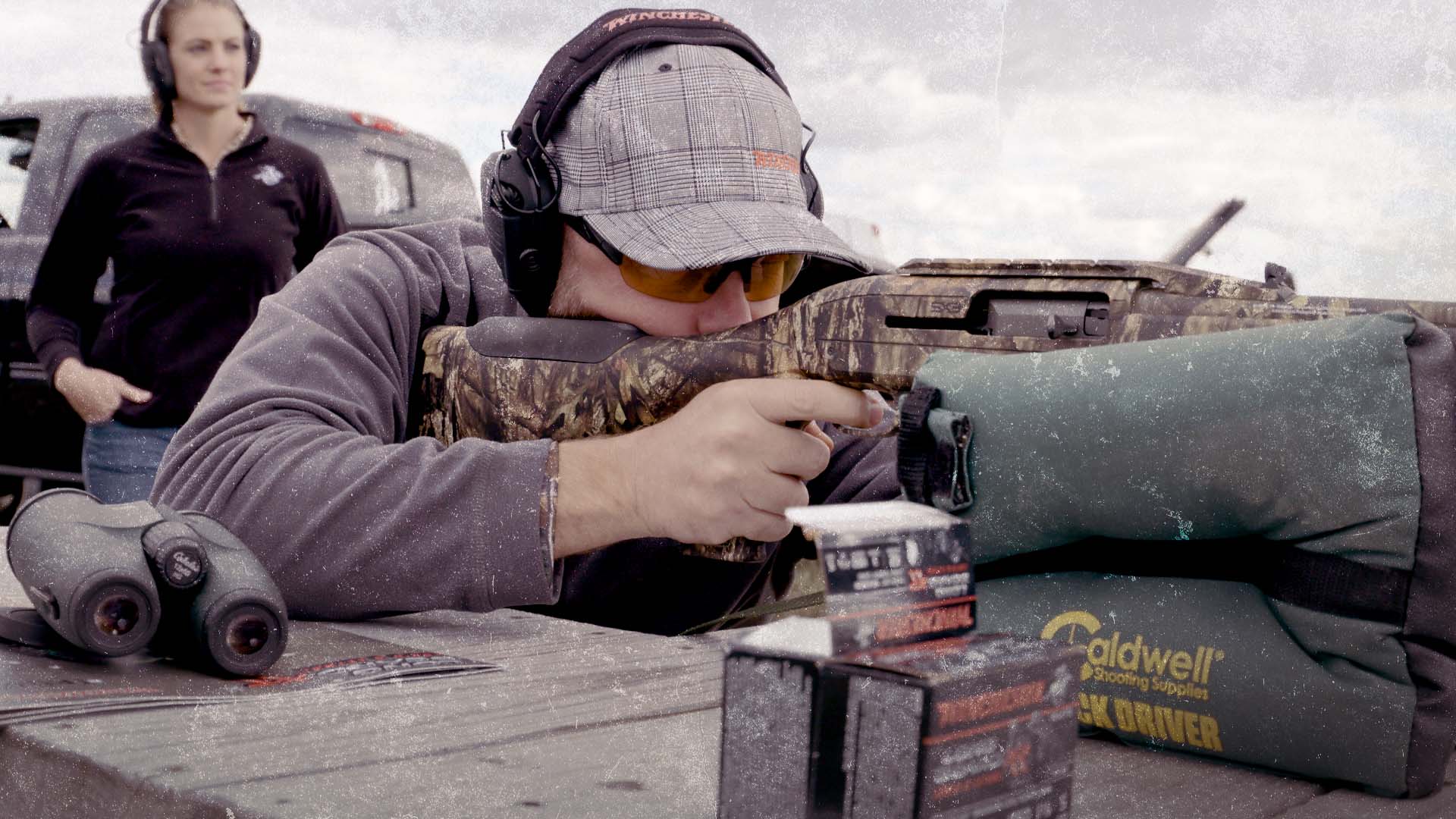 Before hunters can bring their lips to the mouth of a turkey call, it is important to make sure the firearms they bear are patterned properly. Solidifying a shotgun pattern improves accuracy and provides a complete picture of how the shot will land.
So when the feathers fan, the feathers will fall soon after.
Winchester offers an innovative application to help hunters perfect their shot. With the Winchester Pattern Board™app users can select the gauge, choke constriction, shell length, pellet size, brands and distance to replicate their shotgun pattern.
The Winchester Pattern Board™app is the first of its kind…and its information is not based on assumption. Engineers shot over 2,600 patterns from 10 to 70 yards to provide accurate intel for the application.
Creating a pattern with the Winchester Pattern Board™app eliminates the guessing. It saves time. Energy. Money. A true gobbler game changer.
Visit patternboard.winchester.com for the single best way to see shotshell patterns.
Chris Keefer
Chris loves to chase big game in Alaska with brother Casey and spends a ton of time doing just that. When not there or in the planning stages of the next hunt, he enjoys a sunny day round of golf back home in his native Michigan.

As co-host of Winchester Life, he feels it his responsibility to help you find your own definition of the outdoors. He takes this responsibility very seriously and will take the rest of his working life fulfilling this quest. He can go from adventurous woodsman to sharp-dressed dinner guest in no time at all.
Casey Keefer
Casey lives off of the adrenaline and the solitude he finds in the most remote corners of the world. Essentially, this charges his batteries. For him, it's not about the end game, it's about the journey. He considers it his duty to "pass it on," so that hopefully you can experience the same in your very own way – wherever that may be, chasing whatever you may chase. Casey is co-host of Winchester Life. He and brother Chris find themselves pursuing big game a large amount of time in Alaska.
Nikki Boxler
Nikki Boxler grew up on a large dairy farm in Western New York and continues to reside there today. This setting has shaped her love of the outdoors and is how she developed a passion which drives her to spend as much time hunting and fishing as possible. For her, hunting is not about the kill, it is about the experience, the memories, the moments and having fun. Her most memorable adventures take place not only in the woods but also around the grill. Nikki thoroughly enjoys her role as co-host of Winchester Life.
Paul Sawyer
Born in the fertile whitetail country of Iowa, Paul now lives in legendary Pike County, IL. He has lived the outdoor lifestyle in the Midwest for nearly his entire life where he's turned his passion for the outdoors into a career. Now his goal is to spread the word, to share what is possible when someone can own and manage a great hunting property, to grow and hold giant whitetails.