Celebrate the 4th With Quick & Easy Jalapeno Poppers by Nikki Boxler
Kick off your Fourth of July celebration with these quick and easy jalapeño poppers!
Note: I used the Big Game Rub by Traeger and cooked them on the Traeger to add a smokey flavor! You can also use a marinade of your choice and cook them in the oven. If you are using a marinade, place the pheasant in a bowl and let it marinade overnight in the refrigerator for extra flavor!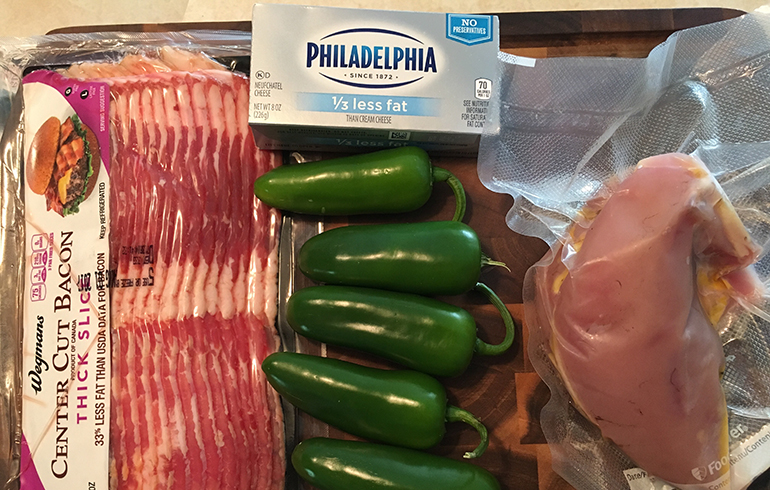 Here is what you'll need:
Cream Cheese
Pheasant
Jalapeño Peppers
Bacon
Seasoning or marinade of your choice
Step 1: Cut pheasant breast into 2" slices and rub with seasoning.
Step 2: Preheat the oven or grill to 400 degrees.
Step 3: Cut the jalapeños in half length wise and scoop out all of the seeds and ribs, you may want to wear latex gloves during this step an avoid any contact with your eyes. After cutting the jalapeños wash your hands immediately!
Step 4: Fill the peppers with cream cheese.
Step 5: Place a slice of pheasant on each cream cheese filled pepper.
Step 6: Cut the strips of bacon in half and wrap each pepper with half a piece of bacon. Secure the bacon with a toothpick.
Step 7: Bake the peppers for 30 to 40 minutes or until the bacon reaches your desired level of crispiness and enjoy!
This is a quick and easy appetizer that can add a kick to any occasion! I hope you have a happy and safe fourth of July celebration!
As always we would love to get your feedback and please share with us your cooking tips and tricks!
Nikki Boxler
Nikki Boxler grew up on a large dairy farm in Western New York and continues to reside there today. This setting has shaped her love of the outdoors and is how she developed a passion which drives her to spend as much time hunting and fishing as possible. For her, hunting is not about the kill, it is about the experience, the memories, the moments and having fun. Her most memorable adventures take place not only in the woods but also around the grill. Nikki thoroughly enjoys her role as co-host of Winchester Life.