W Train & Defend – a Fabulous Ammunition Combination for the New Shooter
When it comes to hunting ammunition, Winchester has done an incredible job at making a hunter's job easy when deciding what ammo is best. They have created rounds made for specific animals, which enables quick clean kills using the most innovative technology to help ensure success in the field.
Luckily, they didn't stop with this mindset when they moved to the world of self-defense. There is a huge rising number of Americans buying guns for the first time with personal defense in mind, and many of these new shooters are female. Understanding this, Winchester realized there needed to be a streamlined process when choosing the best ammunition for personal defense and training with it. When looking at an ammunition shelf it can be truly overwhelming trying to decide what ammo is best to protect yourself and your family.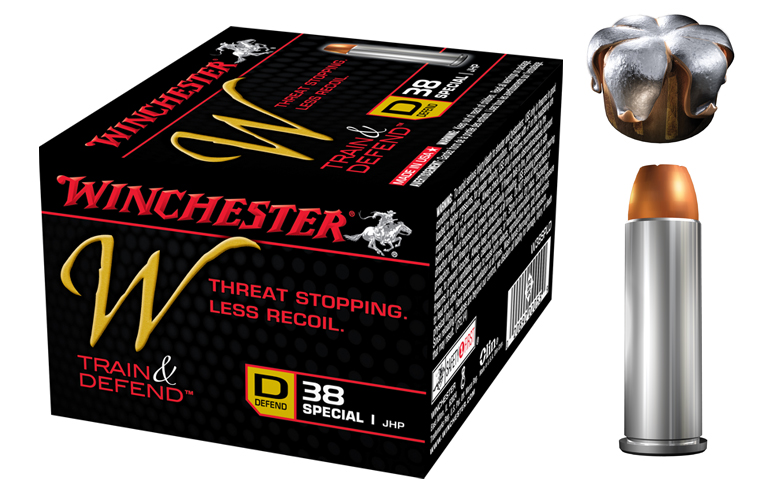 With the W Train & Defend line they designed ammo that paired perfectly together so shooters had an easy time knowing what they need to train with and what they need to use to deliver threat-stopping power.
When it comes to training rounds, Winchester ensured the train rounds are marked with a large and prominent "T" on the box. The 50-count box contains brass shell cases and full metal jacket bullets. They were designed with lower recoil, which gives faster and more controlled follow up shots on the range. It also allows shooters to practice at an economical price and enjoy the overall shooting experience…which is key to keeping people involved! They also developed these training loads with lead-free primers, which can be helpful at many indoor ranges.
As far as the Defend round, Winchester created a ballistically-matched Defend round to go hand in hand with their training rounds. The 20-count Defend round has a prominent "D" on the packaging and features jacketed hollow point bullets and nickel-plated shell cases. These high-performance rounds utilize Winchester's advanced bonding technology for incredible threat-stopping power. This is the same technology used to protect our nation's law enforcement, so you're in good hands!
The best and most important part is that more shooters are getting out there, learning about guns, target shooting, and personal defense along with responsible gun ownership. Winchester has now simplified the entire experience providing a system that helps shooters train confidently and defend themselves. The W Train and Defend system includes the following offerings: 380 ACP, 9mm, 40 S&W, and 38 Sp.
If you're a seasoned vet or a brand new shooter, Winchester wants the decisions to be easy when it comes to ammunition choices. Luckily, they have made this simple to see and understand with the Winchester W Train & Defend.
Melissa Bachman
With a degree in broadcast journalism, Melissa set sights on a career in the outdoors. Traveling over 300 days a year to shoot for Winchester Deadly Passion, Bachman considers this her "dream job." With a love for children, industry trade shows and the great outdoors, she films around the world for her adrenaline-pumped series.