A Venison Dish for the Season to Come
There is nothing like walking into the house after a cold day in the tree stand and smelling the sweet aroma of meatloaf in the oven. This comfort food is a hunting camp favorite.
With every bite it always takes me back to my grandma's home cooking! Presume the same is true for you as well. I really love how that it only takes a few ingredients that I usually have on hand. I just mix it all together and throw it in a pan for a quick and easy healthy meal!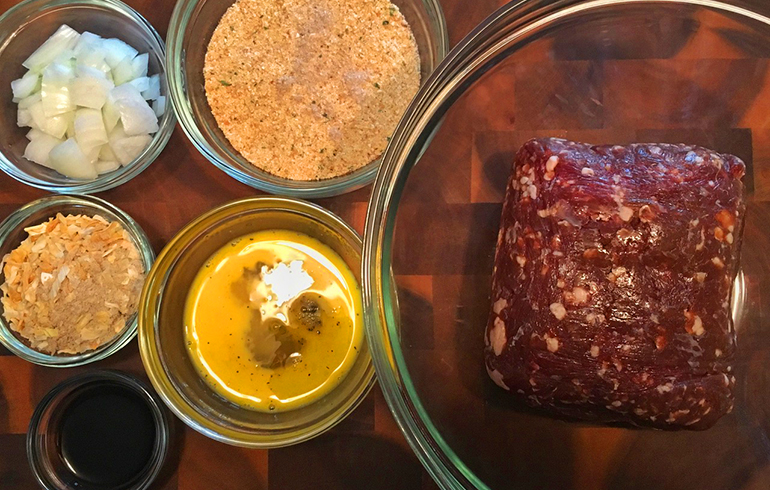 Here is what you will need:
Meatloaf
Ground venison (2 lbs)
1 onion, diced
1 egg, beaten
Salt & pepper to taste
1 tbsp. Worcestershire sauce
1 cup of bread crumbs
1 oz packet of onion soup mix
1 cup of milk
Glaze Topping:
¼ cup ketchup
¼ cup brown sugar
¼ cup apple cider vinegar
Instructions
Preheat oven to 350ºF. Spray a loaf pan with cooking spray.
Mix together the meatloaf ingredients (ground venison, onion, egg, salt/pepper, breadcrumbs, Worcestershire sauce, milk, and onion soup packet) in a large bowl, using your hands. Be careful not to over mix.
In a small bowl, mix the ketchup, brown sugar and apple cider vinegar.
Spread half the glaze on the bottom and sides of the pan.
Add the meatloaf and spread the remaining sauce on top of the meatloaf.
Place in oven the oven and bake for 1 hour and 15 minutes, or until the internal temperature reads 165 degrees.
Let cool for a few minutes and then slice and serve. Enjoy!
I always like to cook meat using a digital oven thermometer to prevent over drying and to make sure that my food hits the correct internal temperature.
Tip: Serve this dish with a vegetable such as beans or with a side of potatoes, for a delicious, healthy meal that the entire family will enjoy!
Nikki Boxler
Nikki Boxler grew up on a large dairy farm in Western New York and continues to reside there today. This setting has shaped her love of the outdoors and is how she developed a passion which drives her to spend as much time hunting and fishing as possible. For her, hunting is not about the kill, it is about the experience, the memories, the moments and having fun. Her most memorable adventures take place not only in the woods but also around the grill. Nikki thoroughly enjoys her role as co-host of Winchester Life.