A Venison Meatball Sandwich Made Easy
For some, deer season is still several weeks away. Others have already had the chance to get out and, hopefully, bring home some of the best meat around. Chances are, you've got some ground game in the freezer from years' past and perhaps you're just a little tired of chili and tacos.
Some of us tend to grind up way too much of our good game. There are other options. Before you go grinding up both hindquarters, consider turning the better muscles – sirloin, top round, bottom round – into steaks or roasts. Take a sharp, thin-bladed knife and separate each muscle from the hindquarter. Trim away anything that is not muscle. Give one of the cuts a good soak in olive oil, red wine, garlic and herbs.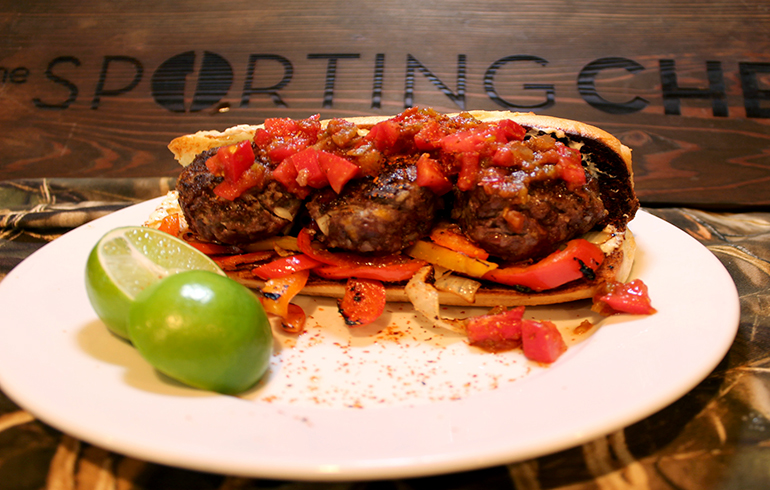 Toss it onto a hot grill and cook it until the internal temperature is between 130 and 135 degrees. After a short rest, slice the meat ACROSS THE GRAIN, take a bite and hit yourself for turning it into burger in the past.
Any ground game can be made into meatballs, but the antlered species are my favorite. I've used this same recipe with ground duck and goose breasts after adding about 20 to 25 percent ground pork or beef to give it some fat. The basic meatball is fairly simple. You need to season the meat and add enough binder so that the cooked meatballs don't fall apart. Too much binder and they'll taste like the over-breaded ones from the grocery store freezer. Use egg sparingly. Too much egg and the they'll get a tad spongy. You can also take the same cooked meatballs and simmer them in a red sauce for a more traditional Italian-style sandwich. Don't forget to melt a big slice of provolone over the top!
The Meatballs
makes about 16 meatballs
2/3 pound ground venison
1/3 pound ground beef (15 – 20% fat)
3 garlic cloves, minced
2/3 cup onion, finely diced
1 tablespoon dried oregano leaves
2 jalapeno peppers, seeded and minced
1 egg
1/2 cup shredded jack cheese
1/2 cup Japanese breadcrumbs (panko)
1/2 teaspoon salt
1/8 teaspoon pepper
olive oil
The Sandwich
2 teaspoons olive oil
1 bell pepper, thinly sliced
1 medium onion, thinly sliced
2 garlic cloves
1 teaspoon freshly squeezed lime juice
1/3 cup mayonnaise
4 sturdy rolls
1 cup pico de gallo (or tomato salsa)
Preheat oven to 350 degrees. In a medium bowl, combine all ingredients except olive oil. Mix well. Divide mixture in half and then divide each half into 8 equal parts. Form each portion into meatballs, packing tightly with your hands. Heat a thin layer of olive oil in a large oven-safe skillet over medium heat. Brown meatballs evenly. Place skillet in preheated oven for 15 to 20 minutes or until meatballs are just cooked and not overcooked.
Sandwich Prep: While meatballs are in the oven, heat olive oil in a skillet over medium-high heat. Add bell pepper and onion and stir-fry for 3 minutes. Add garlic and stir-fry for 2 minutes. Remove from heat.
Combine lime juice and mayonnaise and mix well.
For each roll, spread an even layer of the mayonnaise mixture over both sides. Place an equal portion of the pepper and onion mixture on the bottom of each bun. Add meatballs and top with pico de gallo.
Scott Leysath
Quite possibly the best chef you've never heard of…that's Scott Leysath. Known for many things as well as being an executive chef, he's also known as host of the Sporting Chef on television as well. He's an avid hunter/angler who has developed a cult-like following over three decades of recipes, public appearances, cooking columns, cookbooks and TV shows.