A New Lethal Deer Load - The 350 Legend
I love companies that are constantly trying to improve what is already good. Winchester is one of those companies.
Their long-standing tradition of innovation has done it again. They are continuously innovating and using the latest technology to give hunters the best ammunition to make quick clean kills in the field. Last season I was lucky enough to be one of the first hunters to hit the field with the all new 350 Legend. The gun was a Winchester XPR with a Silent Legion .375 H&H suppressor. The first location I put this caliber to the test was in the Nebraska Sandhills hunting mule deer.

Most of my shots are 250-yards and in, so this is the ideal round for those distances. Next, I was truly amazed by the lack of recoil. This caliber has 20% less recoil than a .243, but gets 20% more penetration. The best part is the 350 Legend is a straight-walled cartridge. It is the fastest straight-walled hunting cartridge ever made. So, for many states with restrictions, this is the ideal caliber. For people hunting in states like Iowa, Michigan, Ohio and Indiana this round gives them another option with incredible ballistics. I was using the 150-grain Deer Season XP which has a large diameter polymer tip providing rapid trauma and huge wound channels. You get massive downrange energy-transfer. This means incredible knockdown-power. It actually has more energy than a .30-30 Win and less recoil than a .450 bushmaster.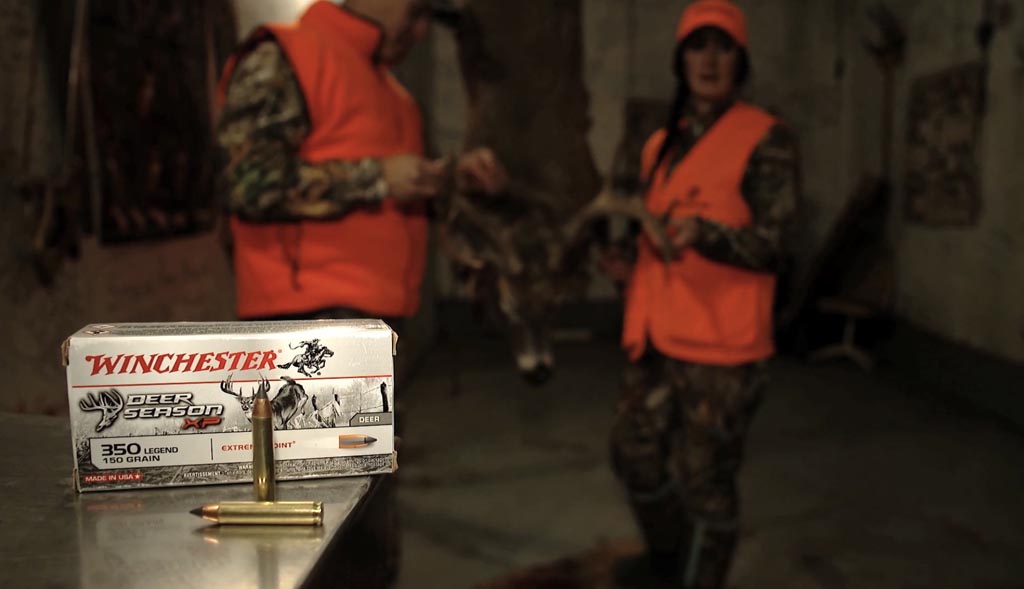 First up was a Nebraska mule deer. We ended up sneaking in on an absolute monster and got inside 50-yards. I made a good, clean shot and this buck went straight down within eyesight. To see a caliber with this light of recoil put a huge mule deer down was impressive to say the least. This was my biggest mule deer to date and I knew the results would speak for themselves when people started seeing what this caliber could do
Next we headed to Southeast Montana to rattle in whitetails on the Powder River. What I love about rattling in whitetails is the non-stop excitement and interaction. Even though not every buck I rattle in may be a shooter, the anticipation is so much fun. Most of the time when rattling shots will be 100-yards and in. After a short rattling sequence, we looked up and had a nice mature deer looking for a fight. When he was slightly quartering, I squeezed the trigger and dropped this buck right in his tracks. I couldn't get over how minimal the recoil was; less than a .243 yet has the knockdown power to knock a big buck right off its feet.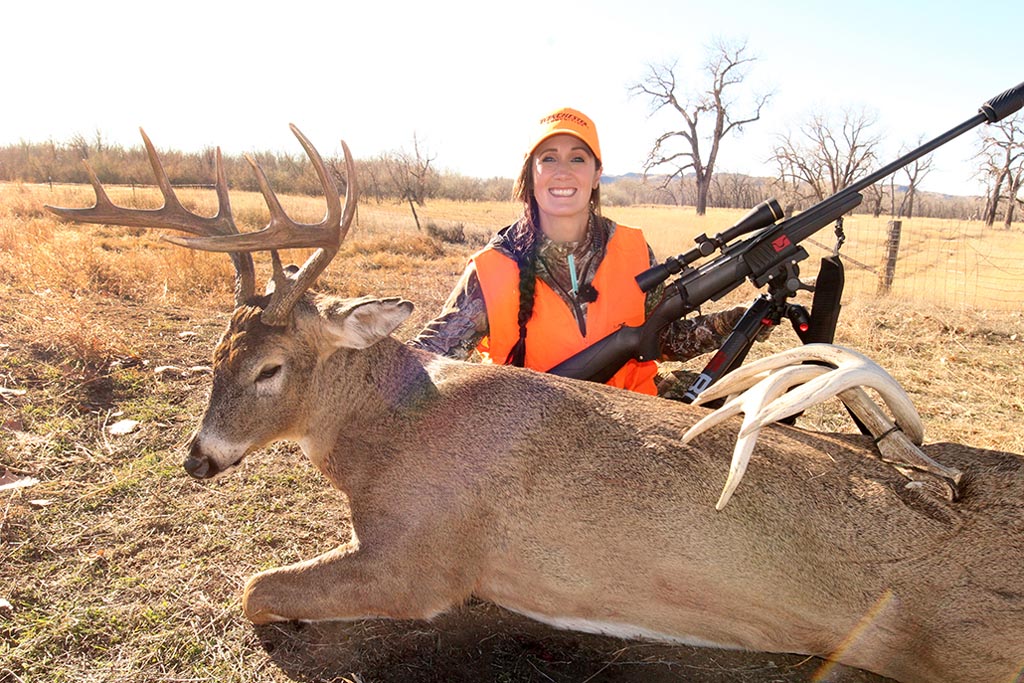 I know that there are many hunters out there who aren't too worried about recoil, but this caliber really is a joy to shoot. Not to mention, it's the perfect caliber in my opinion for youth hunters, new hunters or anyone who would rather avoid the "kick" that large calibers give.
I read all the stats and knew this would be a hit, but honestly it's the results that speak for themselves. Winchester has filled a void that many didn't even know existed. Now anytime someone asks me what my number one caliber suggestion for deer would be, the answer is easy, the 350 Legend.
Melissa Bachman
With a degree in broadcast journalism, Melissa set sights on a career in the outdoors. Traveling over 300 days a year to shoot for Winchester Deadly Passion, Bachman considers this her "dream job." With a love for children, industry trade shows and the great outdoors, she films around the world for her adrenaline-pumped series.