Double X
Trusted by Generations
Hunters Have Proven Winchester Double X Ammunition to be a Go-To Round in the Field
Winchester Double X ammunition has been used by hunters for decades. The copper-plated shot is protected by Grex buffering and it hits hard, consistently dropping turkeys every season. Whether velocity or payload is a preference, Winchester offers both High Velocity and Magnum loads in the Double X line.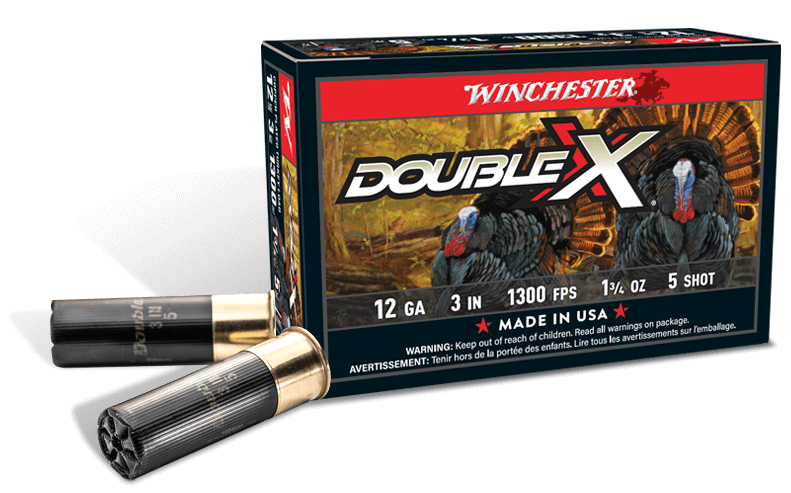 Copper Plated Lead Shot
Ensures tight, uniform patterns at long ranges. Delivers maximum impact and knock-down power
Custom Blended Powders Result in Consistent, High-Velocity Payload
Grex Buffering
Reduces set-back forces on shot, improving pattern performance
Ammunition
0 Items
Cartridge
Bullet
Weight
Bullet
Type
Rounds
Per Box
Symbol
Ballistic
Coeff
Muzzle
Velocity
Muzzle
Energy
Usage
Important Product Warning and Recall Notice
Winchester is recalling three (3) lots of 38 Special 130 Grain Full Metal Jacket centerfire ammunition.
Learn More About the USA38SPVP Recall
0
Compare Products
Products Compared
Overview
Cartridge
Bullet
Weight
Bullet
Type
Rounds
Per Box
Symbol
Brand
Ballistic Coeff
Usage
Velocity
Energy
Trajectory Short Range
Trajectory Long Range