Rooster XR
Lok'd & Lethal
The Most Innovative Upland Load Ever Developed by Winchester Featuring Shot-Lok Technology
Upland hunters rely on long-range lethality when it comes to flushing ringnecks. Featuring innovative Shot-Lok Technology, Rooster XR ammunition offers tighter patterns and longer shot capability than traditional pheasant loads. The loads also deliver greater penetration over standard lead loads beyond 50 yards. Rooster XR ammunition has the knockdown power needed for long range shots that can be challenging for upland hunters looking to push the limits.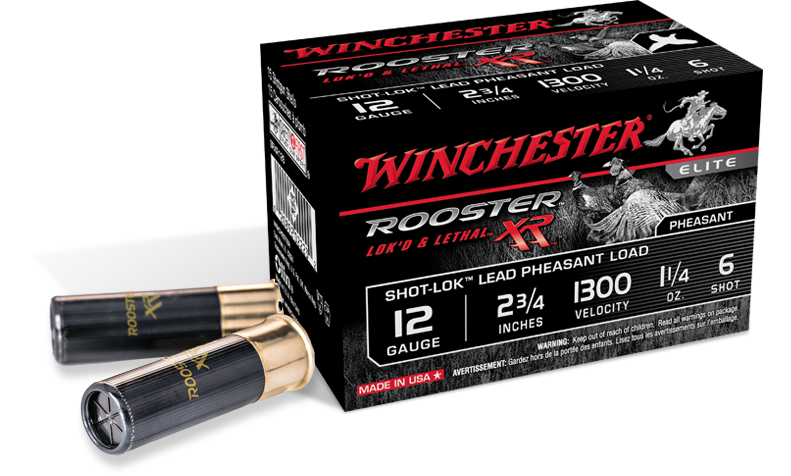 Devastating terminal on-target performance
Greater penetration over standard lead loads beyond 50 yards
Protects Shot During In-Bore Acceleration
Shot launches from barrel near perfectly round for extremely tight long-range patterns
Ammunition
0 Items
Cartridge
Bullet
Weight
Bullet
Type
Rounds
Per Box
Symbol
Ballistic
Coeff
Muzzle
Velocity
Muzzle
Energy
Usage
Important Product Warning and Recall Notice
Winchester is recalling three (3) lots of 38 Special 130 Grain Full Metal Jacket centerfire ammunition.
Learn More About the USA38SPVP Recall
0
Compare Products
Products Compared
Overview
Cartridge
Bullet
Weight
Bullet
Type
Rounds
Per Box
Symbol
Brand
Ballistic Coeff
Usage
Velocity
Energy
Trajectory Short Range
Trajectory Long Range