Winchester Introduces New High Performance Bismuth Waterfowl Ammunition
EAST ALTON, IL (January 19, 2022) – Winchester continues to evolve in the arena of ammunition for waterfowl hunters with its new Bismuth shotshell.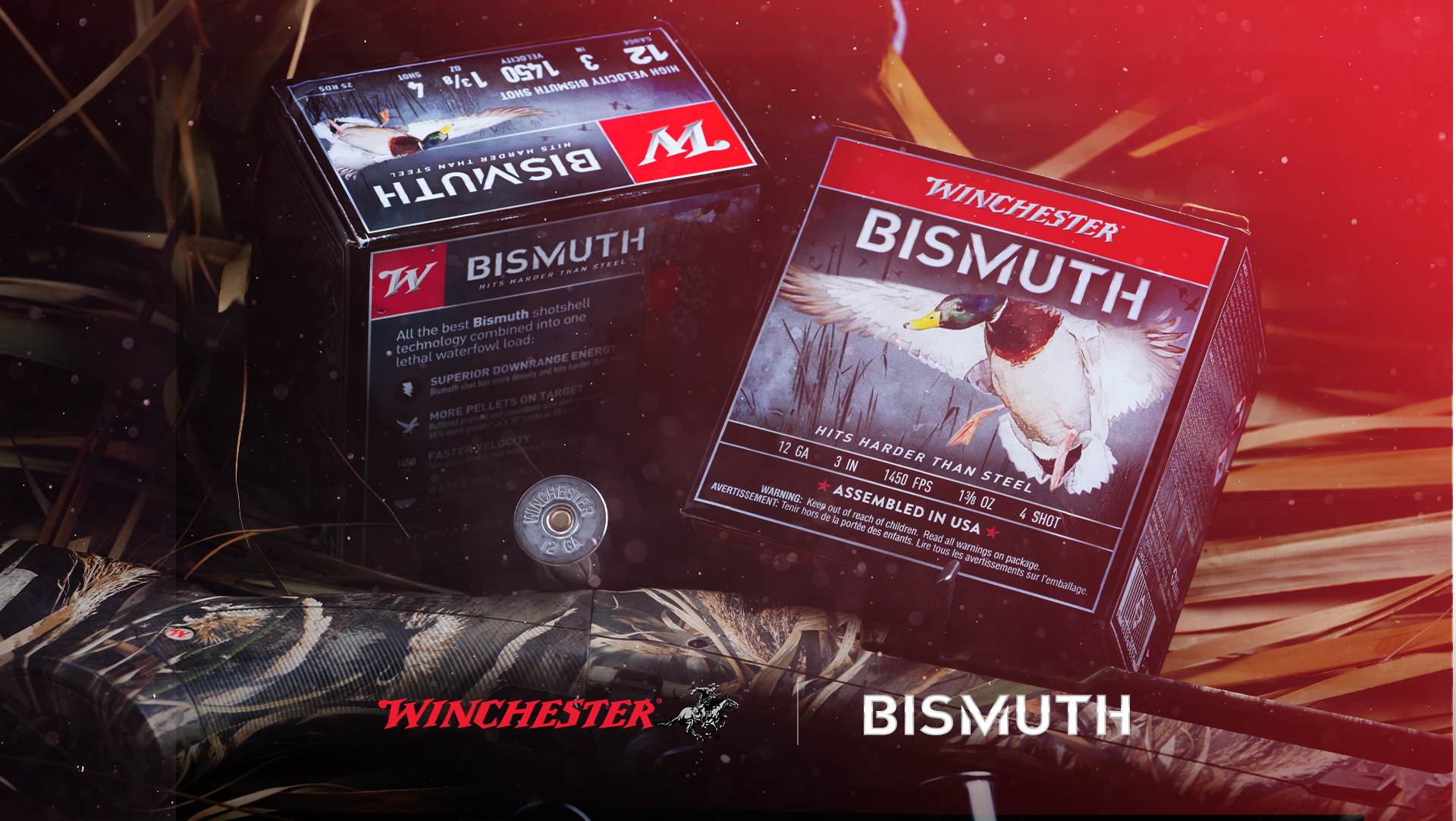 Winchester Bismuth shatters performance expectations with a premium, uniform shot, which is tin-plated to produce the smoothest, roundest bismuth shot in the industry. To ensure the shot stays uniform and round, Winchester adds a buffering compound that fills voids within the shotshell and cushions the shot upon ignition.

At 40 yards, Winchester Bismuth puts an impressive 90% of the pattern on the target while the two closest competitors demonstrate 66% and 54%. Hunters can also use any choke with Winchester Bismuth for optimum pattern performance. Another important component of Winchester Bismuth is the Winchester Drylok® Wad System and primer system for those days that are not bluebird but when the birds are flying all the same. The proprietary Drylok Wad System keeps powder dry for consistent and dependable ignition despite damp waterfowl conditions.

Bismuth shot has gained popularity among die-hard waterfowlers because it is denser than steel, allowing for smaller shot sizes to be used and more pellets within a pattern. It is also less likely to damage older shotguns and performs better than steel through a variety of chokes.

The 3-inch 12-gauge items will be loaded with 1 3/8 ounces of No. 4 shot for ducks and No. 1 shot for decoying geese with a muzzle velocity of 1,450 fps. Bismuth 20-gauge is available in a 3-inch with 1 1/8 ounces of No. 4 shot, traveling at 1,300 fps. Winchester Bismuth will be available in 2022 in 25-cartridge boxes at a price meant for dropping birds, not breaking the bank.

Winchester Bismuth Waterfowl Ammunition Features:
• Premium Bismuth Shot; tin plated, smoothest and roundest in the industry
• Buffered payload puts more pellets on target for 60-yard performance
• Water Resistant- Lacquered primer and double seal wad keep out water

Winchester Bismuth Waterfowl Ammunition Offerings:
---
About Winchester Ammunition
Winchester is the largest small caliber ammunition enterprise in the world and the leader in delivering innovative ammunition products to hunters, sport shooters, law enforcement, and the U.S. Warfighter. The 157-year-old Winchester brand is built on integrity, hard work, and a deep focus on its loyal customers. Learn more about Winchester by visiting Winchester.com or connecting with us on Facebook at Facebook.com/WinchesterOfficial.
Winchester: Committed to Safe, Legal and Responsible Firearm Use
As a global leader in the shooting sports and hunting industry, and a brand of 157 years, Winchester is committed to safe, legal and responsible firearm use. Winchester works with key groups like the National Shooting Sports Foundation on a variety of topics important to our industry, including training and education, and on specific programs such as Gun Owners Care and Project ChildSafe. Winchester will continue to support programs, organizations and individuals who promote hunting and shooting sports activities in a positive and responsible environment. Any use of firearms by youth participants should be done under the direct supervision of a parent, guardian or other responsible adult.
Gun Owners Care®
You care about safety. You care about preventing unauthorized access to firearms. You care about bettering your community, helping those in need, and conserving wildlife and wild places for generations to come. It's time for gun owners to tell their stories and show how they're making a difference. NSSF®, the trade association for the firearms industry, has established the Gun Owners Care® campaign to unite gun owners and the firearms industry in this common cause. Visit gunownerscare.org for more information.
---
Winchester Media Resources
For content and assets including image, video and document files for Winchester Ammunition products, please visit Winchester.MediaAssets.com.
For more information, contact media@winchester.com.