A Great Way to Sharpen Skills for the Coming Season – Squirrels
Hunting seasons are opening around the country and while the bulk of whitetail firearms seasons are still better than a month away, hunters shouldn't wait until the last minute to sharpen up their marksmanship skills.
But while trigger sessions at the range are a fine way to make sure your big game gun's scope is on and that you still have a steady enough hand and breathing technique to chew up a bulls-eye at 100 or even 200 yards, there's an even more exciting way to make sure you are prepared for the big moments this autumn holds. That way is small game hunting.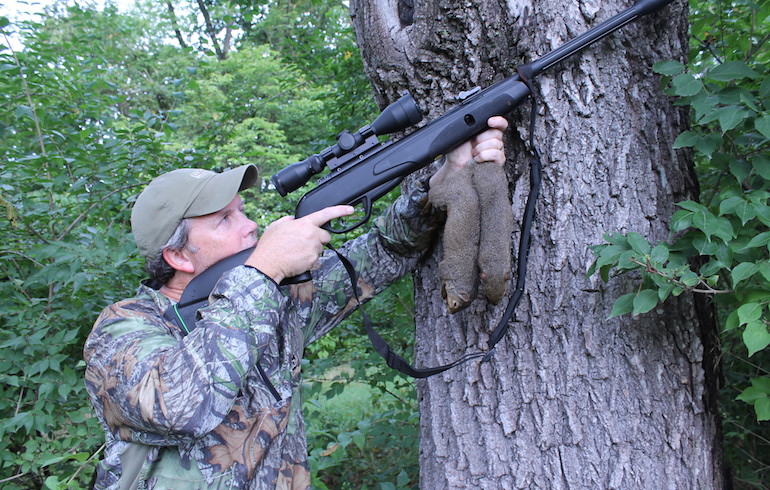 One of America's favorite small game species is the gray squirrel. In fact, between gray squirrels and fox squirrels, the little limb-leaping creatures are the way many hunters were originally introduced to hunting. Put them in the context of an early fall hunt, with trees still in total leaf-out mode and a hunter limited to the single pinpoint projectile of a .22 LR or .17 HMR, and what you have can be a challenging hunt. Make it even more challenging and hit the woods with a powerful air rifle.
To make the most of your time in the woods, like most hunting, hit the woods early at first light or in the final hours of the afternoon. Remember, squirrels in the forest are not like squirrels in your neighborhood, they are used to being targeted by predators so they are alert and will hide. Ease along paths or along creek edges slowly in areas with good hardwoods such as oaks, hickories and beech. Listen for the scurrying sound of nails on limbs, rustling in leaves and look toward the limbs where shaking limbs will give away the activity of squirrels jumping and playing among the limbs.
For best results, sit down in a location with a wide limbed tree with good open branches. Sit still for at least 20 to 30 minutes to allow squirrels to forget about your presence and begin moving around. Often, woods that seem barren of the critters upon you entering their area will come alive with activity after things settle down. On one recent hunt, an Illinois hunter nailed his daily limit sitting in the same spot both morning and afternoon.
Sit where you have a solid rest for your rifle—placing a shot on the small target area a squirrel's head presents at 20 to 30 yards (sometimes more) is a precision game—and something to help you steady your aim is almost a requirement. Another tree, your knees or a shooting stick are all good options. Again, aim for the head when the squirrel stops moving. Not only does this spare any damage to the game meat (squirrel is quite tasty when properly prepared), but also forces you to learn to make precise shots on small targets; something that will help you become a better shot, especially when transitioning to the much larger vital area of a deer in the coming big game seasons.
Winchester Ammunition
A world leader in delivering innovative products, Winchester is The American Legend, a brand built on integrity, hard work, and a deep focus on its loyal customers.