Easy Dishes for Super Bowl Sunday
Game day is quickly approaching. As a football fan who loves to eat, I came up with three simple recipes that will add a taste of the wild to your Super Bowl game day experience!
No Super Bowl party would be complete without dishes upon dishes filled with treats for friends and family. Why not head to the wild side and create dishes with wild game that is perhpas still in the freezer from last season? Not only will this serve as a freezer-dump, but will be a great showcase of the many things you the cook can do with wild game…and will certainly add a spark to the party!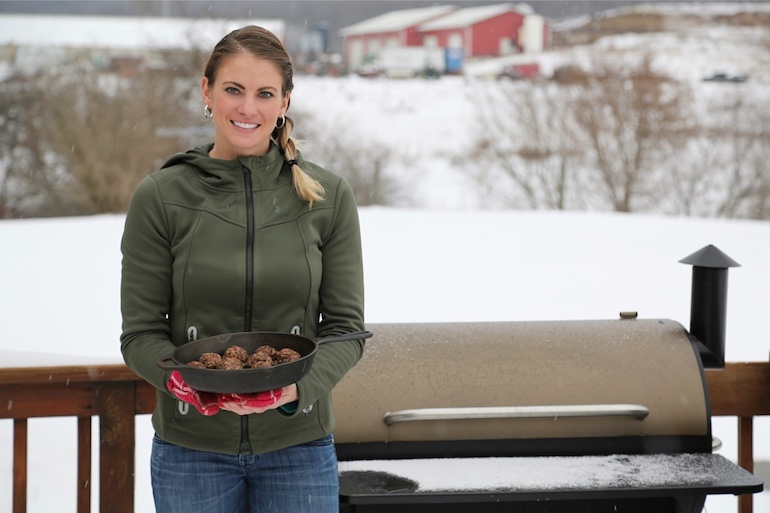 Loaded Nachos 
Here is what you'll need:
1 lb of ground venison 

2 cloves of garlic, minced, 

1 package of taco seasoning 

1 can of black beens drained 

1 can of corn kernels, drained

Cheddar cheese, shredded

Monterey jack cheese, shredded

1 roma tomato, diced

1 jalapeno, diced

2 tablespoons of fresh cilantro
Step 1: Preheat the oven to 400 degrees and lightly coat a baking sheet with oil.
Step 2: Cook venison and garlic in a frying pan until brown and then stir in taco seasoning.
Step 3: Place tortilla chips in a single layer in the baking sheet and top with venison mixture, black, beans, corn and cheeses.
Step 4: Bake until throughly heated and cheese melts (about 5-6 minutes). 
Step 5: Top with tomato, jalapeño, cilantro and serve immediately. 
Venison Meatballs
Here is what you'll need:
1 lb ground venison 

2 eggs beaten with 1/2 cup of milk 

1/2 cup grated Parmesan cheese

1 cup panic bread crumbs 

2 cloves garlic, minced

1/2 teaspoon oregano

1/4 cup basil 

salt and pepper to taste 
Step 1: Mix all ingredients together and form into golfball sized meatballs.
Step 2: Bake at 350 degrees for 30 minutes.
Step 3: Mix with your favorite sauce. 
Tip: Can also be frozen to be used at a later date to make meatball sandwiches!
Venison corn dogs
What you will need:
venison hotdogs

1 egg

1/2 cup all purpose flour 

1/2 cup yellow cornmeal 

vegetable oil 

1/2 cup whole milk 

2 tablespoons of sugar 

2 teaspoons of baking powder 

1 package of corn dogs 
Step 1: Cut all of the hotdogs in half and then insert lollipop sticks into the cut end. 
Step 2: Wisk together cornmeal, sugar, baking powder, salt, whole milk and egg.
Step 3: Line a plate with paper towels and pour about 4" of vegetable oil into a pot, use a thermometer to heat the oil to 360 degrees.
Step 4: Dip the hotdog in the mixture, lightly shake off the excess and then lower the entire corndog into the oil. 
Step 5: Fry the corndog until golden brown and crisp, about 3 minutes. Take out of the oil and put on the paper towel lined plate.
Tips: Put mixture in a tall glass to more easily coat the hotdogs, also the sticks can be fried!
Final Tip: cheers and enjoy these fun dishes and the game!!
Nikki Boxler
Nikki Boxler grew up on a large dairy farm in Western New York and continues to reside there today. This setting has shaped her love of the outdoors and is how she developed a passion which drives her to spend as much time hunting and fishing as possible. For her, hunting is not about the kill, it is about the experience, the memories, the moments and having fun. Her most memorable adventures take place not only in the woods but also around the grill. Nikki thoroughly enjoys her role as co-host of Winchester Life.