Ways to Customize Your Own Firearm
One area new competition shooters often struggle with is fit of different guns.
Whether it's the grip on their pistol or length of pull on their shotgun, making sure the gun fits is an important step. Let's look at a few ways you can personalize your gun!
Pistols are pretty simple. There is only one place to grip them, the grip. But for smaller hands, that can often be tricky. One of the advantages of polymer grips is that you can remove material to make the grip fit your hand better. This is accomplished by specialty shops, or experienced shooters, who will remove material on the grip, undercut the trigger guard, etc. The purpose is to make the fit friendlier to your hand and thereby help you establish a good grip. But after material is removed, there is a second step: stippling. This is usually done with a heat tool and the pattern is literally melted into the polymer grip. Gunsmiths who do this turn out some pretty amazing work. Another alternative is grip tape, or skateboard tape. You can purchase pre-cut sets for your particular model of pistol, and simply follow the instructions to tape your pistol grip so that when you are out in the summer heat, your hands have something to grip. What I would call the epitome of grip texture is silicon carbide over epoxy. This creates a very aggressive texture that is perfect for people who shoot in places where humidity and heat can be a hurdle. The choice of grit, just like sandpaper grit, will determine how aggressive the texture is. But many competition shooters choose this texture, as they can establish their hand's grip on the gun and have 100% certainty that they will not have to reposition their hands due to slipping.
The idea of customizing a firearm doesn't end with a pistol. We cut down the stocks on each of our shotguns and add an aftermarket recoil pad. We add stickers, decals, sights that we like with a fiber optic in the color we prefer. . . I've used skateboard grip tape, epoxy, Dremel tools. . . you name it, we've probably adjusted it. But it's part of what makes competition experience valuable to the average shooter. Most guns are designed for the "average shooter" and that's not a 5'6' female, or the hands of a 12-15 year old. Average guns are is usually designed for your average size male. Our experience is that we change the "average" gun to fit the actual shooter of that firearm. I don't always like what set up the boys have. My stock is stippled differently from theirs. But that's the beauty of it - you can make YOUR gun your own.
For shotguns, we generally cut 1.5 - 2" off the stock. It depends on the model of shotgun. So research your particular model before you try this. But for women and smaller people, having a shorter length of pull puts them in a better position when holding the gun and makes building their stance and grip much easier! Mounting a shotgun in a blind, while wearing a coat and hunting gear, is also going to be more difficult with a long stock, so knowing that you can adjust your length of pull is something people should be aware of. If you don't want to permanently alter your shotgun, most manufacturers offer a "youth" or compact butt-stock. So you could buy that, and have the original reserved for when your young shooter grows.
Another way we customize our shotguns is by stippling the pistol grip and the fore end. The pistol grip stippling varies for us because we reload with our guns using either our strong hand or weak hand. That means we either pin the gun under our strong arm while we reload, or rest it on our shoulder. In the photo you can see the different stippling we did to our shotgun pistol grips versus a factory grip in the background. And the same with the fore ends. The stippling varies depending on the shooter. I used silicon carbide after I sanded mine down and applied a layer of black epoxy to embed the texture grit into. I love it when we shoot in the heat! For IPSC World Shoot, we knew the change of very hot and humid temperatures was high, so I chose to plan for that.
How you change your gun depends on what YOU do with it and what your goals are. Maybe you like it as it is, but just want to tell it apart from the other shotguns in the rack at trap league. In that case, some Winchester tube stickers are all you need to get out to the range and get shooting.
Follow Winchester's social media channels for more hunting and shooting tips and updates on Winchester supported events and promotions on Facebook, YouTube, Instagram and Twitter.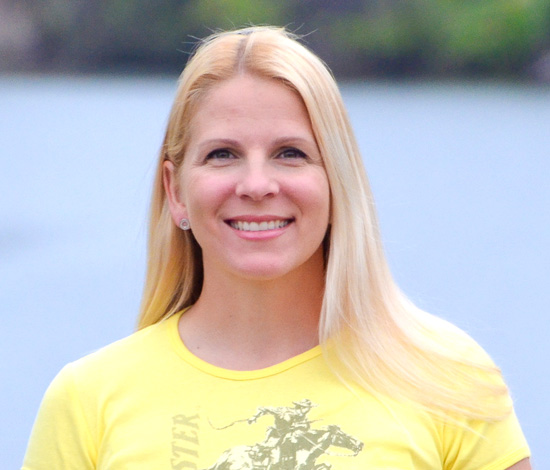 Becky Yackley
On the road more than home, Becky has competed in 3 Gun, Bianchi pistol, service-rifle, NCAA air rifle, smallbore and air pistol around the world since 1989. For her, shooting is more than an individual sport, it is a family affair. She and family travel both near and far to spread the words of safety and shooting to both friends and strangers. Shooting should be fun – this is what Becky preaches day in and day out. The "rush" of any competition highly motivates Becky, but it is the ability to share her sport and passion that truly drive her.