Goose Stew, Anyone?
Anyone who has spent much time in the bar or restaurant business understands that we eventually associate the "regulars" with what they eat or drink.
"Here comes gin and tonic…two limes." Long since removed from running food and beverage joints, I still spend a fair amount of time talking to people about their food preferences. Once it's in your blood, it's pretty much with you forever.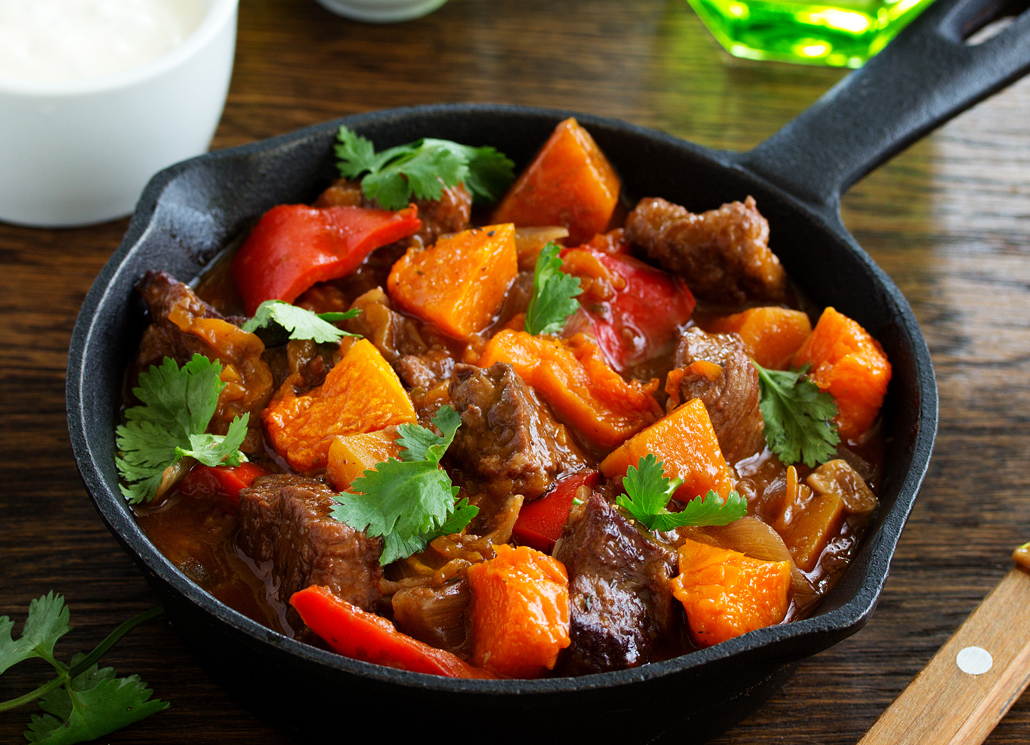 When it comes to wild game, there's a broad spectrum of eaters and avoiders. There are those who proclaim to survive solely on critters that they've drug home themselves. If they don't kill it, they don't eat it. The opposite side includes others who have tried poorly prepared wild game when they were six years old and vowed never to eat it again. Somewhere in the mix are the hunters who would much rather shoot it than eat it. After a cocktail or two, they'll quietly confess that they really don't like ducks and geese, but they have friends who will gladly take them off their hands. They just never learned the right way to cook them, and that's a crying shame.
Geese, particularly big ones, can be a challenge. If you think you can cook a wild goose that tastes like something you went nuts over in a restaurant, it's not going to happen. Flabby farmed geese are much more forgiving than the dark, lean machines that we see flying well above gun range. Roasting a whole grocery store goose is a relatively easy. Trying to do the same with any wild goose is just silly. If you do happen to cook the breasts until they're a juicy medium-rare, the legs and thighs are inedible. I know a roasted whole goose looks great in a photo, but you might be better off eating the photo. Wild geese are best cooked after first disassembling them. Breast fillets cook quickly. The rest takes a while. And an old honker will always be tougher than a young specklebelly.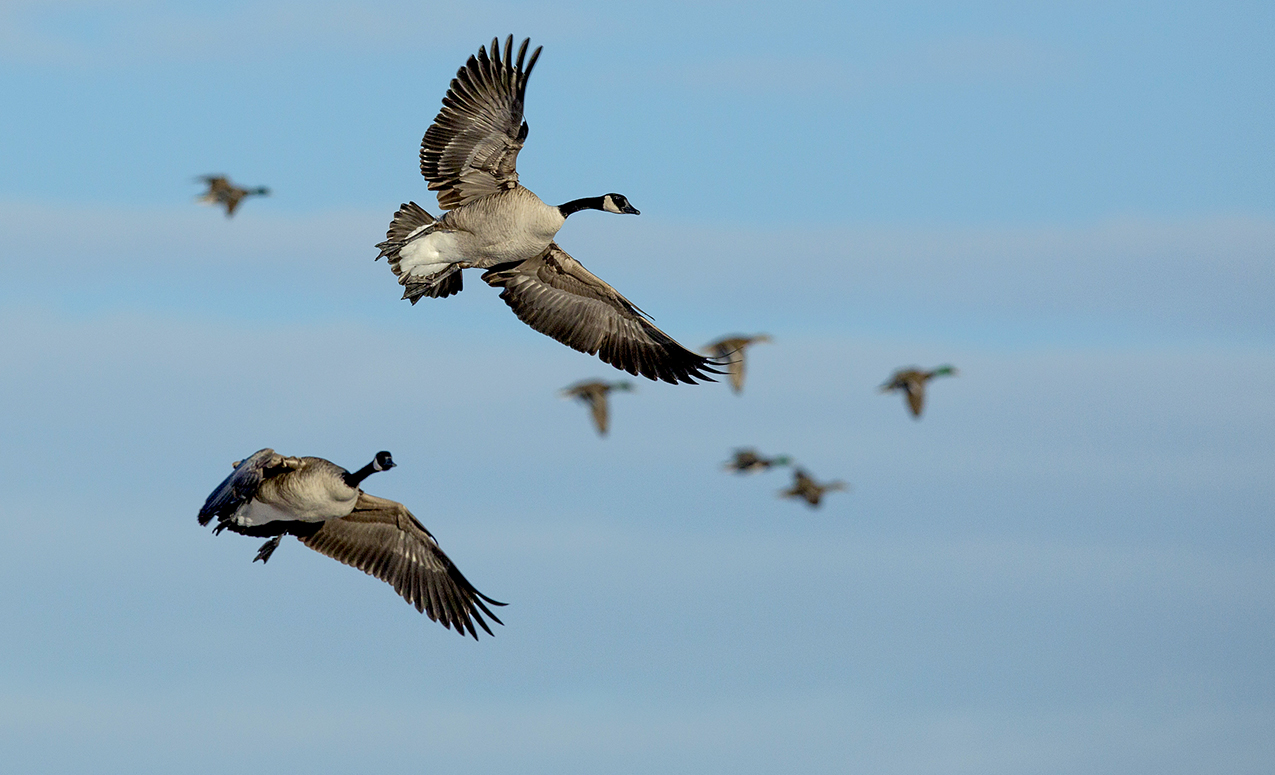 When preparing goose breast fillets, I'll either cook them quickly until rare to medium-rare or slowly until they are pot roast tender. Any temperature in between is, to me, tough and gamey. For people who are less inclined to try a bite of anything wild, serving up a bowl of stew that looks like any other stew made with beef is a good way to trick them into trying it again. This recipe calls for breast fillets, but slow-cooked thigh meat works as well.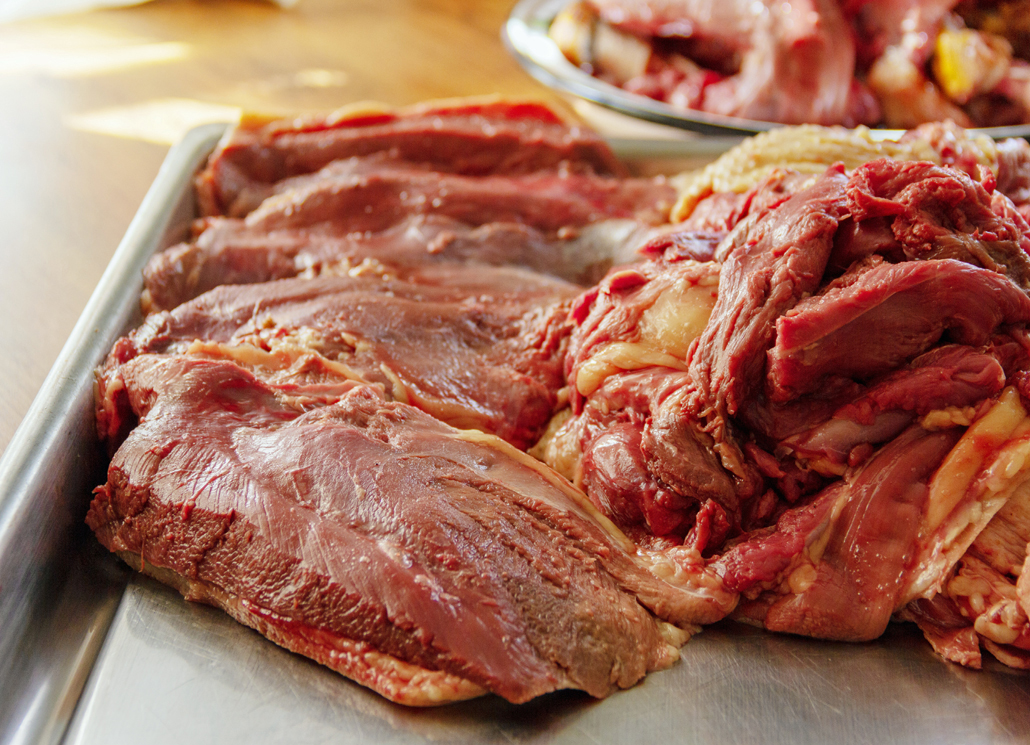 Winter Goose Stew
Seasonal winter produce and spoon-tender goose is a mind-changer for those who say they don't like ducks and geese. Although this recipe calls for beef broth, it's even better when made with a flavorful stock made from roasted goose legs and carcasses. If you first soak the goose breasts in a mildly salty brine for 12 hours, they'll taste much better when cooked. Serve with crusty sourdough bread.
6 – 8 servings
4 to 6 goose breast fillets, skin or off
kosher salt and freshly ground pepper
olive oil
1 medium yellow onion, roughly chopped
1 large leek, cut into thin rounds, washed well in cold water
2 medium carrots, roughly chopped
2 celery stalks, roughly chopped
3 garlic cloves, minced
3 sprigs fresh thyme
2 sprigs fresh rosemary
1 cup dry red wine
1 quart beef broth
dash or two Worcestershire sauce
2 cups winter squash (acorn, butternut, etc.) , peeled and diced into 1 to 2-inch cubes
1 large red bell pepper, roughly chopped
1. Season goose with salt and pepper. Heat a large stock pot over medium heat. If goose breasts have the skin intact, place them, skin side down, in the pot and brown evenly. If the breasts are skinless, add a thin layer of olive oil to the pot and heat before adding goose. Flip goose breasts over and brown the other side. Remove from the pot and cool.
2. When using skin-on breasts, there should be sufficient goose grease in the pot to brown the vegetables. If not, heat a tablespoon or two of olive oil. Add onion, leek, carrot and celery. Sauté until lightly browned.
3. Cut cooled goose breasts into 2-inch chunks. Add to the pot, along with the garlic, thyme, rosemary, wine, beef broth and Worcestershire sauce. Bring to a boil, then reduce heat to low and simmer, cover and cook for 1 hour or until meat is tender. Add squash and bell pepper, cover and cook for another 15 minutes.
4. Check goose for tenderness. It should be easily broken apart with moderate finger pressure. If not, return to the stove top, cover and simmer until tender. Season to taste with salt and pepper.
For more information, make sure you check out Winchester's social media channels for hunting and shooting tips and updates on Winchester supported events and promotions on Facebook, You Tube, Instagram and Twitter.
Scott Leysath
Quite possibly the best chef you've never heard of…that's Scott Leysath. Known for many things as well as being an executive chef, he's also known as host of the Sporting Chef on television as well. He's an avid hunter/angler who has developed a cult-like following over three decades of recipes, public appearances, cooking columns, cookbooks and TV shows.