Team Winchester Dania Vizzi And Jake Wallace Capture Gold At World Cup In Peru
EAST ALTON, IL (April 13, 2022) — The World Cup tournaments of the International Shooting Sports Federation (ISSF) are a qualification path to participation in the Olympic shooting events.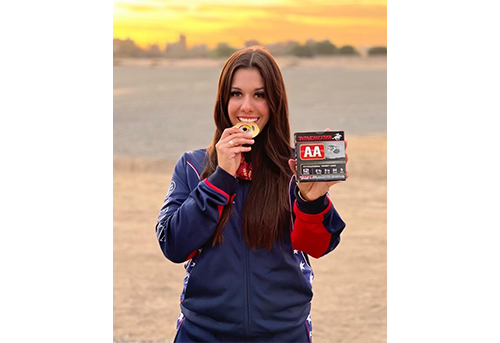 And the most recent World Cup in Lima, Peru (March 27-April 7), saw the U.S. topping the medal count, with Team Winchester bringing home its share of the gold.

With the support of legendary AA® shotshells, two of Team Winchester's best, Dania Vizzi and Casey "Jake" Wallace, ascended to the center of the podiums for their matches.

Dania Vizzi put in a stellar performance medaling in gold twice.First, she won women's skeet over a fellow American shooter, by a single target.Then she and her women's team skeet squad went on to defeat the Italian team decisively in the final. Vizzi notched two of Team USA's four recorded gold medals in Lima, Peru. Men's team trap sent Wallace and his squad into a shootout with always-formidable Spain, where they won the gold by a single target.

"We at Winchester are extremely proud of Dania and Jake for their victories in Lima, and the performance of Team Winchester this World Cup season," said Matt Campbell, Vice President of Sales and Marketing for Winchester Ammunition."It is extremely impressive to watch Team Winchester members compete against the world's best sport shooters and come out on top."



With 11 total medals, the Americans earned nearly twice as many as the next best country, Italy, which won six. Congratulations to all Team USA shooters for their success in Peru. Next on the calendar will be the World Cup in Lonato del Garda, Italy, April 19-30. You can look for Vizzi and Wallace, and Team Winchester, to compete there with their eyes on even more gold.
---
About Winchester Ammunition
Winchester is the largest small caliber ammunition enterprise in the world and the leader in delivering innovative ammunition products to hunters, sport shooters, law enforcement, and the U.S. Warfighter. The 157-year-old Winchester brand is built on integrity, hard work, and a deep focus on its loyal customers. Learn more about Winchester by visiting Winchester.com or connecting with us on Facebook at Facebook.com/WinchesterOfficial.
Winchester: Committed to Safe, Legal and Responsible Firearm Use
As a global leader in the shooting sports and hunting industry, and a brand of 157 years, Winchester is committed to safe, legal and responsible firearm use. Winchester works with key groups like the National Shooting Sports Foundation on a variety of topics important to our industry, including training and education, and on specific programs such as Gun Owners Care and Project ChildSafe. Winchester will continue to support programs, organizations and individuals who promote hunting and shooting sports activities in a positive and responsible environment. Any use of firearms by youth participants should be done under the direct supervision of a parent, guardian or other responsible adult.
Gun Owners Care®
You care about safety. You care about preventing unauthorized access to firearms. You care about bettering your community, helping those in need, and conserving wildlife and wild places for generations to come. It's time for gun owners to tell their stories and show how they're making a difference. NSSF®, the trade association for the firearms industry, has established the Gun Owners Care® campaign to unite gun owners and the firearms industry in this common cause. Visit gunownerscare.org for more information.
---
Winchester Media Resources
For content and assets including image, video and document files for Winchester Ammunition products, please visit Winchester.MediaAssets.com.
For more information, contact media@winchester.com.