Melissa Bachman Receives the Winchester Legend Award at 2023 SHOT Show
EAST ALTON, IL (January 19, 2023) — Melissa Bachman, accomplished hunter, and host of the TV series Winchester Deadly Passion, is the 2023 recipient of the 'Winchester Legend Award'.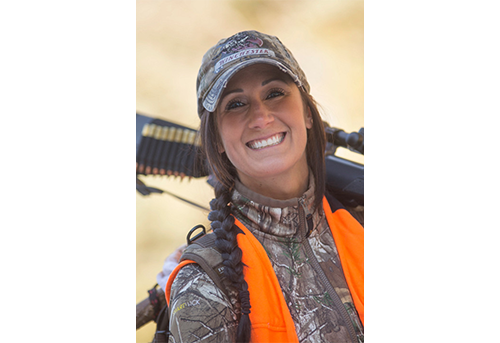 "Melissa Bachman is a true professional with an incredible work ethic and we are honored to present her with this recognition. Her contributions in positively promoting hunting, conservation and the shooting sports are immeasurable," said Matt Campbell, vice president of sales and marketing for Winchester Ammunition. "Melissa has built her own legacy as an iconic name in the outdoor community. She is a valued member of Team Winchester and is always focused on how to attract more individuals to outdoor activities."

The 'Winchester Legend Award' recognizes individuals and organizations that have made a positive impact in the hunting and shooting sports community, while also representing the Winchester brand at the highest level. Melissa Bachman has been a member of Team Winchester for 13 years during which she has solidified her legacy as a true Winchester Legend.

Bachman is a role model for hunters and sport shooters throughout the world. Her ability to share a passion for the outdoors comes through in many forms including her award-wining television series, "Winchester Deadly Passion". Bachman also travels the country throughout the year attending trade shows and expos as a featured seminar speaker.
---
About Winchester Ammunition
Winchester is the largest small caliber ammunition enterprise in the world and the leader in delivering innovative ammunition products to hunters, sport shooters, law enforcement, and the U.S. Warfighter. The 157-year-old Winchester brand is built on integrity, hard work, and a deep focus on its loyal customers. Learn more about Winchester by visiting Winchester.com or connecting with us on Facebook at Facebook.com/WinchesterOfficial.
Winchester: Committed to Safe, Legal and Responsible Firearm Use
As a global leader in the shooting sports and hunting industry, and a brand of 157 years, Winchester is committed to safe, legal and responsible firearm use. Winchester works with key groups like the National Shooting Sports Foundation on a variety of topics important to our industry, including training and education, and on specific programs such as Gun Owners Care and Project ChildSafe. Winchester will continue to support programs, organizations and individuals who promote hunting and shooting sports activities in a positive and responsible environment. Any use of firearms by youth participants should be done under the direct supervision of a parent, guardian or other responsible adult.
Gun Owners Care®
You care about safety. You care about preventing unauthorized access to firearms. You care about bettering your community, helping those in need, and conserving wildlife and wild places for generations to come. It's time for gun owners to tell their stories and show how they're making a difference. NSSF®, the trade association for the firearms industry, has established the Gun Owners Care® campaign to unite gun owners and the firearms industry in this common cause. Visit gunownerscare.org for more information.
---
Winchester Media Resources
For content and assets including image, video and document files for Winchester Ammunition products, please visit Winchester.MediaAssets.com.
For more information, contact media@winchester.com.