Seven Things To Look For In A Ground Blind
With turkey season quickly approaching, many people will be heading out this spring and a ground blind is a natural choice for many hunters - especially those who plan to hunt with kids.
Over the years I've hunted out of a wide variety of blinds for both turkeys and deer. After spending countless days and weeks in blinds, I've come up with some key features that you want to think about before purchasing your next ground blind that will not only make your hunt more comfortable but also make you more effective.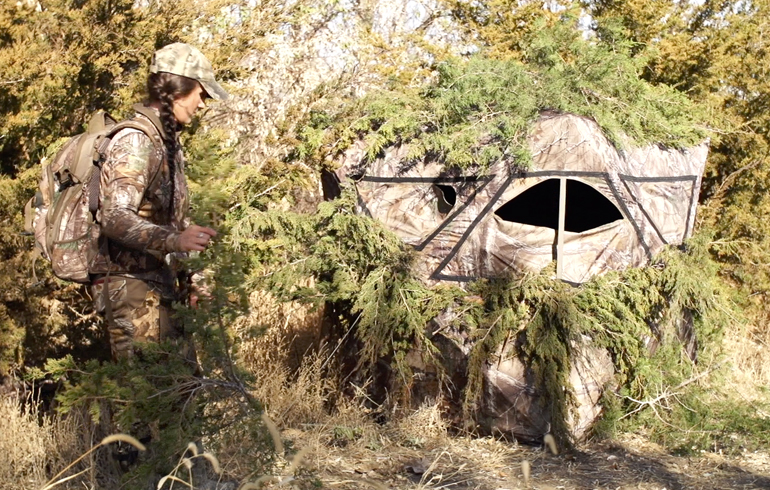 Regardless of which blind you end up going with, another thing I like to do is take a photo with my compass and the blind in the background on my phone. That way if I have numerous blind setups I can quickly look at exactly what the wind will be doing at each location as the hunt goes on. It's just an easy way to visually know your directions regardless of how many blinds you have set and can be a great reference.
Space – I really like hunting out of ground blinds because it allows you to move around, get comfortable and also to stay warm. I also believe blinds are an excellent way to get kids into hunting because it allows them to lie down on the ground if necessary and also conceals movement. With this in mind, it's also important to have adequate space. You don't want to purchase a tiny little blind and have it so cramped you can barely move around.
Variety of window sizes – Windows are incredibly important when it comes to ground blinds. The windows of a blind can literally make or break a setup in my opinion. You need to have a window configuration where you can see all directions without having to completely open the windows. I like to have the ability to partially open a window that I intend on shooting out of as well. This keeps the blind dark and doesn't bring all the light in just so you can make a shot. Another thing to take into account is the height of windows. If you're hunting with kids, ensure the windows aren't too high. This is why it can be helpful to have a variety of windows to pick from.
Zippers – Throughout the years I've learned the first thing to fail on most blinds will be the zipper. You need to find a blind with a sturdy zipper and also a large opening for the door. When it's early in the morning and you're trying to get all your gear in the blind while being quiet I can promise you that the larger opening will be much appreciated! Not only will it make your life easier it will keep your entrance and exit much quiet as well.
Water resistant – Many times I use a ground blind if the weather is bad or rainy so I can still hunt but be much more comfortable. With that said, I don't want a leaky blind that will get you and your gear soaked either. Being in some sort of blind is better than nothing but if I'm going to get a blind, it needs to be well made and needs to keep the elements out.
Straps on outside of blind to add natural looking brush – A key to effectively using ground blinds is to keep them brushed in with the surrounding vegetation. I always re-brush my blinds according the grasses and bushes around my location. To ensure this, it's important to have straps on the outside of your blind to stick the brush in. I like to have straps on the lower portion, the upper portion and also on the roof. This way, the blind will blend in with the natural surroundings.
Stakes – One of the first things to get lost in most ground blind setups has to be the stakes. I can't count the number of times I've been setting up in the field and can't find the stakes in the ground blind bag. Now, I keep tons of extra stakes right in each ground blind bag to ensure I'm always prepared. I usually buy them from the camping section of a store.
Ground blind bag– Packing blinds in and out of the woods can be a cumbersome process but if you make sure to purchase a blind that comes with a bag and backpack straps your life will be much better when packing your blind in and out. I always usually try to get all my gear in one trip so having the ability to strap a blind on my back is very helpful.
In the end, you will need to figure out what works best for you. But, after my experience, these are some of the most important aspects to take into account.
Melissa Bachman
With a degree in broadcast journalism, Melissa set sights on a career in the outdoors. Traveling over 300 days a year to shoot for Winchester Deadly Passion, Bachman considers this her "dream job." With a love for children, industry trade shows and the great outdoors, she films around the world for her adrenaline-pumped series.