Paddlefish – Yet Another Hunter's Vice
When I think of spring, turkey hunting is usually at the top of my list. In the past I've tried to plan one turkey hunt on top of another because I can never get enough.
This year, I scheduled something a little different between my Illinois and Nebraska turkey hunts. I decided to take a couple days of to go fishing, and it wasn't just an average fishing trip. I was going on a spoonbill-fishing trip in Oklahoma with Pritchard's Guide Service. I love doing anything outdoors, and especially with fun people.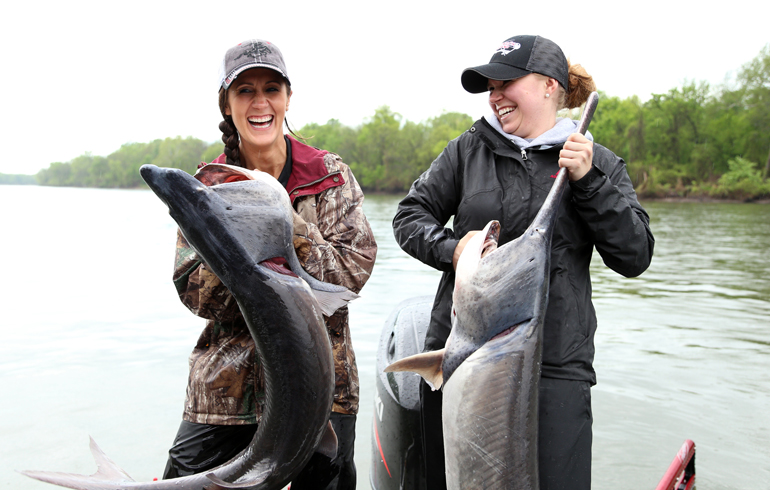 This trip met all those things and more. Rusty and his wife Lindsay Pritchard took us out on their boat along with the deck hand, Tommy Vaughn. When it comes to just all around great people, these guys are it. We had such a wonderful time laughing, enjoying the nice weather, and even had a blast while fishing in the pouring rain. To me, it's not always about fishing or hunting, but more about the people you meet and get to spend time with. This trip was just a great overall experience and something I'll never forget.
Since I was a little girl my second favorite past time has always been fishing…right behind hunting of course. I can't even begin to count the number of days as a kid that I spent down at the lake trying to catch pike, bass, carp, perch, or anything else I could get to bite. The one thing I always loved though, were big fish. I always wanted to catch something huge. That's probably why I loved fishing for carp so much because they would fight like crazy and grow to be pretty big. Well, I recently found something that rivals not only their size, but the fight.
Oklahoma seems to have a lot of paddlefish or spoonbill's in a few given areas, and if you have the right setup you can be extremely successful. Spoonbill's feed on plankton so there is no real way to get them to actually bite on a hook. With this in mind the only way to catch them is by snagging them with barbless treble hooks that you drag across the bottom. Once "on," you better hold on because you're in for a fight!
The way the fishing works in Oklahoma is you buy a fishing license and a paddlefish permit. As long as you catch and release the fish you can continue fishing all day. Should you decide to keep a fish, then you are done as you only get one. The fish are excellent eating as long as you prepare them correctly. You need to ensure that you remove any red meat and have perfect chunks of white meat. Then you want to soak it for at least 24 hours and cook to your liking. Another thing they are extremely well known for is their caviar. Paddlefish caviar is considered a delicacy by many, but I'm going to go ahead and pass on that one!
Although this is a fishing trip that was truly like no other, there is also a ton of research being done on the local paddlefish. The Oklahoma Paddlefish Research Center opened in 2008. Since then, over 22,000 paddlefish have been examined according to the Oklahoma Wildlife Department. That's pretty impressive and they're learning more and more about these crazy fish all the time.
In the end, most of the people out fishing are non-residents and is a great draw for the local economies. This was a brand new experience for me, but I'd definitely recommend it to anyone who enjoys a fun day out on the water!
Melissa Bachman
With a degree in broadcast journalism, Melissa set sights on a career in the outdoors. Traveling over 300 days a year to shoot for Winchester Deadly Passion, Bachman considers this her "dream job." With a love for children, industry trade shows and the great outdoors, she films around the world for her adrenaline-pumped series.