Winchester & Drury's Natural Born Hosts Inducted Into Outdoor Hall of Fame
In Malcolm Gladwell's national bestseller Outliers, the author reveals that many of the truly successful people in history weren't merely intelligent, ambitious or even willing to take risks, they were just as much able to make the most of opportunities presented to them by being in the right place at the right time.
Gladwell illustrates his point using such icons as the Beatles, Bill Gates and Steve Jobs. He well could've added famed outdoor personalities Mark and Terry Drury.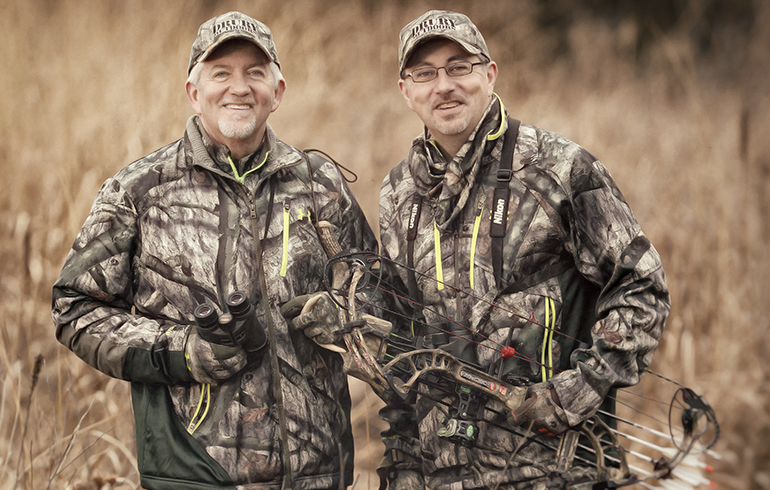 The two brothers, owners of Drury Outdoors, the longtime producers of such hunting video series such as King of the Spring, Longbeard Madness and Monster Bucks among others and popular television shows, Dream Season: The Journey, Thirteen, Bow Madness and Winchester & Drury's Natural Born, are among today's most popular and well-known outdoor personalities.
In recognition of their role in today's outdoor landscape, the two were honored in August at the Legends of the Fall in Nashville when they were inducted into the National Hall of Fame.
"It was such an honor to be included among all of those who have been inducted into the hall of fame," says Mark Drury. "It was a beautiful ceremony held on the General Jackson River Boat in Nashville."
Mark was just getting out of college, working for older brother Terry's construction company and working the calling circuit when he got the idea to pursue an idea he had to combine work with his passion for hunting. Videos were a relatively new thing at the time and Mark wanted to try to make one himself. He had the idea, but needed money. Naturally, he went to Terr, who despite his modern fame, still runs his own construction company. Terry agreed and the two split the business 50/50.
Their first video, King of the Spring, sold in 1989. Their first five videos all focused on turkeys. They didn't turn to deer until 1992 when the produced their first Monster Bucks video.
"We were fortunate to live in an area that had good turkey hunting and big bucks," Mark says. "We've always just tried to bring our stuff across as entertaining as we can, while also trying to be informational. We always try to let the deer and turkeys be the stars."
And while delivering solid how-to information earned them a following, Mark admits it was another twist of fate; or rather timing as author Gladwell would point out, that really helped propel them into outdoor fame.
All of their videos were 2-hour productions and the Drury's managed to find a distributor in Oklahoma City, Oklahoma, to sell their videos to big rental shops around the country.
'That was smack dab in the big rental era and it immediately put is in front of a lot of people. It was a great catalyst to get Drury Outdoors known," says Mark. And as the video market faded, they took their new-found fame and simply evolved to market through large outdoor retailers and organizations such as Bass Pro Shops, the NRA and the one-time media powerhouse North American Hunting Club. Television programs followed and today besides on two outdoor networks, they also have their own channel on YouTube. They update the channel with two to three installments each week drawing some 60,000 views a week.
Of course, Mark is also known as the namesake for M.A.D. Calls (Mark Allen Drury), which is among one of the best known big call manufacturers still in operation today and under Mark's early guidance pioneered marketing of calls through his ability to showcase them in his programs. He sold the company in 1997 though kept involved with the brand until recently.
Of course, another key brand both Drury's are associated with is Winchester. The two (or three really) have long partnered on the company's television shows even sharing in the title on Winchester & Drury's Natural Born on the Pursuit Channel.
"We've shot Winchester ammunition our entire adult lives, even before officially being associated with them" Mark says. "So of course it was exciting when we were able to become officially associated with them. We've worked with Winchester in some capacity for at least six or seven years."
Providing as qualified a testament to the quality found in ammo lines such as Deer Season XP and Long Beard XR, Mark simply says, "I don't know how much more dead we can kill them…but Winchester's ammunition, no matter what we are hunting, we know we can count on it every time we pull the trigger.
"We're proud to be associated with a brand that is 150 years old. It gives us something to shoot for."
Winchester salutes Mark and Terry Drury for the hard work and effort that earned them a place among the greats of the outdoors world in the Legends of the Fall National Hall of Fame.
Winchester Ammunition
A world leader in delivering innovative products, Winchester is The American Legend, a brand built on integrity, hard work, and a deep focus on its loyal customers.