New From Winchester 2017
Christmas isn't over just yet. The holiday may officially be in your rearview mirror and cheers from New Year's Day have barely died down, but for the shooter and hunter, Winchester's list of new products for 2017 will make you want to keep celebrating.
As fans of the company have come to expect each year, the Big Red W once again is delivering a host of great new shooting products and ammunition line extensions to make your shooting more fun and productive whether you competitively shoot, hunt or simply plink targets on the farm. Here's a snapshot of what is fresh from the development teams at Winchester: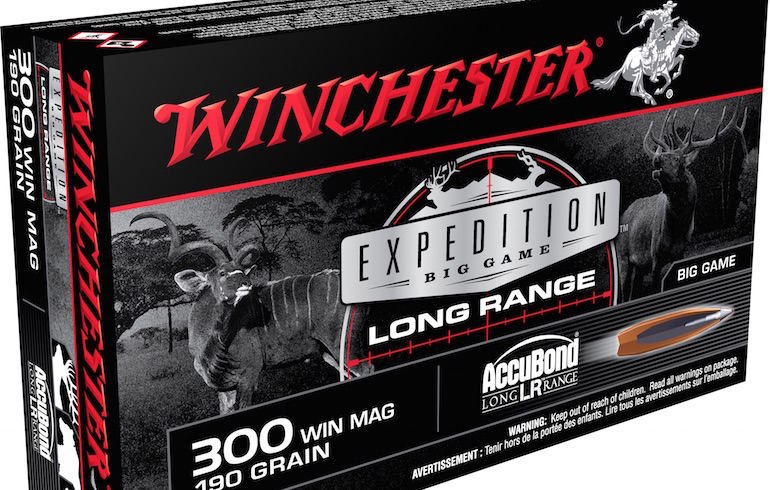 Expedition Big Game Long Range
Winchester rolled out Expedition Big Game last year to much fanfare making selecting the right ammo for any big game hunt—in North America or Africa—easy to do. In 2017, the range of calibers offered expands with the introduction of six new additions built specifically for long-range accuracy, trajectory and terminal performance. The knockdown power of Expedition Big Game Long Range is centered around Accubond LR bullet technology. It features a polymer tip and bonded alloy lead core. Expedition Big Game Long Range comes 20 rounds to a box.
Deer Season XP
Deer Season XP was Winchester's first ammunition offering made specifically for America's most popular game–deer. In 2017, Winchester expands the line to include one of the most popular modern sporting rifle (MSR) chamberings today, the 223 Rem. It also will include a more-recently developed caliber—the flat-shooting 6.5 Creedmoor. The loads come 20 rounds to a box.
Long Beard XR
When first introduced, Long Beard XR changed the game in improving wild turkey shotshell performance allowing for longer, more deadly shots. In 2017, we will now offer this ground-breaking load in 20 gauge. The new 20-gauge Long Beard XR will come in a 3-inch shell loaded with No. 5 or No. 6 shot. It will come 10 rounds to a box.
Super X Subsonic
This new ammunition built with suppressed performance in mind offers both centerifre and rimfire options. Centerfire: The 308 Win. and 300 BLK centerfire offerings are designed for improved terminal performance at subsonic velocities and have a radical profile for enhanced expansion. Rimfire: On the rimfire side, Winchester Ammunition will be offering a 22 Win. Mag. Subsonic round to the Super X lineup. The 22 Win. Mag. Subsonic reduced-noise round is made expressly for use in suppressed firearms for the ultimate in low-noise performance, but will also produce less audible sound when fired through standard 22 Win. Mag. firearms. It also makes a great hunting round.
Varmint X Lead Free
Predator hunting continues to grow in popularity, but so do the number of areas, particularly in the West, that require the use of lead-free bullets only. In 2017, Winchester introduces a lead-free option to its Varmint X line of predator-dedicated ammunition called Varmint X Lead Free. Varmint X Lead Free is built with a similar zinc-core technology utilized in Winchester's Super Clean pistol ammunition. What's more, this technology helps keep the ammunition more affordable for those hunters looking to engage in high-volume shooting either with predators or on the range.
Super Clean
There are more recreational pistol shooters than ever before on America's ranges. Winchester continues to answer the demand for better performing, yet affordable ammunition options from these shooters when it comes to training at the range. In 2017, Winchester adds to its popular Super Clean line, a 45 ACP round that features zinc-core brass-jacketed bullets. They are completely lead-free for the ultimate in indoor range performance and safety. Super Clean is offered 50 rounds per box.
Winchester Ammunition
A world leader in delivering innovative products, Winchester is The American Legend, a brand built on integrity, hard work, and a deep focus on its loyal customers.