Winchester Unveils Updated Retail Outlet for ACUI Collegiate Championships
The Association of College Unions International (ACUI) recently held the 49th annual Collegiate Clay Target Championships at the National Shooting Complex in San Antonio, Texas. The event hosted 828 student competitors representing 85 schools from across the country.
That was 120 more students than the previous year, making it one of the largest collegiate clays shooting competition held each year. The event was held March 28-April 2. Shooting competitions were held for International Skeet, International Trap, American Skeet, American Trap, 5-Stand and Sporting Clays. Lindenwood University out of St. Charles, Mo., proved to be big winners at the event taking top Division 1 American Skeet and American Trap, Division 1 International Skeet and International Trap, and Division 1 5-Stand and Sporting Clays honors.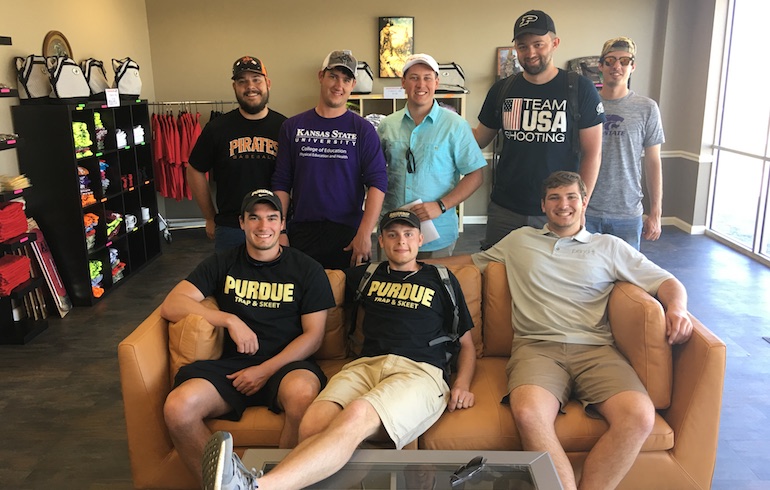 For a full list of winners, click here.
Outside of the awesome shooting action, one of the biggest attractions and biggest surprises of the event was the revamped Winchester retail outlet. Winchester has leased the space and had a brick and mortar store at the National Shooting Complex for more than 25 years, but in that time, had never been remodeled. That is until this year.
Dana Humke, event marketing specialist for Winchester, was given the green light last year to lead the effort to update the old, dark-paneled look of the store and turn it into a brighter, more modern retail establishment.
"The store had dark red fabric walls, dark paneled wood, it had no shine to it," says Humke. "It was very old."
Bob Chestnutt and his company, Reliable Electric Company began work back in the fall to get the updated looking store ready for the event. In addition to repainting the walls, installing new flooring, redoing the electric and duct work and installing new furniture an old display case was refinished and modified to serve as the centerpiece of a new lounge area holding a TV surrounded by sofas so shooters can relax and hang out.
To Humke, that was a big reason for making the change.
"We wanted to make it the type of place somebody would want to hang out in and shop rather than somewhere you want to just grab a t-shirt and get out," she says. "Texas loves guns and they do gun events right. It is a very well attended event and it was worth it to make the store somewhere people want to come. People were really surprised and seemed to be really pleased with the new look."
The store is open during all major shooting events at the complex and features Winchester apparel, ammunition, shooting apparel and gear, gifts and other Winchester logoed items.
Winchester Ammunition
A world leader in delivering innovative products, Winchester is The American Legend, a brand built on integrity, hard work, and a deep focus on its loyal customers.