One Call Away
The Winchester Life crew — Paul Sawyer, Chris Keefer, Casey Keefer, Nikki Boxler and Taylor Drury — head to the Michigan timber to welcome wild turkey season. Casey, Nikki and Taylor have a slow morning, while Paul, Chris and longtime friend Shad Woodruff catch sight of strutting longbeards.
Spring. A season where the senses are heightened.
The colors are brighter.
The air is fresher.
The sounds are louder…a cacophony of change.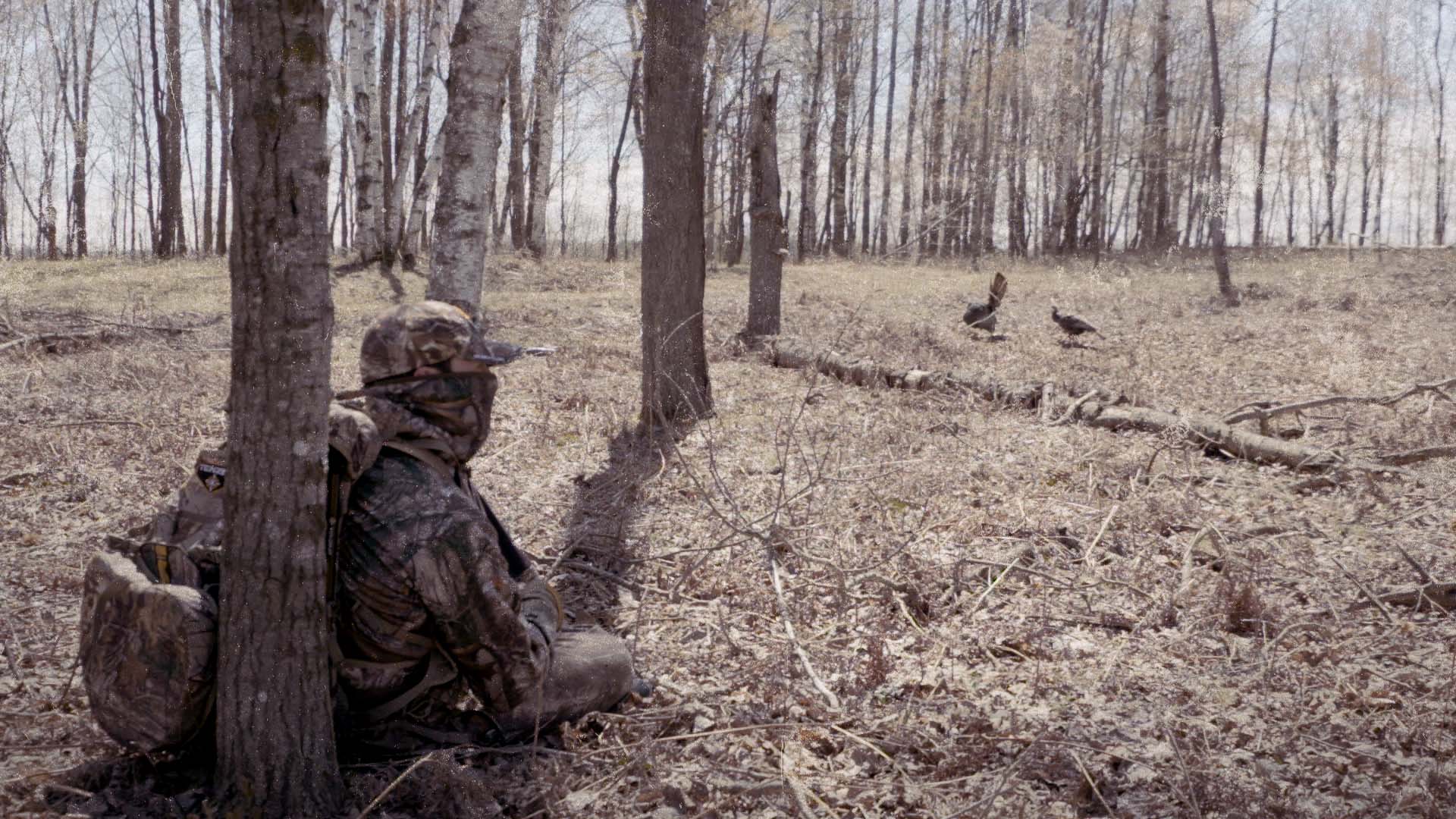 While a multitude of birds join in as a collective chorus, this spring symphony is incomplete without the sound of one bird in particular: the call of the wild turkey.
Throaty gobbles are authentic attempts made by strutting toms looking for love. But other calls? These are the makeshift sounds by outdoorsmen looking for luck during the spring wild turkey season.
To lure in a proud tom itching to show off his fan of feathers, hunters utilize a variety of turkey calls. There are several options out there: push button calls, box calls, slate calls, diaphragm calls all capable of producing alluring cutts, purrs, clucks and yelps that most gobblers can't resist.
But the original turkey call is known as the wingbone turkey call. Made of—you guessed it—a turkey wingbone. The three bone pieces are boiled, before the marrow is removed. The remaining pieces are then cut, ground, sanded and glued to create the finished call.
The wingbone call is not typically found in most stores. But the craft of creating a wingbone call remains a nostalgic hobby for some that adds to the allure of the turkey hunt experience.
Outdoorsmen who make their own wingbone calls say it is a great way to pay homage to the history of wild turkey hunting. It also helps pass the time during those long winter months, as hunters wait with anticipation for the sounds of spring to return once more.
Chris Keefer
Chris loves to chase big game in Alaska with brother Casey and spends a ton of time doing just that. When not there or in the planning stages of the next hunt, he enjoys a sunny day round of golf back home in his native Michigan.

As co-host of Winchester Life, he feels it his responsibility to help you find your own definition of the outdoors. He takes this responsibility very seriously and will take the rest of his working life fulfilling this quest. He can go from adventurous woodsman to sharp-dressed dinner guest in no time at all.
Casey Keefer
Casey lives off of the adrenaline and the solitude he finds in the most remote corners of the world. Essentially, this charges his batteries. For him, it's not about the end game, it's about the journey. He considers it his duty to "pass it on," so that hopefully you can experience the same in your very own way – wherever that may be, chasing whatever you may chase. Casey is co-host of Winchester Life. He and brother Chris find themselves pursuing big game a large amount of time in Alaska.
Nikki Boxler
Nikki Boxler grew up on a large dairy farm in Western New York and continues to reside there today. This setting has shaped her love of the outdoors and is how she developed a passion which drives her to spend as much time hunting and fishing as possible. For her, hunting is not about the kill, it is about the experience, the memories, the moments and having fun. Her most memorable adventures take place not only in the woods but also around the grill. Nikki thoroughly enjoys her role as co-host of Winchester Life.
Paul Sawyer
Born in the fertile whitetail country of Iowa, Paul now lives in legendary Pike County, IL. He has lived the outdoor lifestyle in the Midwest for nearly his entire life where he's turned his passion for the outdoors into a career. Now his goal is to spread the word, to share what is possible when someone can own and manage a great hunting property, to grow and hold giant whitetails.