Going in Blind: How to Best Set and Prepare a Blind for Deer Season
Hunting blinds are a common and effective way to hunt, but with so many options available, how do we know which one is best
Have you ever been so close to a deer or turkey that you could reach out and touch them while out hunting? I have had serval of these experiences when hunting from blinds, there is nothing quite like being "one with nature" and seeing animals up close and personal in their natural habitat! First we must first consider where and what type of game we are hunting. This is key when deciding on the type of blind and camouflage pattern that would be most effective.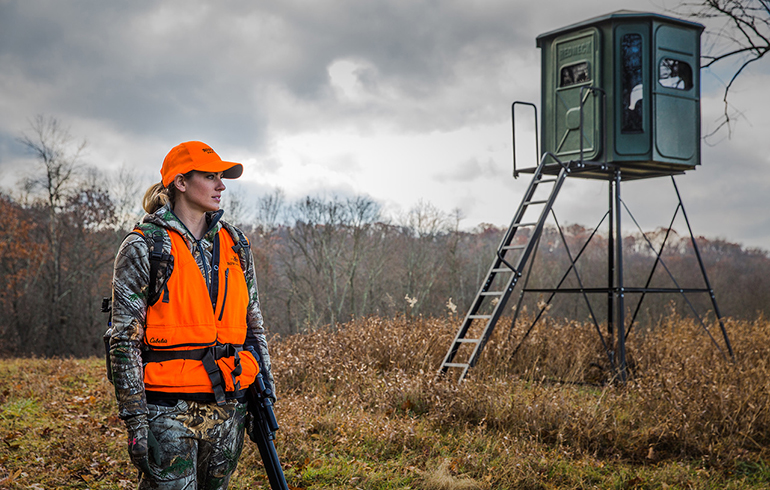 A few things to think about when choosing a blind are:
Portable vs permanent:
When I am not in a tree stand, you will often find me hunting from a portable blind. Portable blinds are one of my favorite ways to hunt because they are cost-effective and easy for me to manage. There are many benefits to portable blinds. One being that they are light weight (typically ranging from ten to twenty pounds). This makes it easy to pack up and move, so if need be I can easily hunt in a new location tomorrow or sometimes even within the same day. They come in many sizes ranging from a one person blind or large enough to fit two or three people. Plus, a quality blind will have a variety of built-in windows to provide 360-degree shooting capabilities and concealment from all angles. I find this to be a great option when hunting with youth. Too, if you are unable to climb into a tree stand, or just want to stay out of the wind and rain they are a great alternative.
Permanent blinds are also a great option! A few years back my dad built a permanent blind on our property; think of a treehouse on stilts! This is my favorite place to hunt in the dead of winter when it is snowing or freezing cold. The great thing about this blind is not only do we keep a heater in it, making it more comfortable, but it's elevated allowing us to see game at greater distances. We have made wonderful memories hunting together in this blind and hope to have many more experiences for years to come! Proper scouting is key when choosing to build a permanent blind because it needs to be set in a prime location before putting in all the hard work it takes to build it. The drawback to a permanent blind is they are typically an investment in not only time…but money. And you would naturally need to own the land you build it on or have permission from the land owner.
Accessibility:
Not only should you have different access points when walking to your blind, but accessibility when setting up the blind may be an important factor. Are you able to use an ATV to get to the location where you want to put your blind or will you have to walk for miles before arriving at your destination? If you have to walk a great distance, then building a natural blind may be your best bet. For many years I hunted from natural blinds. Not only is it cost effective, but it is also easy to find natural coverage in the surrounding area to camouflage the blind and be successful without having to hike around for miles while carrying around extra weight.
Type of tool:
The type of tool you choose for hunting will help to determine how much room you will need in your blind and how large you want the windows to be. For example, when I am hunting with a bow I prefer to have a larger blind with bigger windows as I need room to draw back. It needs to have large enough windows to both see and have a clear shot without my arrow hitting the blind. When hunting with a slug gun or rifle, I prefer smaller windows.
Camouflage:
Choosing a blind that fits in with surroundings you are hunting is important. For example, I wouldn't choose a white snow goose blind if I am hunting in the early fall for deer.  Choosing the correct camouflage is especially important if you plan to hunt with a bow. You need prey to be in close range for a clean and successful shot. The best type of blind will usually have nylon straps or cords on the outside so you can add natural camouflage and blend in any sharp edges that may seem unnatural.
Nikki Boxler
Nikki Boxler grew up on a large dairy farm in Western New York and continues to reside there today. This setting has shaped her love of the outdoors and is how she developed a passion which drives her to spend as much time hunting and fishing as possible. For her, hunting is not about the kill, it is about the experience, the memories, the moments and having fun. Her most memorable adventures take place not only in the woods but also around the grill. Nikki thoroughly enjoys her role as co-host of Winchester Life.