Guns & Ammo Magazine Bestows Honor Upon Winchester Deer Season XP
Winchester engineers knew the idea was a winner when they conceived it; and the marketing team knew they had a product that could practically sell itself.
As for the millions of deer hunters across North America who dropped a deer using it in the field, they were convinced. Now it's been confirmed by one of the most prestigious magazine titles in the hunting and shooting world; Guns & Ammo has named Winchester Deer Season XP as its 2017 Ammo of the Year.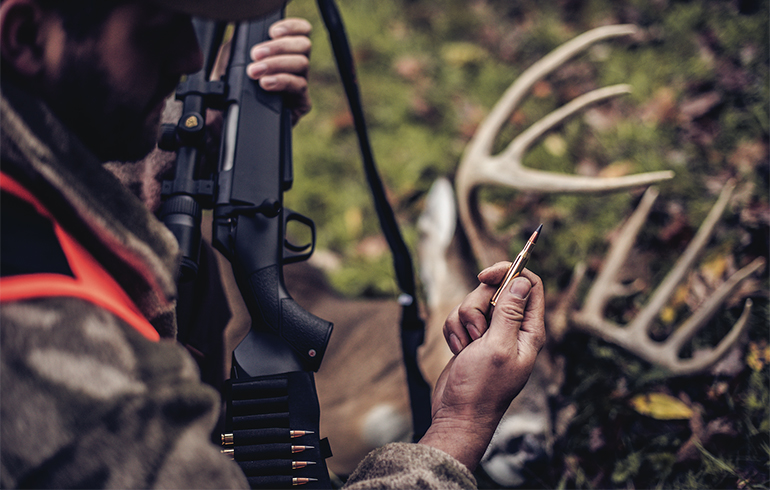 Each year, the editors, contributors and staff of Guns & Ammo look at the top new firearms, ammunition, optics, suppressors and other shooting-related innovations to determine the best in each category. They only choose products that are available to consumers and then their team thoroughly evaluates them on the range and in the field. Candidates are evaluated based on three criteria: it had to be new and available for purchase that year; it had to demonstrate quality and reliability that met or exceeded its design objective; and the product had to offer "the greatest appeal to the masses." They also considered was the product easily available and did it offer a great value.
As Guns & Ammo's 2017 Ammo of the Year, here are some snippets of what they had to say about Deer Season XP:
"Deer Season XP performs as if it were a more expensive black box of Winchester ammunition. Given the appeal of hunting whitetails, mulies, blacktails—and even antelope—among American hunters, Winchester made a brilliant decision to keep 20 rounds of this load priced so that every hunter can afford it."
"In our survey of nearly 20 deer harvested, none required a second, follow-up shot."
"The terminal effects read like a misprint when our studies reported a 2. -inch average hole in the ribs just beyond penetration. Deer Season XP proved to us that it could dump around 80 percent of its energy within 3 to 4 inches of entry, which is ideal for use on thin-skinned deer."
"Energy is lost as velocity decreases, which is why Deer Season XP's velocities measured at 400 yards proved unequalled."
Winchester is honored to earn this prestigious honor from Guns & Ammo. It is a testament to what Winchester—along with countless deer hunters—already knew: Deer Season XP is an amazing product that will get the job done each and every deer season when that one shot counts. Give it a try this season. The timing couldn't be better.
Deer Season XP features a large-diameter polymer tip and contoured copper jacket for a streamlined ballistic profile for downrange accuracy and massive energy transfer upon impact. It is currently available in 13 of the most popular deer-hunting rifle calibers there are including:
 .223 Rem
 .243 Win.
 .270 Win
 .270 WSM
 .30-06 Springfield
 300 Blackout
 .300 Win. Mag.
 .300 WSM
 .30-30 Win.
 .308 Win.
 6.5 Creedmoor
 7mm-08 Rem.
 7mm Rem. Mag.
Look for new calibers and product extension announcements to come with the new year as 2018 already looks to be another promising year for deer hunters using Deer Season XP.
Follow Winchester's social media channels for more hunting and shooting tips and updates on Winchester supported events and promotions on Facebook, YouTube, Instagram and Twitter.
Winchester Ammunition
A world leader in delivering innovative products, Winchester is The American Legend, a brand built on integrity, hard work, and a deep focus on its loyal customers.